Music & Arts
Come out and laugh at Pride Comedy Night at Parker Playhouse starring Jason Stuart and Jessica Kirson
Friday, March 01, 2013 at 02:52 pm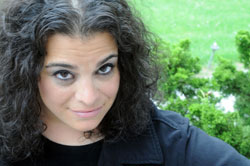 Jessica Kirson. FORT LAUDERDALE – The Broward Center for the Performing Arts and Pride South Florida present Pride Comedy Night at Parker Playhouse starring Jason Stuart and Jessica Kirson on Friday, March 8 at 8 p.m. as part of the Broward Center 2012-13 Pride Series.
Celebrating the 20th anniversary of coming out as the first openly gay comedian, Stuart transcends the boundaries of race, gender and sexual orientation with his edgy comedic style. His material about his experiences as a single Jewish gay man living in Hollywood is original, cutting edge and just plain funny.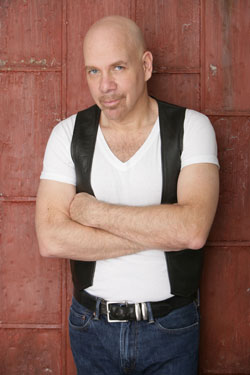 Jason Stuart - Credit: Shandon YoungclausHost of Name-Dropping with Jason Stuart on RadioTitans.com, Stuart has released a comedy recording, Jason Stuart: Gay Comedy Without A Dress and a DVD of his Here! TV comedy special, Jason Stuart: Making It To The Middle. He is also well-known for his work as an actor playing gay and straight roles on more than forty popular television shows including The Closer, Will & Grace, It's Always Sunny in Philadelphia and My Wife and Kids on which he plays the role of the gay family therapist, Dr. Thomas.
Kirson's unique style and captivating stage presence combined with her wide variety of characters brings a diverse energy to her performances. She has been featured on Comedy Central's Premium Blend, NBC's Last Call with Carson Daly and The Tonight Show with Jay Leno as well as in her own LOGO special, My Cookie's Gone.
Having appeared on the second and third seasons of NBC's Last Comic Standing, Kirson is in demand for live performances and her appearances have included Comedy Central's South Beach and HBO's Las Vegas comedy festivals.
The Broward Center 2012-13 Pride Series series concludes with Bare The Musical from Wednesday, March 27 through Saturday, March 30 in the Amaturo Theater at Broward Center for the Performing Arts.
Tickets for Pride Comedy Night at Parker Playhouse starring Jason Stuart and Jessica Kirson are $31.50 and there is a $51.50 ticket which includes meeting the artists. Tickets and group discounts are available at (954) 462-0222 or select your seat on-line at www.parkerplayhouse.com. Tickets are also available for purchase at the Parker Playhouse Tuesday-Saturday from noon to 5 p.m.
The Parker Playhouse is located in Holiday Park at 707 N.E. Eighth Street in Fort Lauderdale and is managed and operated by the Broward Center for the Performing Arts.
Sun-Sentinel is a proud sponsor of the Parker Playhouse. All dates, programs and artists are subject to change.
Symphony of the Americas opens matinee series with Operatic Songfest

Written by Lawrence Budmen. FTLconnex

Monday, February 25, 2013 at 10:42 am

FORT LAUDERDALE, FL -- A large audience was on hand for the first of the Symphony of the Americas' Rosemary Duffy Larson Matinee Series on Saturday at the Broward Center's Amaturo Theater. Joined by four excellent vocalists, Maestro James Brooks-Bruzzese and the orchestra offered a songfest of highlights from the world of opera and the Broadway stage (and, in one instance, the Golden Age of the Hollywood musical). The orchestra's Executive Director Renee LaBonte was a gracious narrator, providing insightful tidbits about the operatic plots and composers' artistic legacy.

A rousing performance of the Overture to Wagner's Die Meistersinger opened the program, Brooks-Bruzzese setting a brisk pace and skillfully highlighting the instrumental inner voicing. The lyrical Intermezzo from Manon Lescaut, Puccini's first great operatic success, provided a passionate interlude between the vociferous vocalism.

Baritone Marcin Bronikowski was a standout among the strong vocal foursome. His rich, manly baritone voice filled the hall in a strongly delineated Toreador Song from Bizet's Carmen. Don Giovanni's Champagne Aria from Mozart's opera was personality plus, Bronikowski registering charisma as well as vocal strength. In the concert' second half featuring classics from Broadway, Bronikowski's version of Some Enchanted Evening from Rodgers and Hammerstein's South Pacific was gorgeous, his beautiful legato and dark hued timbre recalling the great Ezio Pinza, the musical's original star. The supple blending of Bronikowski's imposing sound with the dark hued timbre of Donna Balson in All I Ask of You from Andrew Lloyd Webber's record breaking Phantom of the Opera really soared, the orchestra's vibrant string tone enhancing the lush, romantic aura.

Soprano Courtenay Budd's flawless coloratura is always a pleasure to hear. Her light, agile Caro Nome from Verdi's Rigoletto was replete with bel canto gleam. In the Adina-Nemorino duet from Donizetti's L'Elisir d'Amore, Budd's delightful interplay with tenor Eduardo Aladren registered comedic lightness, the singing exquisite. Nacio Herb Brown was one of Hollywood's great songwriters, contributing to such musical classics as Singin' in the Rain. Love Comes Where You Find It from the 1940's Frank Sinatra- Kathryn Grayson film The Kissing Bandit has long been a coloratura showpiece and Budd unleashed the glittering fireworks and fizz, the song and performance an utter delight.

After a capable Flower Song from Carmen, Aladren sang an impassioned E Lucevan le Stella from Puccini's Tosca, exhibiting burnished tone and real Italianate squillo. Rodgers and Hammerstein's Carousel may be that illustrious team's greatest work. Aladren's I ringing version of I Loved You really took wing in soaring tones. Balson's deep, powerful chest voice propelled a gutsy Seguiidilla from Carmen. Her glamorous, burnished vocalism was tailored made for Climb Every Mountain from The Sound of Music.

Brooks-Bruzzese is a consummate accompanist and provided pliant, expressive support for the singers at every turn. A Gershwin Medley was played with idiomatic flair, the immortal melodies (including two from Gershwin's Pulitzer Prize winning Of Thee I Sing and his final song Love Walked In from the movie musical Goldwyn Follies) alternately jazzy and lyrical under Brooks-Bruzzese's lively baton. The Carousel Waltz was assayed with vigor and incisive orchestral playing. What better way to end the concert than with orchestral selections from Leonard Bernstein's West Side Story, an American classic. Surging with rhythmic zest and color, songful and introspective, Brooks-Bruzzese ignited the score's fire and warmth.

For opera connoisseurs and newcomers alike, the Opera to Broadway program is a real treat and will be repeated as part of the Symphony of the Americas' Tuesday evening series.

The Symphony of the Americas repeats Opera to Broadway on Tuesday, February 26 at 8:15 p.m. at the Amaturo Theater. For tickets and information, call 954-335-7002 or see www.SymphonyoftheAmericas.org.

Tickets now on sale for "Brit Floyd" at the Broward Center

Friday, February 22, 2013 at 11:42 pm

FORT LAUDERDALE – Tickets are now on sale for the Broward Center and PBS WPBT2 presentation of the world's greatest Pink Floyd show, Brit Floyd, in P-U-L-S-E 2013 The Pink Floyd Ultimate Light & Sound Experience on Wednesday, April 24 at 8 p.m. in the Au-Rene Theater. Tickets are $29, $39 and $49 and with Club Level seats available for $99.

Celebrating the music of David Gilmour, Roger Waters, Rick Wright, Nick Mason and Syd Barrett, the three-hour concert features note-for-note performances of five full album sides including "Wish You Were Here," "The Wall," "The Division Bell," "Animals" and "The Dark Side of the Moon," in celebration of the classic album's 40th anniversary.

Inspired by the record breaking 1994 'Division Bell' Tour and including the trademark Pink Floyd arch and circle light show, and brand new Floydian animation and projection, P-U-L-S-E 2013 will be Brit Floyd's biggest show yet. The group has performed to more than a half a million fans around the world since its first show in Liverpool, England in January 2011.

Musically perfect and visually awesome, the new show will recreate the legendary, enigmatic Pink Floyd in its many forms, from '60s psychedelic pop band to '80s stadium-straddling behemoth and the reunited dream-come-true of Live 8.

Musical director, guitarist and vocalist Damian Darlington knows every detail, every nuance of every Floydian moment, and the band's execution of all Pink Floyd's greatest works will make each familiar track sound fresh and pristine.

The L.A. Times said, "Shining like crazy diamonds, Brit Floyd are flawless and astounding. A gem of a rock show."
Tickets to all performances are available through the Broward Center's AutoNation box office at 954/462-0222 or online at www.BrowardCenter.org. The Broward Center for the Performing Arts is located in the Riverwalk Arts & Entertainment District at 201 SW Fifth Avenue in Fort Lauderdale.

AutoNation, Greater Fort Lauderdale Convention & Visitors Bureau, Sun-Sentinel, Riverside Hotel, Exults Internet Marketing and Weston Jewelers are proud sponsors of the Broward Center. All dates, programs and artists are subject to change.

Musical Parody to benefit Coral Springs Community Chest

Thursday, February 21, 2013 at 08:30 am

For one magical night, the history of the City of Coral Springs will come alive on stage when students from Coral Springs Charter, Coral Glades, Coral Springs, Stoneman Douglas, Taravella high schools and special surprise guests perform in "Once Upon a Dream: A Musical Celebration of Coral Springs" benefiting Coral Springs Community Chest and as part of the City of Coral Springs 50th anniversary celebration.

Tickets are now available for $10 for the performance at 7:30 p.m. on Thursday, March 7 at the Center for the Arts, 2855 Coral Springs Drive. Tickets are for sale at the Center for the Arts box office, City Hall in the Mall, Coral Springs Chamber of Commerce and Saveology.com Iceplex (Incredible Ice).

The musical parody will highlight the City's history, told through creative songs and inspiring stories from the past five decades, while offering insight into how Coral Springs became what it is today.

"This will be a spectacular display of talent in our high schools from the drama, chorus, orchestra and debate departments," said Maureen Berk, a Coral Springs Community Chest board member and 50th anniversary committee member who also is producing the event. "This is the first performance collaboration of its kind for Coral Springs, and 'Once Upon a Dream' will be a true celebration of the wonderful city we live and work in, and the vibrant, gifted young people that live here. There will be a few surprises on stage, too. We have a special number planned with some special guest performers."

Among the guest performers will be the school principals, Coral Springs City Commissioners, City Manager, Deputy City Manager and City Attorney and the Fire and Police Chief. The overall production is under the direction of Caryl Fantel of Arts Alive Community Performing Arts School.

Coral Springs Community Chest will benefit from ticket sales. Funds raised will be donated through Community Chest to non-profit organizations that have a service or program benefiting Coral Springs residents.

In addition to Berk, other Coral Springs Community Chest board members are Kevin Barrett, Cindy Brief, Jeff Campol, Brenda Clark, City Manager Erdal Donmez, Assistant City Manager Susan Grant, Connie Guice, Pat Mirabello, Cort Neimark, Maria Pierson, Alice Zendel Simon and Janice Zaitz.

Honorary Trustees are Coral Springs Mayor Vincent Boccard; Vice Mayor Tom Powers; City Commissioners Claudette Bruck, Dan Daley and Larry Vignola; Florida State Senator Jeremy Ring; Florida State House Representative Jared Moskowitz; and Broward County Commissioner Stacy Ritter.

Once Upon a Dream: A Musical Celebration of Coral Springs is a 50th anniversary signature event. The 50th anniversary celebration is presented by Golden Anniversary sponsor Al Hendrickson Toyota along with Baptist Medical Plaza at Coral Springs, Advanced Cable Communications, Forum Publishing Group, Broward Health Coral Springs, Scott J. Brook, P.A. and Saveology.com Iceplex.

Coral Springs Community Chest was founded in 1989 on the premise that community resources should provide for community needs. There is no paid staff so 98 percent of the money is reinvested back to community. Coral Springs Community Chest is funded by corporate and private donations, special events and promotions. Coral Springs Community Chest is a 501 (c) (3), non-profit organization.

Among the organizations funded this year by Coral Springs Community Chest are Aging and Disability Resource Center, Alzheimer's Family Center, Achievement and Rehabilitation Centers, Broward Health, Broward Housing Solutions, Broward Partnership for the Homeless, Center for Hearing and Communication, Challenger Baseball, Children's Harbor, Covenant House, Cross Road Food Bank, Family Central, 2-1-1 Broward, Florida Initiative for Suicide Prevention, Friends of Music, Gateway Community Outreach, Hospice By The Sea, Impact Broward, Light of the World Clinic, Lighthouse of Broward County, Make-A-Wish of Southern Florida, Martin Luther King Scholarship Fund, Mental Health Association, Sawgrass Nature Center, Jeffrey R. Smith Memorial Scholarship Fund, SOS Children's Village, Starlight Children's Foundation, Tomorrow's Rainbow and Women in Distress.

For more information call 954-344-1111. Visit www.CoralSprings50.org for more information.

Miramar Cultural Center's Opera Series concludes with "A Tribute to Pavarotti"

Friday, February 15, 2013 at 10:34 pm

MIRAMAR – The Opera Series at the Miramar Cultural Center | ArtsPark concludes with Teatro Lirica D'Europa's presentation of A Tribute to Pavarotti on Monday, March 11 at 7:30 p.m. This performance is sponsored by Novus Realty, LLC.

A full orchestra, chorus and international soloists will highlight the arias and Italian folk songs popularized by Luciano Pavarotti. The concert will feature English projected subtitles.

Pavarotti is best known for his leading tenor roles in Aida, La Traviata, Madama Butterfly, Rigoletto, Tosca, Turandot and more. His "The Essential Pavarotti" album was the first classical album to ever top the U.K. pop charts. He received the Grammy Legend Award in 1998 and in 2001 he was presented with a Kennedy Center Honors award by President George W. Bush.

Founded more than 20 years ago, Teatro Lirica D'Europa presents traditional, full-scale productions with a large orchestra, chorus and mature opera singers.

Individual tickets are $40 and $45. For show tickets and information, call 954-602-4500 or select your seat online at http://www.miramarculturalcenter.org.

The Miramar Cultural Center | ArtsPark is located at 2400 Civic Center Place on Red Road, north of Miramar Parkway, in Miramar. Miramar Cultural Center | ArtsPark can be found on Facebook at facebook.com/MiramarCulturalCenter and on Twitter @MiramarCultural.
<< Start < Prev 1 2 3 4 5 6 7 8

9

10 Next > End >>


Page 9 of 119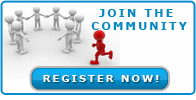 Business Directory



Click Here to Claim or Submit Your Business Listings for Free!

---
Find us on Facebook