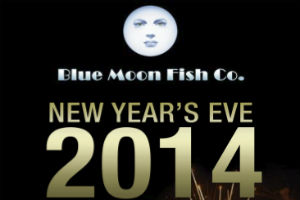 LAUDERDALE-BY-THE-SEA, FL. --- Blue Moon Fish Co. invites you to ring in the New Year along the intracoastal waterway and experience a celebration like no other with fantastic food, dazzling cocktails and a live DJ! Make it a night to remember for the rest of the year! The festivities begin on Tuesday, December 31st with two available seating's at 6:30p.m. and another at 9:30p.m.
To make this New Year's Eve special, Blue Moon Fish Co. will be serving a spectacular 4-course dinner prepared by Blue Moon Fish Co renowned Chefs, Baron Skorish and Bryce Statham, who have selected their most decadent starters, crisp salads, fresh seafood entrées and divine deserts. Then, dance the night away with friends and family featuring a live DJ, party favors and enjoy a complimentary champagne toast at midnight!
NEW YEAR'S EVE MENU
STARTERS:
MISO HONEWY TUNA Miso-Honey Sriracha, Avocado, Cilantro, Cucumbers
JUMBO SHRIMP COCKTAIL Traditional Cocktail
LOCAL FISH CEVICHE Three Citrus, Pickled Red Onion & Fresno Chilis
"THE BIG EASY" SEAFOOD GUMBO Shrimp, Crab, Crawfish, Andouille Sausage, Okra, File
PROSCIUTTO WRAPPED BRIE Sundried Tomato, Toasted Walnuts, Green Apple Relish, Jamaican Rum Butter
SUPER LUMP CRAB & CRAWFISH CAKE Creamed Corn and Scallions
SALADS:
HEARTS OF ROMAINE CAESAR Shaved Parmesan, Jumbo Garlic Croutons, Cracked Black Pepper
FRESH "BURRATA" MOZZARELLA Heirloom Tomatoes, Baby Arugula, Basil Oil, Aged Balsamic
ICEBERG WEDGE Crisp Bacon, Tomato, Maytag Blue Cheese, Avocado Buttermilk Dressing
ENTREES:
LUMP CRAB & CORN ROASTED GROUPER Asparagus & Wild Mushroom Risotto, Red Wine Butter
BLACKENED MAHI & SWEET POTATO-CORN HASH Nueske Bacon, Clementine – Micro Basil Butter
HERB ROASTED SALMON Pearl Cous-Cous, Zucchini, Overnite Tomatoes, Marcona Almonds & Citrus Zest, Kalamata Olives, Red Pepper-Sherry Vinaigrette, Chive Oil
GRILLED FILLET MIGNON Zucchini, Parsnip & Potato Pancake, Gorgonzola Butter
LANCASTER, PA HORMONE FREE CHICKEN BREAST Truffled Mushrooms, Toasted Garlic Broccolini, Roasted Cauliflower, Fingerling Potatoes, Natural Jus & Thyme
RUBBED GRILLED LOCAL SWORDFISH Eggplant Milanese, Shaved Fennel, Baby Arugula, Heirloom Tomatoes, Roasted Red Pepper-Ancho Chili Sauce
SAUTÉED JUMBO SHRIMP & GARGANELLI PASTA Truffled Pecorino, Grilled Zucchini, Spinach, Tomato, Lemon, Pesto & Casteveltrano Olives


DESSERTS:
"CRUNCHY TOP"JAMAICAN CREME BRULEE Fresh Vanilla Bean & Coconut Rum
LIQUID CENTER DOUBLE CHOCOLATE TORTE Fresh Cream & Wild Berries
CARAMEL CHEESECAKE Oreo Crust, Bruleed Bananas, Ganache, Candied Pecans
BLUE MOON KEY LIME PIE Graham Cracker Crust, Huckleberry Compote, Raspberry Coulis
PRICING:
6:00PM – 8:30PM $85 PER PERSON
9:30PM – $125 PER PERSON
Limited space available. Reservations highly recommended. To reserve your table at Blue Moon Fish CO., please call 954-267-9888.
Blue Moon Fish Co. is located at 4405 West Tradewinds Avenue in Lauderdale-By-The-Sea, Florida. Hours of operation: Monday – Thursday 11:30 AM to 10:00 PM; Friday and Saturday 11:30 AM to 11:00 PM and Sunday 10:30AM to 10:00 PM. Connect with Blue Moon Fish Co on Facebook and Twitter @BlueMoonFishCo Telephone: (954) 267-9888 www.bluemoonfishco.com