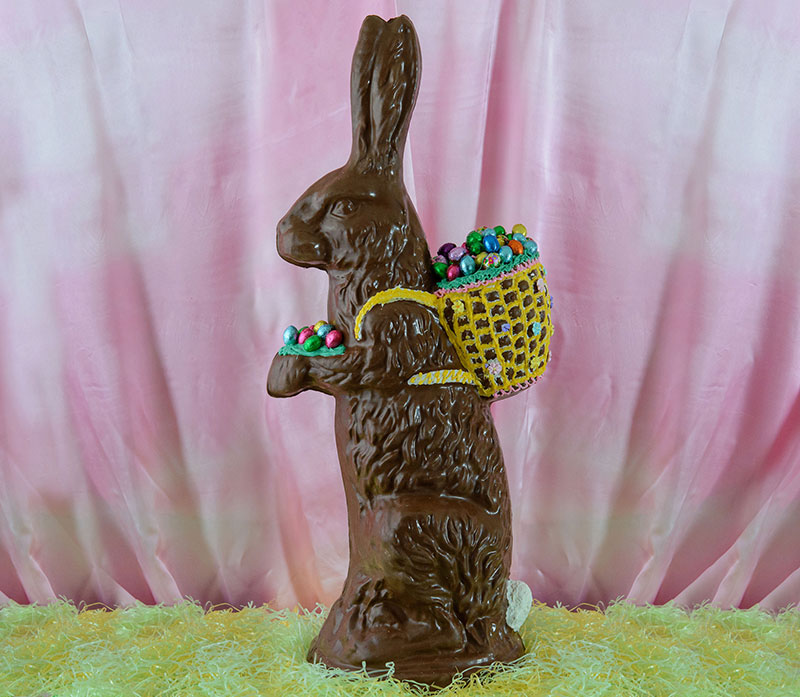 Fort Lauderdale, FL – Hoffman's Chocolates is excited to announce that it is inviting customers of all ages to hop into its Hoffman's Chocolate Factory Shoppe, Ice Cream Parlour & Gardens in Greenacres for its Hoppy Easter Celebration on Saturday, April 8th. The celebration will include Easter egg hunts, photo opportunities with the Easter Bunny, food trucks, entertainment and other family-friendly activities. Hoffman's schedule of festive activities for the day are listed below.
Breakfast with the Easter Bunny and Chocolate Factory Tour and chocolate activity – 10 a.m. - 12 p.m.
This festive, first-time event will include breakfast with the Easter Bunny featuring an all-you-can-eat, buffet-style breakfast with offerings such as eggs, bacon, sausage, cheesy hash browns, bagels, pastries, juices and coffee. The morning will also include photo opportunities with the bunny, a rare, behind-the-scenes tour of the famous Hoffman's Chocolates Factory, a special, create-your-own chocolate bar activity and an Easter egg hunt. The egg hunt will feature approximately 5,000 eggs filled with goodies, redeemable vouchers and one extra-special egg will contain a voucher to claim a 3-foot Chocolate Bunny (valued at $299.95). Guests can also take part in the other activities later that day. The cost for this event is $34.95 for adults, $17.95 for children ages 2-12, and children under 2 are free but will not be assigned a seat. Space is limited, so attendees are encouraged to register today at www.Hoffmans.com/bunnybreakfast. Price of admission also gives all guests first access to the Easter egg hunt following the breakfast. Tickets will not be sold at the door.
Hoppy Easter Celebration – 12 p.m. - 3 p.m.
Hoffman's Chocolates will celebrate Easter with a family-friendly afternoon including Easter egg hunts (for ages 2-12), photo opportunities with the Easter Bunny, food trucks, magic shows, entertainment, crafts and other activities in Hoffman's beautiful Gardens. The cost for entry is $5 per person (children under 2 are free). Ice cream, Easter treats, gourmet caramel apples and other chocolates and confections will be available for sale in both The Sweet Shack in the Gardens and in the Factory Store. Tickets can be purchased at Hoffman's Chocolates the day of the event. Please don't forget to bring your own Easter basket.
In addition, Hoffman's is also pleased to announce its extraordinary selection of Easter treats. Below is just a sample of the chocolatier's signature Easter products that will be available in its stores* and online at Hoffmans.com:
Chocolate Easter Bunnies (milk, white or dark) available in a variety of sizes including 3-foot Bunnies ($299.95), 2-foot Bunnies ($149.95)
Chocolate Easter Bunny Holding Egg available in sizes 2.5 oz., 6oz., 8oz., 14oz., 15oz., 42oz. (prices range from $3.95 - $36.75)
Easter decorated Oreo cookies (prices range from $6.50 - $12.50)
Chocolate Eggs with fillings such as marshmallow, chocolate fudge, coconut cream and peanut butter ($7.25)
Easter Baskets (prices range from $34.95 – $64.95)
Spring Platters (prices range from $39.95 - $79.95)
Foiled Bunnies and Eggs ($7.95)
Easter lollipops ($2.50)
Hoffman's Chocolates currently has stores in Greenacres, Boca Raton, Palm Beach Gardens, Delray Beach, Downtown Fort Lauderdale, Plantation, Weston, Hollywood and the Fort Lauderdale/Hollywood International Airport.