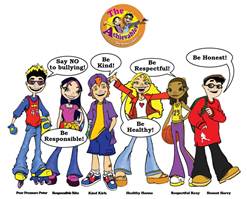 FORT. LAUDERDALE, FL – The Achievable Crew is unlike any other opportunity in education. Across America, parents, educators, schools and foundations continue to seek an effective method to inspire, remind, teach and reinforce positive values in children, and with October being National Anti-Bully Month, there is no better time than the present to instill these core values of life. Now, for the first time ever, students at Oriole Elementary School in Lauderdale Lakes, Florida are being inspired and empowered by the introduction of The Achievables Character Education program which was launched last week as a pilot program at the school. Created by Lori Scott, President of The Achievable Crew, Inc., the ground-breaking Achievable Crew which includes Peer Pressure Peter, Respectful Roxy, Honest Harry, Healthy Hanna, Responsible Rita and Kind Kirk, are not only cool, but teach children how to lead healthy lifestyles through positive core values and character traits. These engaging and entertaining new Super Heroes get into the heart and mind of every child while contributing to their learning and enjoyment.

"We are very excited to be launching The Achievables Character Education program, with the help of Exults, at Oriole Elementary School," said Lori Scott, President and Creator of The Achievables. "The Achievables is an engaging and entertaining educational solution that teaches young students important life skills and values such as Respect, Responsibility, Honesty, Kindness, Being Healthy, Drug-Free and dealing with Peer-Pressure and Bullying - all which need to be taught early in life. Our characters help build self-confidence as they capture and retain the interest of children of all ages by leveraging a multi-media approach to education."

The Achievables Character Education program is an ideal way to educate and empower children in a fun and entertaining format that they will retain. As a Partner in Education, The Achievable Crew, Inc., will be providing students and teachers at Oriole Elementary daily access to the student friendly character education full resource materials courtesy of Exults, a premiere internet marketing company based in Ft. Lauderdale. Each teacher will receive, for his or her class, The Achievables lesson plan book, workbooks, poster packets, money books, character cut-outs, awards, folders, stickers, CD-ROMs and other materials featuring The Achievable Crew. The Achievables Character Education program will be piloted at Oriole Elementary (3081 NW 39th Street, Lauderdale, Lakes, FL) throughout the 2012/2013 school year.

Lori Scott, local published author and founder of The Achievable Crew Inc. has inspired and empowered children during her 17 years in the health and fitness industry. Her experience in coaching both children and adults individually and in a team atmosphere has allowed her to inspire their self-confidence on and off the field and build self-esteem. For more information, please visit www.theachievables.com.

Exults is sponsoring The Achievables empowering program as part of their ongoing efforts to support local programs in our community. As a full-service internet marketing company, Exults is RESULTS DRIVEN for its clients and offers a complete range of internet marketing services to reach its clients' goals. Exults premier services include Website Design, Search Engine Optimization, Pay Per Click Management, Social Media Marketing, Video Optimization and Brand Identity/Reputation Management. Exults Founder and CEO Zach Hoffman oversees and manages the day to day operations of the growing Ft. Lauderdale based internet marketing agency. For more information about Exults, please call 866-999-4736 or visit www.exults.com.