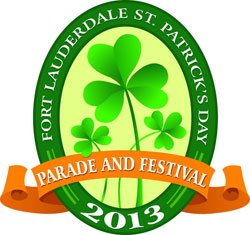 FORT LAUDERDALE, FL - Get ready to paint the town green! On Saturday, March 9, 2013, the Fort Lauderdale St. Patrick's Parade and Festival marches into downtown featuring the world famous Budweiser Clydesdales!
Presented by Jameson Irish Whiskey, the free St. Patrick's Parade and Festival has quickly grown into one of Fort Lauderdale's largest and most anticipated events, attracting thousands of spectators to the streets of downtown for a one-of-a-kind celebration of all things Irish.
This year's event promises to be bigger and better than ever, highlighted by a colorful parade, live music, great food and outstanding entertainment.
The pageantry and excitement will begin on Saturday morning at 11:00 am with a traditional Irish Blessing at Huizenga Plaza, located at Las Olas Boulevard and Andrews Avenue. Fort Lauderdale Mayor John P. "Jack" Seiler will deliver opening remarks, which will be followed by the running of the 2nd Annual Leprechaun Leap, a family fun run that will feature parents and children clad in green racing down Las Olas Boulevard to kick off the festivities.
At noon, all eyes will turn toward the sky as the U.S. Coast Guard's signature red helicopter performs a dramatic flyover to officially start the St. Patrick's Parade.
This year, the parade will travel west along Las Olas Boulevard from S.E. 5th Avenue to Las Olas Riverfront. Making their debut appearance in the parade will be the world renowned Budweiser Clydesdales. First introduced in 1933, the majestic eight horse "hitch" has delighted audiences around the country for 80 years. Today, the traveling team of Clydesdales logs more than 100,000 miles a year performing at parades, rodeos, fairs and special events. In addition to the Clydesdales, the parade will include decorative floats, pipe and drum corps, classic automobiles, bagpipers, marching bands, Irish dancers, street performers, scout troops, the Miami Dolphins, Veterans groups, and elected officials.
Following the parade, the St. Patrick's Festival will continue until 7:00 pm at Huizenga Plaza and along the Riverwalk. Festival highlights will include live music, Irish dancers, interactive entertainment, stilt walkers, leprechauns, cultural exhibits, and plenty of your favorite Irish food and beverages. The event will also feature live performances from popular bands including Celtic Bridge, Avalon, and The Fineans. Children will love the festival's expanded Kids Zone with bounce houses, train rides, face painting, a petting zoo, pony rides, balloon artists, interactive games and much more!
The day's entertainment schedule is as follows:
ENTERTAINMENT SCHEDULE*
Huizenga Plaza
11:00 AM Irish Blessing & Mayor's Welcome
11:30 AM Leprechaun Leap Family Run
NOON Parade Begins Along Las Olas Boulevard
2:00 PM Celtic Bridge (band)
3:15 PM Irish Dancers
3:45 PM Avalon (band)
5:00 PM Pipe Band
5:30 PM The Fineans (band)
Kids Zone
10:00 AM Irish Fiddle & Tenor Banjo Workshop
11:00 AM Kids Activities Begin
2:00 PM Irish Harp Demonstration
3:00 PM Puppet Show
4:00 PM Storytelling
5:00 PM Bodhran Celtic Rim Drum Presentation
*Schedule is subject to change.
Volunteers are the key to a great event. If you would like to be part of the St. Patrick's Parade and Festival by becoming a volunteer, please contact Joanne Smith at (954) 298-5607 or email club10@aol.com.
The Fort Lauderdale St. Patrick's Parade and Festival, Inc. is a 501(c)(3) Non-Profit organization and a sanctioned event of Winterfest. The event is sponsored by Jameson Irish Whiskey, City of Fort Lauderdale, The Related Group, Ireland's Inn, Downtown Development Authority, AutoNation, The Huizenga Family, Keith and Schnars, YOLO, Whole Foods Market, ACE Waste, Budweiser, NOVA Southeastern University, Cymbal Development, Local IAFF 765, Anticipation Yachts, Murphy's Stout, Las Olas Riverfront, TBG Partners, EDI, Hugh's Culinary, Briny Riverfront, Northwestern Mutual, OMGFAST!, Lochrie Chakas, FOP Lodge 31, Westway Towing, Sun Sentinel, Majic 102.7, Local 10 News, and Broward Health.
For more information about the Fort Lauderdale St. Patrick's Day Parade and Festival, please call the event hotline at (954) 828-5363 or visit the event website at www.ftlaudirishfest.com.