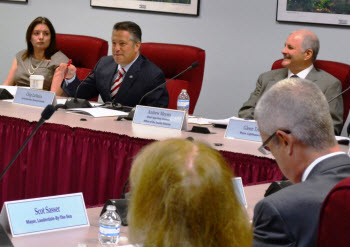 Broward County Commissioner Chip LaMarca hosts 2nd Annual District 4 Mayors Summit BROWARD COUNTY, FL - Economic development, beach renourishment, tourism and transportation were among the topics discussed today at Broward Commissioner Chip LaMarca's 2nd Annual District 4 Mayors Summit.
"This summit brings the cities and county face to face to discuss important local issues. These are quality of life issues and it's of utmost importance that we have an open dialogue about how we can work better together to serve our residents, businesses and visitors," said Commissioner Chip LaMarca.
Representatives from the Broward County Office of Small Business & Economic Development, Natural Resources, Human Services, Transportation, the Greater Fort Lauderdale Alliance and the Greater Fort Lauderdale Convention & Visitors Bureau participated in the Summit.
Beach Renourishment:
City Mayors were told that Segment Two of the County's Beach Renourishment project is slated to begin later in the year once final Army Corps permits are approved. Segment Two stretches from Pompano Beach to Lauderdale-by-the-Sea.
Economic Development:
The effort is on to bring new businesses to Broward County and grow the businesses here. David Coddington, Vice President of Business Development from the Greater Fort Lauderdale Alliance says a number of new businesses have relocated throughout the County providing hundreds of jobs. The Alliance is also focusing on growing businesses that are currently in operation. "Once we get them here, we want them to stay," said Coddington. Commissioner LaMarca is the Broward County Board of County Commission liaison to the Greater Fort Lauderdale Alliance.
The Broward County Office of Small Business and Economic Development Director Sandy-Michael Mcdonald explained the numerous services and programs available through the County that provide assistance to businesses in every city. Seminars focusing on instructions for doing business with the County, creating a business plan and financing are available. "We want to help businesses stabilize and grow their businesses beyond Broward County. Stronger cities make a stronger county," said Mcdonald.
Tourism:
Six of the eight cities located in District 4 are beachfront communities. Mayors were told that 13.4 million visitors came to the Greater Fort Lauderdale area last year and spent over $10 Billion. GFLCVB President Nicki Grossman told city representatives that "We're losing one million hotel nights a year because we don't have a convention center hotel to accommodate people. We can't bid on some events because there's not a hotel connected to the convention center. There are two proposed projects in the works; one is to build a convention center hotel and the second is to expand convention center space."
Mayors and representatives from Hillsboro Beach, Deerfield Beach, Lighthouse Point, Lauderdale-by-the-Sea, Pompano Beach, Oakland Park, Sea Ranch Lakes and Fort Lauderdale participated in the discussion.