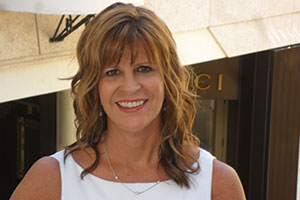 Elizabeth Wynter, President and CEO of Children's Harbor, has been named Administrator of the Year by the Florida Coalition for Children (FCC), which advocates on behalf of Florida's abused, abandoned, neglected and at-risk children and support agencies and individuals who work on their behalf.
The award is given annually to a candidate that has advanced the effectiveness and relevance of their agency's mission and programs in meeting the needs of the children, youth and families they serve. The award was presented during the FCC's annual awards reception where several hundred child welfare providers and supporters gathered to celebrate those individuals who have been dedicated and are extraordinary advocates for Florida's children and families. The reception concluded the FCC annual conference, which was a celebration of outstanding leaders and the significant achievements the state has made since privatizing child welfare and transitioning community based care system.
"I am incredibly humbled to receive this honor that is for something so near and dear to my heart," said Wynter, who leads the Pembroke Pines-based organization. "The strides we have made at Children's Harbor for children in foster care could not have been done without the exceptional people I have the pleasure of working with. I am proud of the work we have accomplished and look forward to continue supporting at risk children, youth and families in Broward County."
Children's Harbor is a nationally accredited nonprofit agency with a mission to provide a safe harbor and support to at risk children, youth, and families-keeping brothers and sisters together, strengthening families, and rebuilding lives.
Since joining Children's Harbor as President and CEO in 2015, Wynter has worked diligently to improve Children's Harbor and advance the availability for much needed services in the community for the children and families they serve. In the past two years, Wynter has diversified funding streams, streamlined processes, raised the profile of the organization and built a much needed infrastructure to advance the effectiveness and relevance of Children's Harbor's mission. She has brought community partners together to find innovative ways to address the needs of current and former foster children and youth. Her leadership, dedication and passion for the cause has significantly advanced the availability of much needed services in the community.
Wynter is a resident of Plantation.