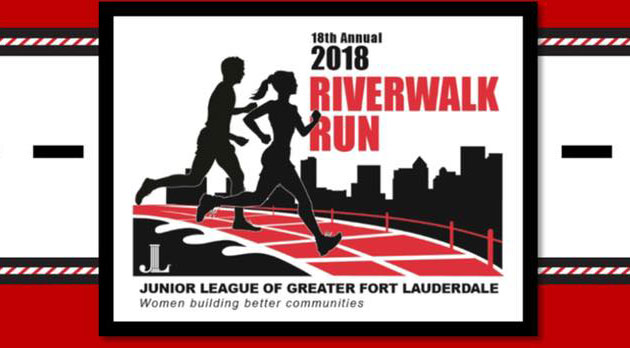 Lace up your sneakers and join us for the 18th Annual Riverwalk Run at Huizenga Plaza on Saturday, April 14, 2018. This event, hosted by the Junior League of Greater Fort Lauderdale, will honor the League's 80 years of service, and its impact on improving the surrounding community.
The Riverwalk Run is a day of fitness and fun for the whole family. All fitness levels are encouraged to attend! Options include running the 5 mile USATF Certified Course or the 5K course. A separate 5K Fitness walk is perfect for those who wish to take a slower pace. Staggered starts for each participating category will be in place.
The picturesque route starts at Huizenga Plaza on Las Olas Boulevard, and then curves along the bank of the New River, wandering through the tree-lined neighborhood streets of Rio Vista, cutting through Smoker Park with views of the New River and the historic Stranahan House before finishing on the signature brick path of the Riverwalk.
This year your kids can compete, too! Encourage them to sign up for the "Kids' Fun Run," a 1K course lined with parents and volunteers to cheer them on. Post-race festivities include a fabulous champagne brunch, activities for kids and an awards ceremony for top race finishers.
Do you have Furry Friend who'd like to tag along? This year friendly dogs are welcome and they can enjoy their very own Doggy Fun Zone at the event. Just be sure to sign them up, and don't forget a leash!
The Riverwalk Run will begin at 8:00 a.m. with same day registration and fun activities beginning at 6:45 a.m. The cost of the event is $45. The Kids' Fun Run costs $10 in advance and $20 on race day. And for that special pup, the cost is $10 - even on race day!
More than 1,000 runners are anticipated, so register now to secure your spot and visit: www.RiverwalkRun.com for more information and updates.
The generous supporters of the 18th Annual Riverwalk Run include: Chavin Mitchell Shmuely, P.A., Cushman & Wakefield, Frank Costoya Architect, Kelley Kronenberg, Lipof & McGee Advertising, Minuteman Press, Munoz Photography, Pro Media, Rosé Piscine, Running Wild, Tito's Vodka, Trader Joe's, Tsamma Juice, and more!
About The Junior League of Greater Fort Lauderdale
The Junior League of Greater Fort Lauderdale, Inc. is a non-profit organization of women committed to improving the community through the effective action and leadership of trained volunteers. This event benefits the Junior League of Greater Fort Lauderdale's current community projects including Human Trafficking Awareness, Childhood Fitness and Nutrition as well as numerous done-in-a-day projects benefiting other nonprofits and children and families in Broward County. Junior League Legacy projects include establishing The FLITE Center, Susan B. Anthony Recovery Center, Volunteer Broward (now Hands on Broward), OUR House, SOS Children's Villages, Kids in Distress, Museum of Discovery and Science, Museum of Art Fort Lauderdale, Henderson Behavioral Health and Jack & Jill Children's Center. Help us Run for the Future and make a difference in the lives of Broward County! For more information, contact the Junior League office at (954) 462-1350 or visit www.juniorleagueftl.org.