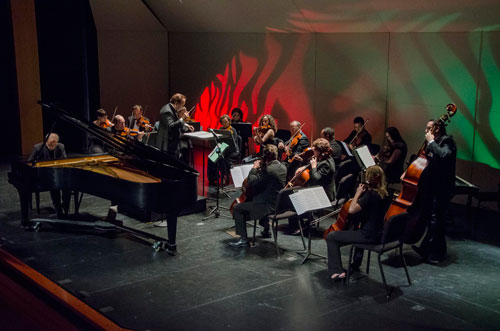 The Symphony of the Americas' annual Summerfest 2012 - Photo Credit: Wade Caldwell
FORT LAUDERDALE, FL. -- The Symphony of the Americas' annual Summerfest has brought numerous top flight European chamber orchestras to South Florida and Latin America for more than two decades. For the 2012 edition, the indefatigable Maestro James Brooks-Bruzzese led the Mission Chamber Orchestra of Rome. Joined by several members of the Symphony of the Americas, the ensemble excelled in a lively program before a large and enthusiastic audience at the Broward Center's Amaturo Theater on Friday, July 27. Composed of musicians from Italy, Serbia, Switzerland and beyond, the orchestra exhibited precise ensemble and great flexibility in a highly varied program.
Opening with Carl Philipp Emanuel Bach's Sinfonia No.2 in B-flat Major, the string forces' bright tone and crisp attack brought this early classical era work to vivid life. C.P.E. Bach was the most gifted of the musical children of Johann Sebastian Bach. Unlike his father, he did not adhere to rigid musical structures. Brooks-Bruzzese reveled in the score's sparkling wit and quirky, unexpected turns of phrase.
Aracangelo Corelli was one of the greatest violinists of the Baroque era. While his compositional output was small, Corelli's string works are some of the finest and most imaginative scores to emerge from the high Baroque. It was entirely appropriate that Corelli's Concerto-Grosso, Op.6, No.5 received the finest performance of the evening. Wonderfully idiomatic and incisive, the players brought clarity and verve to the score, the four member solo contingent playing with scintillating brilliance and transparency. Cuban born concertmaster Orlando Forte (a Symphony of the Americas member) was particularly virtuosic, bringing energy and sterling technique to Corelli's bravura writing. He was seconded with patrician aplomb by violinist Svetlana Forte, his wife. Cellist Jurg Eichenberger ably filled the lower string end and Renee LaBonte (the Symphony of the Americas' multitalented Executive Director) deftly underlined the harpsichord continuo. The fleet, airy playing of the entire ensemble was irrisistible.
Camille Saint-Saens' Introduction and Rondo Capriccioso was originally conceived for famed Spanish violinist Pablo de Sarasate. Longtime Symphony of the Americas principal flutist Marilyn Maingart added a new spin to this popular musical evergreen by adapting and arranging the score for solo flute, piano and strings. Maingart's ingenuous arrangement combined Saint-Saens' solo fireworks with some of the wind filigree of Cecil Chaminades' Flute Concertino. Maingart ably displayed her command of the instrument, negotiating the music's curves and lines with ease. LaBonte brought Gallic élan, clear articulation and dynamism to the piano line.
The premiere of Tarantango for piano and strings by Lorenzo Turchi-Floris, music director of the Mission Chamber Orchestra, was a real treat. A dazzling keyboard firebrand, Turchi-Floris has created a score that cleverly mixed Italianate vitality with Latin passion and languor. Cross pollinating the tarantella with the tango, this score is a total delight, replete with memorable melodies and tour de force solo writing. Turchi-Floris was dazzling in his solo role, assaying his knuckle busting keyboard writing with power and superb musicianship, ably supported by Brooks-Bruzzese and the string ensemble.
Sir Charles Hubert Hastings Parray was one of England's most important musical figures during the Victorian era. Three movements from his English Suite were jaunty, the influence of British folk song and dance strongly felt with Brooks-Bruzzese drawing surprisingly large sonorities from the string players. The Nocturne from Borodin's String Quartet No.2 spotlighted the group's excellent cello section, playing with rich tone and depth of expression. The program concluded with Felix Mendelssohn's Sinfonia No.10 in B minor, one of the twelve string symphonies he wrote between the age of 12 and 14. The vivacity and finely chiseled beauty of this prodigious masterpiece was superbly captured in a performance that did full justice to the work's stormy romanticism and melodic felicities. Handel's Entrance of the Queen of Sheba was a brisk, charming encore to a perfect concert for summer.
Remaining South Florida performances by the Mission Chamber Orchestra of Rome at Summerfest 2012 will take place 7 pm July 28 at Herb Skolnick Center, Pompano Beach (954-786-4590 www.mypompanobeach.org ), 8 pm July 29 at Miami Lakes Methodist Church (305-512-7133 www.miamilakes-fl.gov ), 7 pm August 4 at Crest Theater, Old School Square, Delray Beach (561-243-7922 www.oldschool.org ), 8 pm August 5 at Hollywood Arts Park (954-921-3404 www.hollywoodfl.org ) and 7:30 pm August 8 at Christ By the Sea United Methodist Church, Vero Beach (772-770-4857 www.cultural-council.org ).