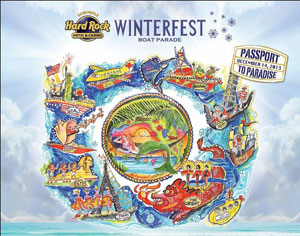 FORT LAUDERDALE, Fla. (October 25, 2013) – The countdown has started for the greatest show on H20: with less than 50 days until the Seminole Hard Rock Winterfest Boat Parade. To kick off the holiday season Fort Lauderdale-style, boats large and small are preparing to get decked out with lights and music.
The 2013 boat parade sets sail Saturday, December 14, starting in downtown Fort Lauderdale, traveling along a 12-mile route up the Intracoastal Waterway, lined with one million cheering spectators. Not everyone will take a seat along the route to enjoy the parade – private boats, yachts, even kayaks and paddleboards can enter the parade starting at only $35.
The Winterfest Boat Parade is the "World's Most Watched Boat Parade," Florida's #1 most-attended live spectator event, #7 in the U.S. and Top 20 parade in the world.
"This year's Passport to Paradise theme, will transform Fort Lauderdale into a spectacle of international inspiration. We are encouraging boats to get creative – turn the mast into the Eiffel Tower or bring a mariachi band on-board to take the boat South of the border," said Lisa Scott-Founds, Winterfest president and CEO.
The boat parade isn't Winterfest's only event. The Seminole Hard Rock Winterfest Black Tie Ball presented by Moët & Chandon, and the Gray Robinson, P.A. Winterfest White Party presented by Publix Aprons Event Catering make their own respective waves. With an estimated economic impact of more than $48 million to the local area, the boat parade is a significant fixture for South Florida's travel and tourism industry each year.
For more information on how you can be a participant, visit WinterfestParade.com or call 954-767-0686.