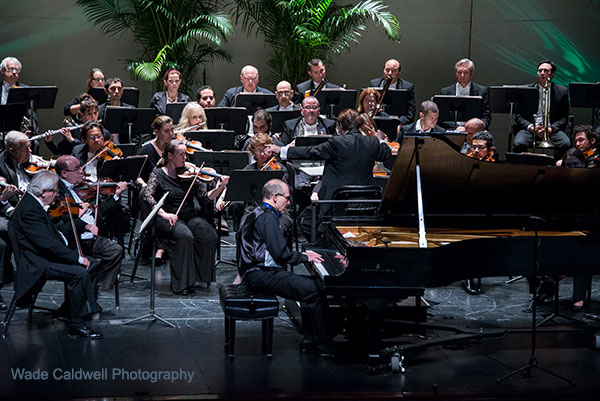 Ted Rosenthal is one of the leading jazz pianists on the world's concert stages. He has played with such jazz legends as Gerry Mulligan, James Moody and Wynton Marsalis and his recordings of improvisations on Beethoven sonatas and jazz classics have received critical plaudits. On Tuesday night at the Broward Center's Amaturo Theater, Rosenthal joined Maestro James Brooks-Bruzzese and the Symphony of the Americas for a memorable performance of an American classic - George Gershwin's Concerto in F.
Rosenthal gave a freshly minted reading of the 1925 score that avoided heavy handed clichés. Playing at a relaxed tempo, he brought the easy grace and sophisticated sheen of a veteran jazz player to the melodic strands of the first movement. Rosenthal added his own swinging cadenza, playing with total dexterity. In the bluesy second movement, Rosenthal phrased the quirky second theme with rhythmic acuity. Brooks-Bruzzese and the orchestra were with him all the way. The opening trumpet solo of the second movement had just the right blues based wail and concertmaster Bogdan Chruszcz's solo was replete with lustrous tone. Indeed the richness of the orchestra's strings was a real boon throughout the concerto. In the concerto's finale, Rosenthal set a high voltage pace from the piano's first bars. His rapid fire percussive volleys were nothing short of exhilarating.
Prolonged applause brought a gem of an encore. Rosenthal's own arrangement of I Loves You Porgy from Gershwin's Porgy and Bess, played with the suave elegance of a jazz master. November 15 was Rosenthal's birthday and Brooks-Bruzzese returned to the stage after Rosenthal's encore to lead the orchestra and audience in a chorus of Happy Birthday to this superb musician.
The first half of this Gershwin and the American Journey program featured idiomatic renditions of four pieces by that master of the pops vignette Leroy Anderson. A crisp reading of Fiddle Faddle, a nostalgia infused version of The Golden Years, an appropriately Latin dance based performance of The Girl in Satin (complete with castanets) and a brilliant realization of Anderson's trumpet showpiece Bugler's Holiday were a total delight. Special kudos to the three terrific trumpet players. Stylish performances of the Cole Porter classics Night and Day and I Got You Under My Skin were provided nostalgic interludes.
John Williiams' scores for George Lucas' Star Wars films have become part of the American cultural soundtrack. With scenes from the films projected on a screen behind the orchestra, Brooks-Bruzzese led the Symphony of the Americas in stirring traversals of the Imperial March and the Suite from Star Wars-Revenge of the Sith. With terrific brass and full bodied string sonority, Williams' gorgeous and unforgettable themes were given full cinematic treatment.
The Symphony of the Americas season continues with Holiday Magic featuring vocalist Cathy Van and singer-songwriter Frank Loconto 2 p.m. December 11 and 7:45 p.m. December 13 at the Broward Center Amaturo Theater. www.symphonyoftheamericas.org 954-335-7002