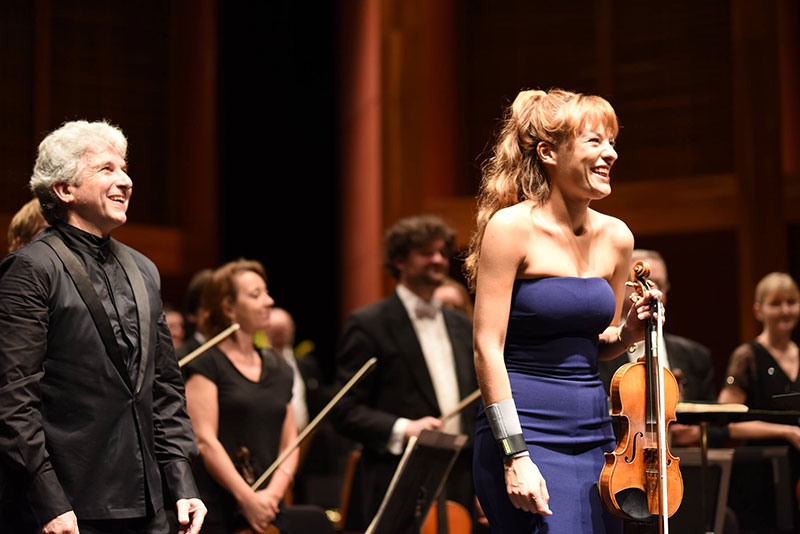 Many visiting orchestras have performed at the Broward Center but Monday night marked the first concert in the United States by the venerable Royal Scottish National Orchestra. The Ft. Lauderdale performance was the opening of a major American tour by the Glasgow based ensemble under the direction of Principal Conductor Peter Oundjian, part of the Broward Center Classical Series. Violinist Nicola Benedetti, one of Scotland's leading artists, was the featured soloist in Brahms' Violin Concerto in D Major.
The orchestra is a solid, thoroughly professional ensemble with a particularly fine string section and capable winds and brass. It makes a big corporate sound that easily fills the hall. What the group lacks is that extra polish and brilliance that distinguish the best orchestras. Consider it the UK equivalent of the Milwaukee or Seattle symphony orchestras. Oundjian, well remembered for his 14 year tenure as first violinist of the renowned Tokyo String Quartet, is a competent workman and expert accompanist who lacks that extra level of inspiration that can turn performances of the standard symphonic repertoire into memorable, incandescent experiences.
Oundjian and the orchestra shone most impressively in the Overture to Prince Igor by Borodin, the concert opener. The opera was left unfinished at Borodin's death. Esteemed composer-conductor-educator Alexander Glazunov cobbled together themes from the opera to form an overture which is performed far more frequently than the completed opera. It is a melodically rich and colorful pastiche and Oundjian brought plenty of vigor to the proceedings. The ensemble's excellent horn section and lustrous strings had a field day in the big clusters of sonority that dot this showpiece.
Benedetti offered a well conceived, mostly technically adept performance of the Brahms concerto. The opening Allegro non troppo fared best as Benedetti brought singing tone and elegant phrasing to Brahms' gorgeous melodies. The cadenza, however, was rather scrappy, the articulation not always precise. Benedetti's reading of the second movement Adagio failed to soar, remaining strangely earthbound. The finale was lacking that special gypsy fire that can turn the Allegro giacoso into a bravura spectacular. Still, this was a capable performance and the audience awarded Benedetti a standing, cheering ovation. The orchestra's first chair oboe and flute played with fine tone and musicality in the exposed solos of the second movement and Oundjian was en sync with Benedetti from the first bars of the violinist's entrance to the concluding pages.
Tchaikovsky's Symphony No. 4 in F minor proved the least satisfying performance of the night. Oundjian's tempos tended toward the plodding and the dramatic and tempestuous score emerged rather bland. He tended to emphasize sheer volume over subtlety and nuance. Only the third movement Scherzo with its rhythmic string pizzicattos came off with the proper vigor and intensity. A Scottish hoedown, with the audience clapping along, proved a charming encore, concluding the concert on a high stepping note.
The Broward Center Classical Series concludes 8 p.m. April 12 with the Stuttgart Bach Academy orchestra and chorus performing J.S. Bach's Mass in B minor. www.browardcenter.org