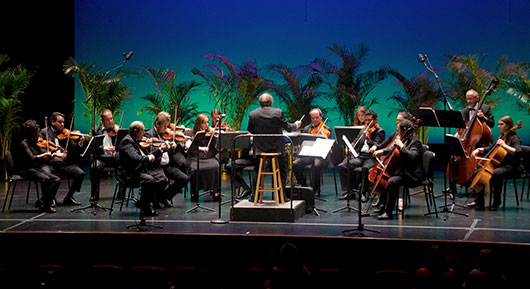 The Symphony of the Americas' latest album 'Summer Fantasia' is a winner and a keeper. Recorded during Summerfest 2017 at the Broward Center, the recording's musical range spans the musical spectrum from Baroque period to a wonderful new score for guitar and strings by a multi talented Italian musical polymath.
Symphony of the Americas artistic director James Brooks-Bruzzese conducts a 17 member string ensemble featuring musicians from orchestras and chamber groups across the globe as well as members of the Ft. Lauderdale based orchestra's string section. The performances are outstanding; the repertoire an entrancing mix of familiar and less frequently heard works.
Ralph Vaughan Williams (1872-1958) was a towering figure in England's musical life. Composer of a wide ranging output of large and smaller scale works, Vaughan Williams was also a conductor active in promulgating the revival of Baroque music in the early 20th century. His Sea Songs is a charming compilation of British sea shanties. The music shines in a robust and graceful performance of Robert Longfield's arrangement, the string playing elegant and refined.
While Johann Sebastian Bach's Concerto in D minor was originally written for two violins, the arrangement on the recording for violin and viola is altogether lovely. The ingratiating blend of the instruments' contrasting timbres recalls Mozart's Sinfonia Concertante for that same duo combination. There is a plethora of energy and vigorous articulation by violinist Valentin Mansurov and violist David Pedraza. Mansurov displays virtuosic agility and Pedraza's depth of tone adds a darker touch to Bach's brilliant string writing.
Brooks-Bruzzese leads a vibrant, sparkling rendition of the Menuetto from Mendelssohn's Sinfonia No. 8 in D Major. The 12 string symphonies of the teenage Mendelssohn are inspired creations of genius. In this excerpt, the ensemble's precision is outstanding with the cellos and basses wonderfully clear and transparent in the trio section. Sir Edward Elgar's Salut d'Amour is one of the great salon pieces of the Romantic Age. The vignette's principal melody is memorable, enhanced by the richness of Lorenzo Turchi-Floris' transcription. The burnished resonance of the string choir is spaciously shaped by Brooks-Bruzzese. Japanese composer Joe Hisaichi mixes themes from three of his film scores in Melody Road. A synthesis of minimalism and quasi Baroque strophes, Hisaichi's catchy tunes delight in this skilled performance.
Lorenzo Turchi-Floris' Prelude and Fugue for guitar and strings pays tribute to J.S. Bach in modernist terms. The moody prelude is austere, yet dramatic, an appealing blend of contemporary compositional techniques and melodic spontaneity. In the form of a tango, the fugue bursts forth with a Latin beat, the contrapuntal writing superbly etched. The section that pits solo guitar against plucked strings is particularly scintillating. Turchi-Floris' score is a total delight and a wonderful addition to the guitar-orchestral repertoire.. Following its recent premiere at the Broward Center, the work will receive its first European performance by guitarist Alessio Nebiolo at the International Guitar Music Festival in Versoix (Geneva), Switzerland in October, 2017. The work's complex solo part is a terrific showcase for Nebiolo. His superb dexterity and sensitive arching of contrasting melodic lines radiates through this first rate performance, expertly coordinated by Brooks-Bruzzese.
Ravel's Bolero is a concert standard but Orlando Forte's string version restores the melody's aristocratic dance like elegance and Brooks-Bruzzese's deliberate tempo brings out the charm of Ravel's material which sometimes gets lost amid the bombast of the full orchestral version. This is a fresh and lovely take on a thrice familiar concert bon-bon.
Vivaldi's Concerto "Alla Rustica" for Strings in D Major finds the legendary Italian red haired priest and prolific composer in his most propulsive and folk inflected mood. With fine continuo playing by Renée La Bonte, the opening Presto is lively and incisive. Strong, decisive chords and high drama abound in the Adagio while the Allegro finale is rendered with stylish fizz and pizzazz.
José Pablo Moncayo was one of the founding fathers of Mexico's classical music scene. Huapango, his most familiar work, is a Latin American classic that echoes folk melodies and dances from Mexico's Veracruz region. A fine arrangement by Orlando Forte preserves the score's Hispanic color and churning rhythms. The sensuous string tones of this stellar reading conclude this outstanding release in memorable fashion.
The 2017-2018 season of the Symphony of the Americas opens with Legendary Lecuona, Hispanic and Italian Heritage Month Tribute featuring pianist Thomas Tirino 7:45 p.m. October 10 at the Broward Center's Amaturo Theater.
For information about the concert season and recording www.symphonyoftheamericas.org 954-335-7002