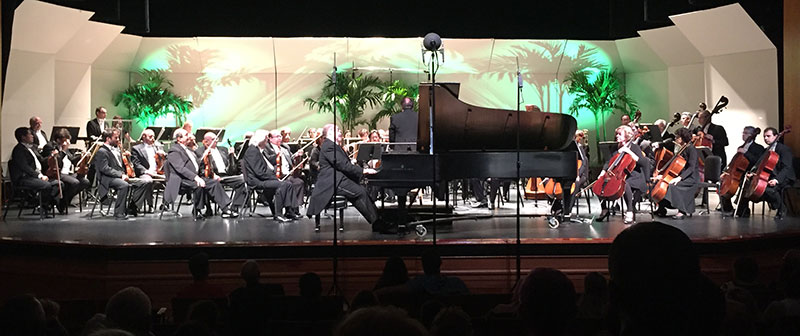 The sparkling rhythms and rich melodic tapestry in the music of Ernesto Lecuona (1895-1963) flow from deep within Cuba's cultural heritage. On Tuesday, October 10 the Symphony of the Americas opened its 30th anniversary season at the Broward Center's Amaturo Theater with a Hispanic and Italian Heritage Tribute featuring pianist Thomas Tirino playing Lecuona. A brilliant virtuoso who has performed across the globe, Tirino is an authority on the Cuban composer's works. He has researched and edited numerous Lecuona scores, performed the music in countless concerts internationally and made Grammy-winning recordings of Lecuona's complete piano scores. It is difficult to imagine anyone playing this music as well as Tirino. His combination of technical mastery and idiomatic flair consistently produces memorable performances.
In spoken comments from the stage prior to his performance, Tirino noted that seven decades earlier to the day Lecuona had conducted the premiere of his Rapsodia Negra at Carnegie Hall. This score's principal theme was also utilized in Lecuona's dramatic zarzuela El Cafetal. Lively contrasting motifs and dramatic orchestral writing propel this fine score. Tirino's fluency in this repertoire is without peer. Splendidly supported by Maestro James Brooks-Bruzzese and the ensemble, his performance was both brilliant and replete with aristocratic warmth.
Tirino's own arrangement of Lecuona's Suite Andalucia featured some of the Cuban master's most famous melodies. Cordoba and Andaluza pulsated with rhythmic energy and wonderfully subtle pianistic colors. Two solo piano vignettes brought a keyboard tour de force Guadalquivir and the gorgeously impressionistic Alhambra. Under Tirino's fingers, Gitanerias emerged as the very soul of the dance. Tirino's version of Malagueña brought out the beloved vignette's rhapsodic qualities without neglecting fleet-fingered propulsion. With full-bodied orchestral accompaniments, this sampling of Lecuona's greatest hits proved irresistible.
Repeated standing ovations and cheers brought two encores from Tirino. Although Lecuona has become his niche repertoire, this terrific pianist is widely versatile. His first encore illustrated that abundantly. Franz Liszt's Paraphrase on Verdi's Rigoletto is a pianistic minefield that only the most steel-fingered, musically precise keyboard artists dare tackle. Tirino's reading was dazzling. He swept through the knuckle busting octaves and brought finely variegated dynamics to Liszt's showpiece without neglecting its songful bel canto roots. For his second encore, Tirino played a scintillating Lecuona danzon that he had transcribed from a 1920's recording by the composer.
On the concert's first half, following a rousing rendition of The Star-Spangled Banner, Maestro Brooks-Bruzzese led the Symphony of the Americas in a sparkling traversal of Rossini's Overture to La Gazza Ladra. All the score's quirky turns were vibrantly accounted for and the quintessential Rossinian crescendo had a potent impact. Mexican composer Arturo Marquez's Danzon No. 2 was alternately sensuous and hard driving. This is a wonderful Latin American score and the orchestra gave it a high voltage performance. A lively reading of the Overture to Donizetti's Anna Bolena concluded the pre-intermission part of the program. The important wind solos in these works were superbly articulated and the entire ensemble was in fine form. Celebrating three decades of performances, the orchestra's season opener was festive indeed!
The Symphony of the Americas season continues with Holiday Voices featuring the Florida Singing Sons and Girl Choir of South Florida 2 p.m. December 3 and 7:45 p.m. December 5 at the Amaturo Theater. www.symphonyoftheamericas.org