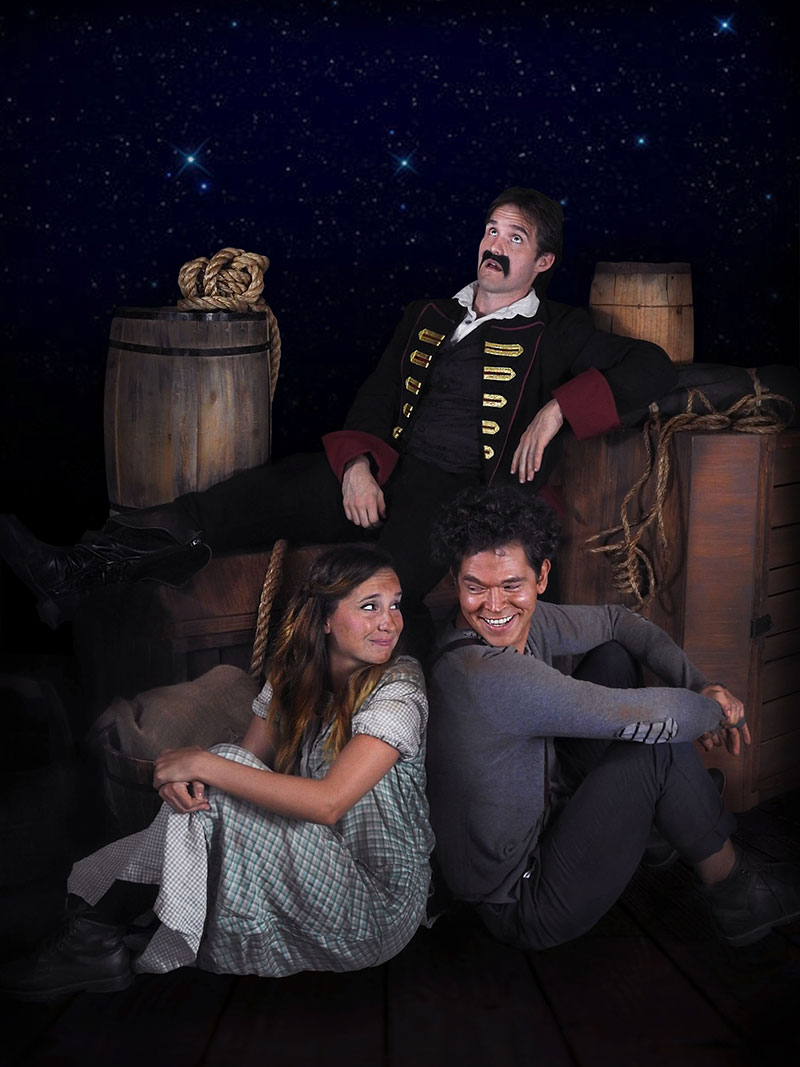 FORT LAUDERDALE – The Broward Center for the Performing Arts and Slow Burn Theatre Company present Peter and the Starcatcher Thursday, November 9 – Sunday, November 26.
Winner of five Tony Awards, Peter and the Starcatcher is a wildly theatrical adaptation of Dave Barry and Ridley Pearson's best-selling novels that upend the century-old story of how a sad orphan comes to be The Boy Who Would Not Grow Up (a.k.a. Peter Pan).
From marauding pirates and jungle tyrants to unwilling comrades and unlikely heroes, the show playfully explores the depths of greed and despair... and the bonds of friendship, duty and love.
Jordan Armstrong in the title role and Clay Cartland as the pirate Black Stache lead a cast that includes Robert Fritz, Johnbarry Green, Cameron Jordan, Matthew Korinko, Noah Levin, Joseph Pino, Ben Sandomir, Krystal Millie Valdes and Corey Vega.
Slow Burn Artistic Director Patrick Fitzwater heads a creative team featuring Music Director Anthony Campisi, Scenic Designer Michael McClain, Costume Designer Rick Pena and Lighting Designer Jose Santiago.
Performances times vary. Performances in the first week are Thursday-Friday at 7:30 p.m.; Saturday at 2 p.m. and 7:30 p.m.; and Sunday at 2 p.m. The second week of performances are Thursday-Friday at 7:30 p.m.; Saturday at 2 p.m. and 7:30 p.m.; and Sunday at 1 p.m. In its final week at the Broward Center, performances are Friday at 7:30 p.m.; Saturday at 2 and 7:30 p.m.; and Sunday at 1 and 6 p.m.
The comedy then moves to the Aventura Arts & Cultural Center for performances Thursday, November 30 – Sunday, December 3.
Performances are held in the Abdo New River Room at the Broward Center where, starting one hour prior to the performance and during intermission, sumptuous sandwiches, salads, snacks and desserts are available for purchase with convenient walk-up service. A full cash bar is also available.
Tickets are $45. Ticketmaster is the only official ticketing service of the Broward Center, Parker Playhouse and affiliated venues. Buy tickets online at BrowardCenter.org or Ticketmaster.com; by phone at 954.462.0222 or the Broward Center's AutoNation Box Office. Know who you are buying from when you purchase tickets.
The Broward Center for the Performing Arts is located in the Riverwalk Arts & Entertainment District at 201 SW Fifth Avenue in Fort Lauderdale.
For more information visit BrowardCenter.org, like us on Facebook at Facebook.com/BrowardCenter, follow us on Twitter and Instagram @BrowardCenter, subscribe to our channel at Youtube.com/user/BrowardCenter and join the conversation with #BrowardCenter.
The Broward Center 2017-2018 season is presented by the Broward Performing Arts Foundation. AutoNation, Bank of America, Greater Fort Lauderdale Convention & Visitors Bureau, LATAM AIRLINES, MasterCard, Paramount Refreshment Solutions and Sun Sentinel are proud sponsors of the Broward Center.