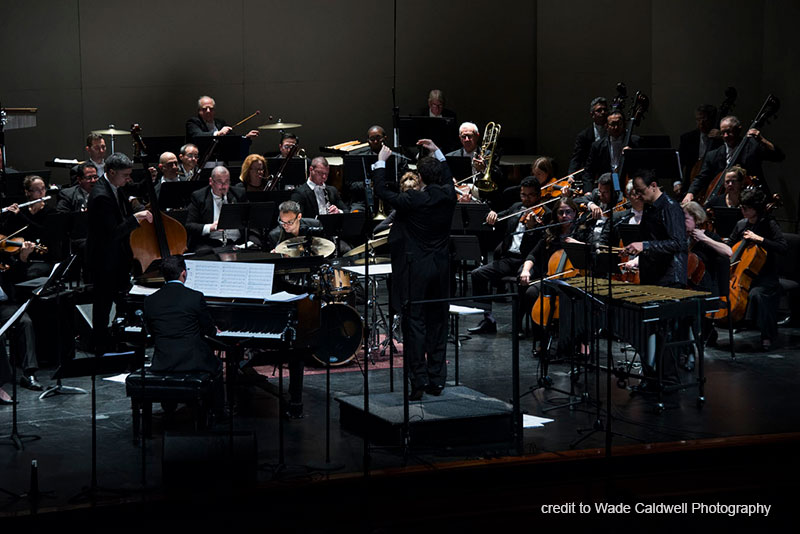 Jazz met classical with a touch of folk infused flavoring on Tuesday night at the Broward Center's Amaturo Theater when the Errol Rackipov Group joined the Symphony of the Americas for a high octane, sizzling evening of strikingly original compositions and innovative arrangements of standards from the musical Diaspora of the northern and southern hemispheres. Fronted by Errol Rackipov on vibraphone (the instrument made famous by the legendary Lionel Hampton), the ensemble features Lubomir Gospodinov on clarinet and saxophone, pianist Martin Bejerano, bassist Peter Slavov and Ludwig Alonso on drum set. Vocalist Kate Prather Reid and trumpet virtuoso Jason Carder were guest artists and composer-conductor Rafael Piccolotto de Lima led most of the exciting program.
Artistic director James Brooks-Bruzzese opened the evening with Rafael Piccolotto de Lima's Latin Grammy Award-winning composition Abertura Jobiniana. Dark string textures set a brooding musical aura. Agitated string figures marked a change of mood with brass fanfares in the mix. It was appropriate that a work that paid tribute to Brazil's bossa-nova master be followed by a work by Antônio Carlos Jobim himself. Jobim's Chovendo na Roseira featured Gospodinov's mellifluous, rich wind tones and Bejerano's brilliant piano riffs with Rackipov's vibraphone adding rigor to Tom Jobim's memorable melody.
With Piccolotto de Lima, a graduate of the University of Miami Frost School of Music's jazz program, taking over the podium, Rackipov's Bosphorous proved melodically catchy and rhythmically infectious. Reid's wordless vocal line became part of the instrumental layers. In Rackipov's Todora, Alonso's drums and Bejerano's keyboard were fired up in duos with Rackipov's vibraphone. Reid is a terrific jazz vocalist. Her dusky voice and huge, extended range were impressively displayed in Jobim's Passarim.
Opening the concert's second half, Rackipov's Pictures from a Train Window (from his acclaimed album of that title) was a Latin-Eastern European gumbo that fused folk tinged melody, ruminative string figures and peeling trumpet in the most mesmeric manner. Bejerano's elegant, swinging piano styling was supported by the tight rhythmic control of Slavov's bass and Alonso's fearless percussive thrust. Carder's agility on trumpet was marvelous in the best sense of the term.
The world premiere of Piccolotto de Lima's Ralar (A Lullaby for the Moon), written for the Symphony of the Americas' 30th anniversary and dedicated to Rackipov) found Rackipov and Bejerano soloing with the orchestra in haunting melodic strophes. The broad string theme was assayed with depth of tone and solos by cello and two violins added a touch of nostalgic sentimentality to this beautiful vignette. Reid began an inventive arrangement of Richard Rodgers' My Favorite Things (from The Sound of Music) singing softly; then with increasingly animated and incisive phrasing. Gospodinov's solo turn was hot and wildly effusive.
The program concluded with Rackipov's Spanish Suite. This DownBeat Magazine award winning arrangement fuses familiar melodies by Chick Corea and Joaquín Rodrigo. A lengthy, unaccompanied piano solo by Bejerano introduced the melody from the second movement of Rodrigo's guitar masterpiece Concerto de Aranjuez. Gospodinov's deeply sonorous clarinet beautifully articulated the theme usually played by English horn. Carder's trumpet repeated the familiar melody before taking off in bravura leaps in the great tradition of Miles Davis. Indeed Carder is a jazz great. Corea's Spain was launched at full tilt by Bejerano, Rackipov providing rapid-fire vibe currents. The full ensemble clapped hands as the energy level ratcheted up to Carder's final trumpet blast.
The audience was on its feet, cheering, whistling and bring back Rackipov, his players and Piccolotto de Lima back for repeated bows. For an encore the Rackipov Group offered Far From Here a Long Time Ago (from Rackipov's first album). This austere and beautiful tune found Rackipov's vibraphone now soft and sweet in tone. The entire program was a bona fide event - a celebration of creative and performing genius across artistic genres.
The Symphony of the Americas presents Broadway Sizzle & Operatic Passion with soprano Maria Aleida, tenors Carlos de Antonis and Frank D'Ambrosio and guest conductor Alessandro Sicilliani 2 p.m. February 18 and 7:45 p.m. February 20 at the Broward Center's Amaturo Theater. 954335-7002 www.SOTA.org