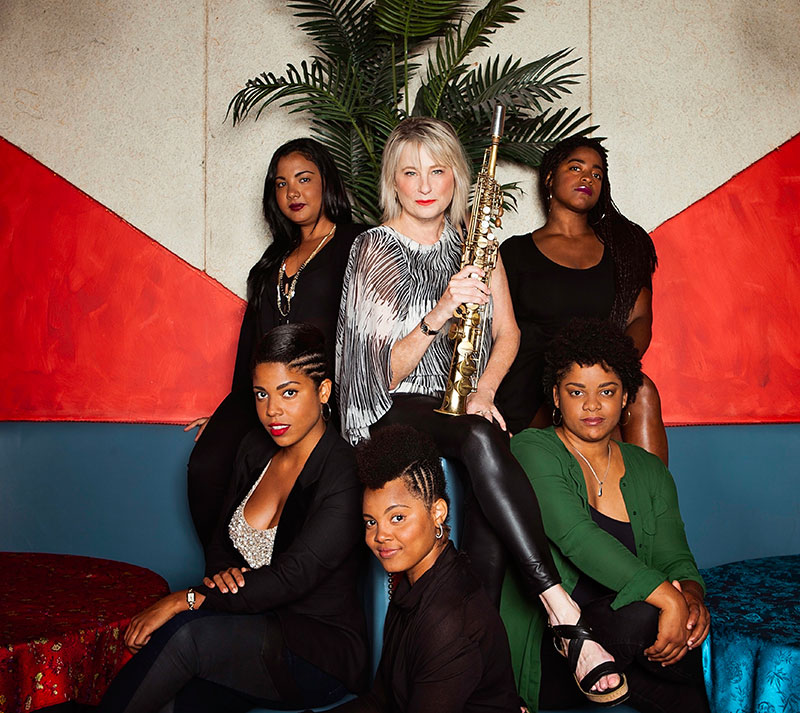 Before their scheduled performances at this year's Newport Jazz Festival and Monterey Jazz Festival, Jane Bunnett and Maqueque will appear in the "South Florida JAZZ at Bailey Hall" series on Saturday, March 17 at 8 p.m. "Ron's 15" Jazz Discussion precedes the show at 7:45 p.m.
Canadian soprano saxophonist-flautist Bunnett has introduced many Cuban musicians to North American audiences. Her exciting new sextet, Maqueque, is both a folkloric and jazz fusion featuring five dynamic young Cuban women instrumentalists and composers. Their eponymous debut CD won the 2015 Juno award in Canada for Best Jazz Recording and their new CD Oddara was nominated for a Grammy® Award for Best Latin Jazz Album, which marked Bunnett's third Grammy nomination.
Bunnett also is a four-time Juno Award-winner and a recipient of the Order of Canada, The Queens Diamond Jubilee medal and the Ontario's Premiers Award for Excellence.
"Jane Bunnett is a true collaborative artist who draws inspiration from others and, in turn, creates music that touches her audiences and offers them new insights," said Dr. Dan Barnard, Broward College associate dean of cultural affairs and director of Bailey Hall.
Bunnett has been recognized for her artistry and improvisational daring, her exploration and then immersion in Afro-Cuban rhythms and melodies. Over the years she has expressed the universality of music and showcased her ability to embrace and showcase the rhythms and culture of Cuba.
In an interview with JazzTimes, Bunnett recalled her early collaborations with Cuban artists stating, "I think we were way ahead of the curve at the time. From the very beginning, we were connected with the most respected musicians. They didn't want [Cuban] music to be misinterpreted…. By aligning ourselves with all the best people, we got a lot of respect for our collaborations; because people understood our motivation and sincerity, and that what we were doing went beyond friendship with another country to making really great music together."
Tickets are $11- $46. Student and senior discounts are also available. Tickets are available by visiting www.baileyhall.org or contacting the Bailey Hall box office at (954) 201-6884. The box office and phone lines are open Tuesday through Friday from 10 a.m. to 5 p.m.; Saturday from 10 a.m. to 2 p.m.; and one hour prior to an event. The flagship venue of Broward College, Bailey Hall is located on the A. Hugh Adams Central Campus at 3501 Davie Rd. in Davie and offers free parking.