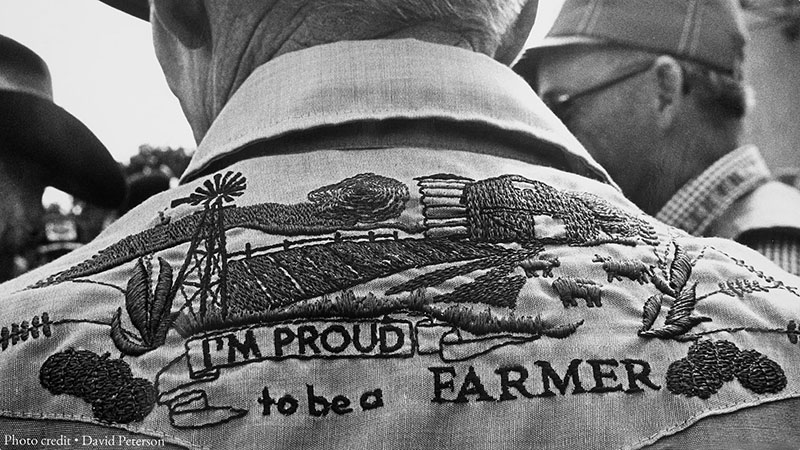 Look See film Still credit David Peterson
The Bailey Hall Film series closes its second season with Look & See: A Portrait of Wendell Berry, the famous writer, farmer and activist, on Thursday, April 12 at 7:30 p.m.
Filmed in Kentucky's Henry County where Berry has lived since the mid-1960s, the documentary weaves Berry's poetic and prescient words with gorgeous cinematography and the testimonies of his family and neighbors in a portrait of the changing landscapes and shifting values of rural America.
Often called "a prophet for rural America," Berry has long been a voice for the communities that are often overlooked by the media. In 1965, Wendell Berry walked away from the normal trajectory for a successful American writer when he and his wife bought a small farmhouse and began a life of farming, writing and teaching.
Writing from a long wooden desk beneath a 40-paned window, Berry has become one of the most passionate and eloquent voices in defense of agrarian life. His awards include the National Humanities Medal, the Richard C. Holbrooke Distinguished Achievement Award, the Roosevelt Institute's Freedom Medal and the Cleanth Brooks Medal for Lifetime Achievement. He is also a Fellow of the American Academy of Arts and Sciences and in 2015 became the first living writer named to the Kentucky Writers Hall of Fame.
Of Look & See, The New York Times reported, "…it's a pleasure to spend 80 minutes in Mr. Berry's company.'"
Filmmaker Laura Dunn will engage in a post-screening discussion about the film and her work via Skype. The trailer is available at www.baileyhall.org
The Southern Circuit Tour of Independent Filmmakers is a program of South Arts. Southern Circuit screenings are funded in part by a grant from South Arts in partnership with the National Endowment for the Arts.
The Bailey Hall Film Series is presented in the Bailey Hall Jazz Club format, offering a more intimate experience in which the audience sits on the stage for an 'up close and personal' interaction with the filmmaker. Ticket holders receive a complimentary beverage to enjoy during the film to add to the casual lounge atmosphere.
Tickets are $10 and student and senior discounts are also available. Tickets are available for purchase by visiting www.baileyhall.org or contacting the Bailey Hall box office at (954) 201-6884. The box office and phone lines are open Tuesday through Friday from 10 a.m. to 5 p.m.; Saturday from 10 a.m. to 2 p.m.; and one hour prior to an event.
The flagship venue of Broward College, Bailey Hall is located on the A. Hugh Adams Central Campus at 3501 Davie Rd. in Davie and offers free parking.