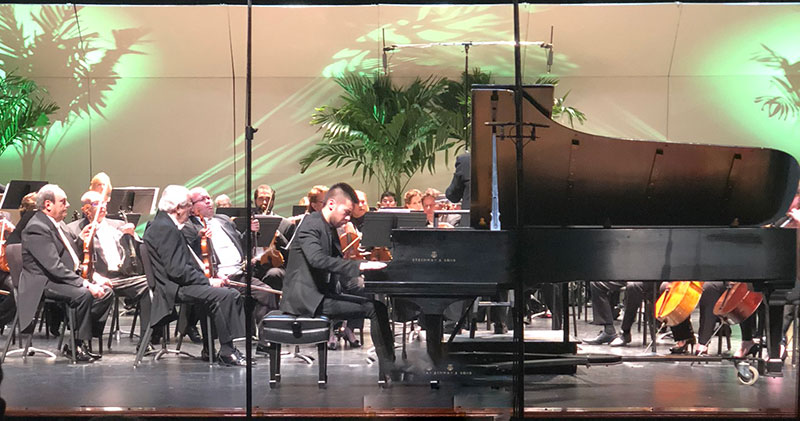 The Symphony of the Americas' closing concert of the season on Tuesday evening at the Broward Center's Amaturo Theater capped the ensemble's 30th anniversary with an evening of brilliant performances. Pianist Conrad Tao was a blazing soloist in a Prokofiev concerto and played one of his own compositions as a memorial to his teacher. Under Maestro James Brooks-Bruzzese, the orchestra was in splendid form.
The program opened with Mendelssohn's rarely played Beautiful Melusine Overture. Based on the ancient tale of a mermaid who falls in love with a nobleman, Mendelssohn's score abounds with a seemingly endless flow of melody. At the onset, rippling woodwinds suggested the gentle waves of the sea. The main allegro was assayed with urgency and lithe energy. In a fine orchestral rendition, the ensemble's strings were particularly notable for their richness of tone, unanimity and precision.
Mozart's Symphony No. 31 in D, K. 297 (Paris) is one of the Salzburg wunderkind's most sparkling works. (It is also the first symphony in which Mozart utilized clarinets as part of the instrumentation.) Brooks-Bruzzese led a high spirited traversal of the opening Allegro assai, giving full rein to Mozart's twists and turns of phrase. In the second movement Andante, the elegant principal theme was gracefully articulated. Strings and winds were well balanced and dynamic contrasted were astutely judged and pointed. A final vigorous Allegro, marked by incisive string playing and clean fugal lines, concluded a joyous performance.
Conrad Tao first appeared in South Florida as a 9 year old prodigy in a recital for the Miami International Piano Festival. His remarkable talent was immediately evident. He has soloed several times over the past decade with the Symphony of the Americas, always producing memorable performances. Now at age 23, Tao is a major concert artist who has performed with distinguished ensembles and in leading venues across the globe. He has also achieved distinction as a gifted composer. (Next season, the New York Philharmonic will premiere a commissioned work by Tao.)
Tao opened the concert's second half with A Walk for Emilio, a solo piano score he composed in memory of Emilio del Rosario, his teacher at the Music Institute of Chicago when Tao was 5 years old. Tao told the audience that he never had the opportunity to tell del Rosario how much he had gained from his teaching and how del Rosario had shaped him as an artist before the distinguished pedagogue died in 2010. The 2015 work begins with repeated chords in the left hand. Gradually a somewhat elegiac melody takes shape over those initial chords. Striking dissonant notes intrude near the conclusion, suggesting loss and remembrance. The score is beautifully conceived and Tao played it with strength and passionate commitment.
Prokofiev's Piano Concerto No. 2 in G minor is a score that many pianists will not even attempt. (Martha Argerich will not touch it and Evgeny Kissin waited until he turned 40 before he played the concerto.) Tao swept through the score's daunting challenges with breezy aplomb. The opening 9 note theme turns angular and Tao's steely fingered power swept through Prokofiev's quirky variants at white heat. For all his pianistic strength and volume, Tao could refine his sound down to an exquisite tonal thread while bringing a glowing array of colors to the music's contrasting exuberance and lyricism. The spot on accuracy of his runs was stunning; even more so the big-boned panache and digital dexterity with which he attacked the first movement's cadenza. He took the knuckle busting octaves at a fierce clip. Brooks-Bruzzese provided expert support, the orchestral role strongly accounted for.
The wild sixteenth note perpetual motion figurations of the second movement Scherzo-Vivace were tossed off at breakneck pace. A slow, sardonic march introduces the Intermezzo. Tao met the intricate hand crossing head on without slowing the tempo. After the orchestra resounding pronounced a typical Prokofiev theme, Tao repeated the thread with power and virtuosic impetuosity. In the Allegro tempestuoso, Tao's fingers swept across the keyboard in a blur that was tempestuous indeed. A very Russian melody offered a contrast in the movement's central episode which Tao assayed with eloquence, delicacy and depth of tonal shadings. He brought tremendous excitement in the crescendo like build up to the coda. Tao's entire reading was dynamic - pianism of the first order.
After a standing, cheering ovation, Tao offered Scarlatti's Sonata in A Major, K. 208 as an encore. He managed the registrations originally conceived for harpsichord with a deft touch. Tao aristocratically shaped the melodic charm of this keyboard gem, concluding a memorable evening of music making.
The 2018-2019 season of the Symphony of the Americas opens with a Uruguayan Tribute to Hispanic and Italian Heritage Month featuring pianists Enrique Graf and Ciro Fodere (October 9), followed by Holiday Music and Movies (December 4 and 9), Magical Visual Concerto with photographer and multimedia artist Nicholas Bardonnay (January 22), acclaimed visual artist DUAIV and clarinetist Dimitri Ashkenazy (February 19), pianist Thomas Pandolfi (March 3) and violinist Glenn Dicterow and violist Karen Dreyfus (April 30). 954-335-7002 www.SOTA.org