Davie, Fla. – The 2018-19 "South Florida JAZZ at Bailey Hall" series will feature jazz greats and some of the music world's most acclaimed new talents which have all received significant Grammy® Award recognition in the scheduled lineup of: the Randy Brecker Quintet with the award-winning trumpet and flugelhorn player; Donny McCaslin Quartet headed by the acclaimed saxophonist and musical pioneer; iconic guitarist John Scofield; standout vibraphonist Stefon Harris and Blackout; Kurt Elling Quintet featuring the renowned baritone and a guitar and vocal jam in "An Evening with Raul Midón and the Lionel Loueke Trio."
"South Florida JAZZ President & Artistic Director Ronald B. Weber has created a remarkable season that embraces the thrilling diversity of jazz," said Dr. Dan Barnard, Broward College associate dean of cultural affairs and director of Bailey Hall. "Superstars such as Randy Brecker, Kurt Elling and John Scofield share a season with musicians who both pay tribute to jazz's history while also stretching its boundaries. Presented in our intimate jazz club format, Bailey Hall will offer they type of exciting evenings usually found only in the top jazz venues around the world."
Jazz trumpeter and composer Randy Brecker has helped shape the sound of jazz, R&B and rock for more than four decades and he kicks off the series with the Randy Brecker Quintet on January 18 at 8 p.m. His trumpet and flugelhorn performances have graced hundreds of albums by a wide range of artists from James Taylor, Bruce Springsteen and Parliament/Funkadelic to Frank Sinatra, Steely Dan, Jaco Pastorius and Frank Zappa. Brecker has won six Grammy Awards and been nominated 18 times including for his work with his late brother Michael as the Brecker Brothers. The New York Daily News reported, "Trumpeter Randy Brecker is a clever scoundrel. He manages to play some of the most marketable easy-listening jazz in the world. But at the same time, he's also able to inject a considerable amount of depth and conviction into his music. The code word is excitement....."
A saxophonist, composer and musical pioneer who has received wide commercial and critical acclaim in jazz, rock and electronica circles comes to South Florida as "South Florida JAZZ at Bailey Hall" presents the Donny McCaslin Quartet on Saturday, February 16 at 8 p.m. With three Grammy nominations and 12 albums to his credit, McCaslin may be best known for his collaboration and friendship with the late David Bowie yet his career stretches back to when, as a senior at the prestigious Berklee College of Music, he joined iconic NEA Jazz Master Gary Burton's Quintet prior to moving to New York where he began working with Maria Schneider, Dave Douglas, Danilo Perez, Brian Blade, Gil Evans project, Steps Ahead, and many others. His recent awards include winning "Best International Jazz Artist" at the 2017 Jazz FM Awards in London. The New York Times reported, "Mr. McCaslin seems to have direct access to emotional expression in his playing, as if it were a valve he could open at will."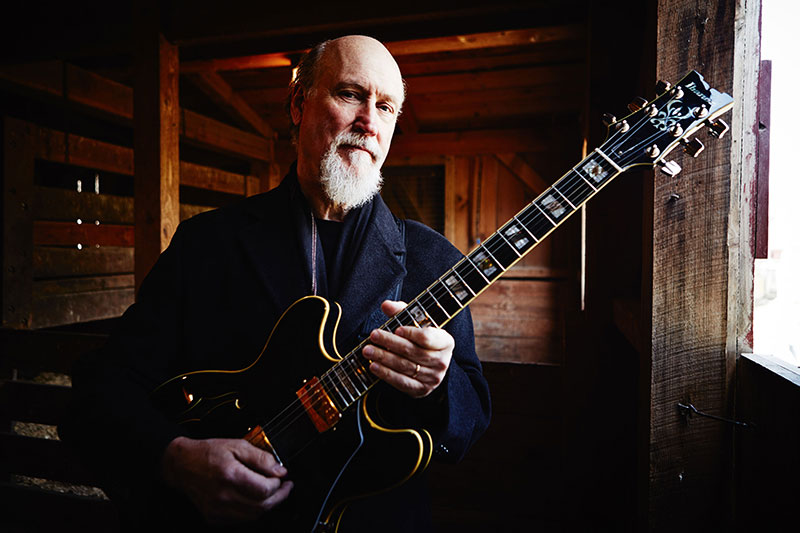 Known for a long legacy of masterful improvisation and stylistic diversity, iconic guitarist John Scofield performs on Saturday, March 16 at 8 p.m. With a total of nine Grammy Award nominations, he has won two consecutive Best Jazz Album Grammy Awards for Past Present and Country For Old Men, the latter of which also won as Best Improvised Jazz Solo for "I'm so Lonesome I could Cry." Since the late 1970's, Scofield has been a major influence on jazz, continuously finding new and exciting avenues to reinvent himself as an artist. All About Jazz reported, "Scofield's exercise of unconventional playing embraces the kind of musical exploration that drives jazz forward with optimism."
Heralded as "one of the most important artists in jazz" by The Los Angeles Times, four-time Grammy nominee Stefon Harris and Blackout come to the "South Florida JAZZ at Bailey Hall" series on Saturday, April 20 at 8 p.m. Harris has been named "Best Mallet Player" eight times by the Jazz Journalist Association and was also chosen "Best Vibes" in the 2017 Downbeat Magazine Critic's Poll, the 2016 Jazz Times Expanded Critics Poll, the 2014 Jazz Times Critics Poll and the 2013 Downbeat Critics Poll. He just recorded his eleventh album as a leader, Sonic Creed, with his band Blackout and has also recorded as part of The Classical Jazz Quartet with Kenny Barron, Ron Carter and Lewis Nash. He has toured worldwide with his bands and as a member of the SFJAZZ Collective and has recorded and performed with many of music's greatest artists including Joe Henderson, Wynton Marsalis, Milt Jackson, Lionel Hampton, Herbie Hancock, Wayne Shorter, Bobby Hutcherson, Cassandra Wilson, Diana Krall, Max Roach and Ry Cooder, among others.

The Kurt Elling Quintet performs on Saturday, May 18 at 8 p.m. featuring Elling's rich baritone four octave range that is renowned for delivering both technical mastery and emotional depth. A Grammy winner with a dozen nominations, Elling was named "Male Singer of the Year" by the DownBeat Critics Poll for fourteen consecutive years and by The Jazz Journalists Association on eight occasions. A close protégé of the late master-singers Jon Hendricks and Mark Murphy, Elling's repertoire includes original compositions and modern interpretations of standards, all of which are springboards for inspired improvisation, scatting, spoken word and poetry. The New York Times has named Kurt Elling, "the standout male jazz vocalist of our time."
The series will come to a rousing climax with "An Evening with Raul Midón and the Lionel Loueke Trio" on Saturday, June 15 at 8 p.m. The genre-bending icons join forces to present a special night of song and guitar wizardry as they perform sets of original material in an evening that will culminate in an unforgettable jam backed by Loueke's dynamic trio. Midón delivers a signature combination of silky tenor voice and percussive guitar style that is a syncopated, flamenco- and jazz-infused wonder. Originally from the small West African nation of Benin, Loueke has enjoyed a meteoric rise over the past ten years since he was picked, in 2008 and 2009, as top "Rising Star" guitarist in DownBeat magazine's annual Critics Poll and he combines harmonic sophistication, soaring melody and a deep knowledge of African music to create a warm and evocative sound of his own.
Subscription Packages
The six-concert South Florida JAZZ & Bailey Hall season is available by subscription for $205-$255. Tickets to individual events in the series are $40-50 and will go on sale July 15.
Three other series are also available. The six Bailey Hall Mainstage events, available on subscription for $135-$275, feature award-winning vocalist Lee Ann Womack (Sept. 22), ground-breaking performance ensemble Urban Bush Women (Sept. 29), the world-class musicianship and cinematic storytelling of the Guy Mendilow Ensemble (Nov. 16), legendary flamenco dancer Farruquito (Feb. 1), the all-improvised comedy of Broadway's Next Hit Musical (Feb. 23) and the live multimedia event Bella Gaia delivering the breathtaking wonder of space (April 26).
The Southern Circuit Tour of Independent Filmmakers, a program of South Arts, offers its six-film series for $30-$55; and the Rosemary Duffy Larson Classical Series of six concerts is offered on subscription for $75.
An all-inclusive "Everything Pass" with admission to all 24 events offers a 35 percent savings and is available for $375-$500. The Everything Pass with seating in Zone A also offers more than a $200 value in other exclusives.
The Pick 6 Pass allows ticket buyers to create their own six-show package for $205-275. Student and senior discounts are also available throughout the season.
Subscriptions are available now by visiting www.baileyhall.org or contacting the Bailey Hall box office at (954) 201-6884. The box office and phone lines are open Tuesday through Friday from 10 a.m. to 5 p.m.; Saturday from 10 a.m. to 2 p.m.; and one hour prior to an event. Tickets to individual events will go on sale in mid-July.
The flagship venue of Broward College, Bailey Hall is located on the A. Hugh Adams Central Campus at 3501 Davie Rd. in Davie and offers free parking.