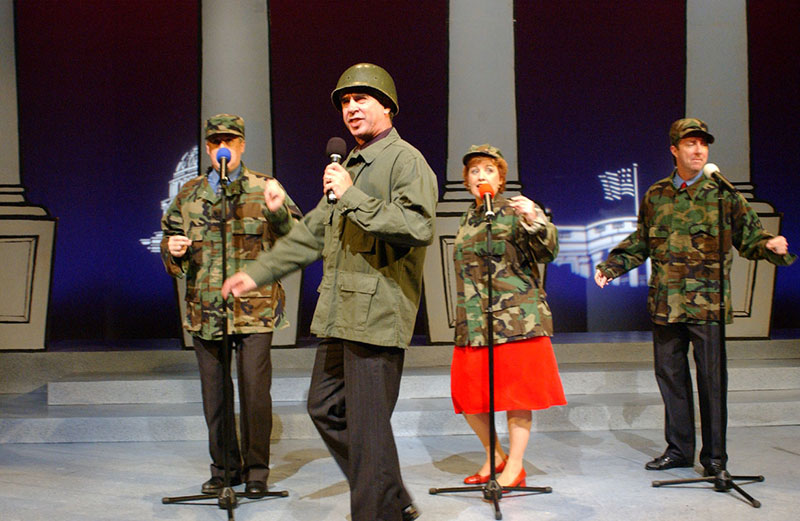 Capitol Steps. Credit Richard Termine
FORT LAUDERDALE – Capitol Steps, the troupe that "put the mock in Democracy," brings its Make American Grin Again Tour to the Amaturo Theater at the Broward Center for the Performing Arts for five shows Thursday, July 26 – Sunday, July 29.
Targeting both sides of the political aisle, the Capitol Steps delivers irreverent humor and musical madness with skits and song parodies. Among the lunacy found on the Make America Grin Again album is "401K" to the tune of "YMCA," "Oprah-Homer" considering a presidential bid by Oprah Winfrey to the tune of "Oklahoma," Paul Ryan singing "I Like Big Cuts" to the tune of "Baby Got Back" and Stormy Daniels telling her story to the tune of "Stormy Weather."
The Washington D.C.-based comedy troupe began as a group of Senate staffers more than three decades ago and have gone on to record more than 30 albums while their radio specials are featured on NPR stations nationwide.
The Wall Street Journal reported, "The troupe has become a favorite on the Washington social circuit. Its political satire brings chuckles…rave reviews…guffaws…and bipartisan grins all around."
It doesn't matter if you're a Republican or Democrat, a snowflake or a deplorable: everyone is welcome to this political party.
Performances are Thursday and Friday, July 26 and 27 at 7:30 p.m.; Saturday, July 28 at 2 and 7:30 p.m. and Sunday, July 29 at 3 p.m. Tickets are $39. Ticketmaster is the only official ticketing service of the Broward Center, Parker Playhouse and affiliated venues. Buy tickets online at BrowardCenter.org or Ticketmaster.com; by phone at 954.462.0222 or the Broward Center's AutoNation Box Office. Know who you are buying from when you purchase tickets.
The Broward Center for the Performing Arts is located in the Riverwalk Arts & Entertainment District at 201 SW Fifth Avenue in Fort Lauderdale.
For more information visit BrowardCenter.org, like us on Facebook at Facebook.com/BrowardCenter, follow us on Twitter and Instagram @BrowardCenter, subscribe to our channel at Youtube.com/user/BrowardCenter and join the conversation with #BrowardCenter.
The Broward Center 2017-2018 season is presented by the Broward Performing Arts Foundation. AutoNation, Bank of America, Brightline, Greater Fort Lauderdale Convention & Visitors Bureau, JetBlue, MasterCard, Paramount Refreshment Solutions and Sun Sentinel are proud sponsors of the Broward Center. Sun Sentinel is a proud sponsor of the Parker Playhouse.