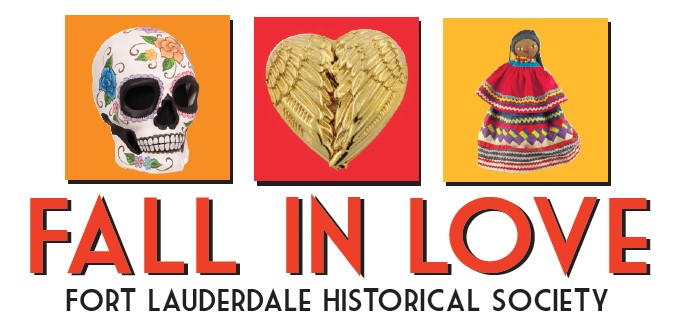 FORT LAUDERDALE, Fla. – Fort Lauderdale Historical Society, proud steward of our community's past by making our heritage accessible and engaging to residents and visitors, will debut its new "Fall in Love" Florida resident discount program beginning September 1. "Fall in Love" will offer residents a chance to experience history in the heart of Downtown Fort Lauderdale, participate in activities and view new exhibits at 50% off general admission each visit through November 30 (some exclusions apply) and receive 25% off of a $100 yearly membership which includes admission to hundreds of museums around the US through the Southeast Museums Reciprocal Program. Use your Historical Society membership card to gain admission.
"We're thrilled to offer this inaugural exclusive program to Florida residents," said Patricia Zeiler, executive director of the Fort Lauderdale Historical Society. "This incentive is a great way for families to save money while learning about the foundation of our city and its multicultural roots. We know families will 'Fall in Love' with our seasonal programs, exhibits and featured events that offer something for everyone – from art to hands-on activities to military history and more."
"Fall in Love" Fort Lauderdale Historical Society program offerings include:
Smithsonian Museum Day Live! on Saturday, September 22 from 9:30 a.m. – 4 p.m.; FREE
Join Fort Lauderdale Historical Society and more than 800 other museums across the country participating in Museum Day Live! 2018 – an annual celebration of boundless curiosity hosted by Smithsonian magazine. Museum Day Live! Tickets are free and provide admission for two people. Visit the Smithsonian's website www.smithsonianmag.com/museumday/museum-day-2018 for details and to register for tickets. Tickets will be available to the public beginning at midnight on August 15.
Juliette Lange: A Portrait of a Mezzo Soprano (Members-only preview September 24 at 6 p.m.); Public Opening September 25
Juliette A. Lange (1882-1977) was a socially prominent Fort Lauderdale resident with a lauded career as a star vocalist of musical comedy. At the apex of her career (1915-1930), Lange traveled the nation and Europe with theater companies performing popular musicals. As a longtime resident of the Rio Vista community, Miss Lange was active in many civic, religious, social, and musical organizations. A legacy of her family is Lange Park in the city of Davie: former grove land contributed by Miss Lange three years prior to her passing. This exhibit is a snapshot of fashion from 1920 – 1960. Lange's beautiful gowns, hats and jewelry will be displayed along with programs and clippings from her fabulous days in professional theater. Visitors will explore early 20th century musical theater, the artist scene at that time in New York City, the Rio Vista neighborhood, citrus farming and Fort Lauderdale's mid-century social and civic happenings. This exhibit will become part of the History Museum's permanent exhibits.
"Ofrendas" (Offerings) Day of the Dead Fine Art Exhibit – Sunday, October 7 – Friday, November 2
Marvel at the colorful and creative traditions that surround Mexico's Día de los Muertos (Day of the Dead). The New River Inn at Fort Lauderdale Historical Society will be awash in bold hues and cultural history as it showcases traditional community memorial altars or "ofrendas," covered in photographs, flowers and favorite items of the dearly departed.
- Family Fun Day Exhibit Opening on Sunday, October 7, from noon – 4 p.m.
Join the Fort Lauderdale Historical Society in celebrating another year of life and the remembrance of our loved ones in preparation for Día de los Muertos. Family Fun Day is a FREE public event featuring a sharing of stories, a decorating of sugar skulls activity, creating paper flowers and touring the community "Ofrendas" exhibition.
- A Community Conversation with the Consul General of Mexico on Monday, October 29 at 6 p.m.
Join the Consul General of Mexico in a discussion about the historical traditions of Day of the Dead in Mexico. An artifact from the Fort Lauderdale Historical Society collection will be presented to the Consul General for repatriation to its geographic home in Mexico. This repatriation is the result of a year of negotiation and communication between Historical Society and the Mexican government. To RSVP, please visit https://bit.ly/2AsF0xn.
International Day of Archaeology - Family Fun Day on Saturday, October 20, from 11 a.m. – 1 p.m.
Join us as we celebrate International Day of Archaeology with local archaeological education and advocacy partners including the Florida Public Archaeology Network. The day will feature intergenerational opportunities to delve into the art and science of studying our past, especially right here on the archaeologically designated zones along the New River. Free.
- Florida Day of the Dead Celebration and Exhibit Closing on Friday, November 2 – at 6 p.m.
Stake your spot on the lawn of Fort Lauderdale Historical Society for this annual traditional, colorful skeleton processional sponsored by Riverwalk, City of Fort Lauderdale and the Puppet Network & Puppet Guild of South Florida. Community members in skeleton costumes and masks "meander through villages" to visit the graves of their ancestors. The Consul General of Mexico and City Officials will kick-off the parade and then mariachi musicians lead the way as this processional of thousands of skeletons streams from Huizenga Plaza west along Riverwalk. It then heads north on SW 3rd Avenue, where the celebration continues at Revolution Live Entertainment Complex. During the event, Fort Lauderdale Historical Society will welcome guests to place their offerings in the Ofrendas exhibit room from noon - 8 p.m. Visit www.dayofthedeadflorida.com for schedule information.
Honoring Our Local Architects on Wednesday, October 17 from 6 p.m. – 8 p.m.**
Fort Lauderdale Historical Society's quarterly Evening Conversation will focus on the heritage and prominence of architecture in Broward County and feature local architects. Light refreshments will be served. $50 per person; $35 for members. For more information, call (954) 463-4431 or visit www.fortlauderdalehistoricalsociety.org.
Celebration Fort Lauderdale's new Walking Tour on the Florida Stories App; Reception on Tuesday, October 23 at 6 p.m. Gain a whole new perspective about Fort Lauderdale History via the free Florida Stories Walking Tour App! Users can stroll through the self-guided tour of Fort Lauderdale and listen to the lively and colorful stories at each stop that are accompanied by historic photographs, maps, renderings and more. In celebration of our new release, Fort Lauderdale Historical Society and the Florida Humanities Council will host an introduction reception with light refreshments and a user walk-through of the menu, features and accompanied tour stop. This reception is free to the general public.
Trick-or-Treat of Second Street with the City of Fort Lauderdale on Saturday, October 27, from 1 p.m. – 4 p.m.
Young ghouls and boys ages 12 and under are invited to learn about and celebrate the history of Halloween as part of the City of Fort Lauderdale Parks and Recreation's annual spooktacular party. Kids will partake in themed arts and crafts, visit candy stations and participate in a costume contest. Free.
Native American Art Exhibit from Sunday, November 4 – Monday, January 28, 2019
This significant exhibition honors the history of the land we now call Fort Lauderdale and the legacy of our Native American Seminole Tribe ancestors. On this 101st anniversary of the start of the Seminole Wars, and the 100th anniversary of Armistice Day, we remember those who have fought for our survival through fine art, traditional crafts, a showcase of artifacts, historical texts and more.
- Meet the Artists on Sunday, December 2, from noon – 2 p.m.
Come peruse a retrospective of contemporary and traditional Seminole art. Meet the artists. Enjoy experimental live readings of historical poetry and prose and relaxing Native American music. Free with admission.
- Armistice Day on Sunday, November 11 at 11 a.m.
Event marking the 100th anniversary of Armistice Day. For more information, call (954) 463-4431 or visit www.fortlauderdalehistoricalsociety.org
For more information about the Fort Lauderdale Historical Society's "Fall in Love" Florida Residents program, please call (954) 463-4431 or visit us online at www.fortlauderdalehistoricalsociety.org and follow us on Facebook at facebook.com/ftlhistory on Instagram @ftlhistory and on Twitter @FLLhistory.