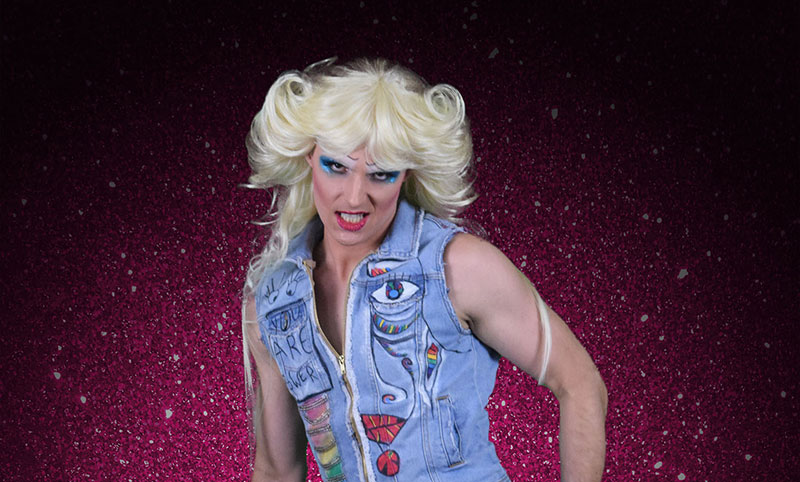 FORT LAUDERDALE – Slow Burn Theatre Company and the Broward Center for the Performing Arts follow their hit stagings of rock musicals Spring Awakening and Rock of Ages with Hedwig and the Angry Inch starring Carbonell Award winners Dominique Scott and Mallory K. Newbro in the Abdo New River Room at the Broward Center for the Performing Arts Thursday, November 8–Sunday, November 25.
With music and lyrics by Stephen Trask to a book by John Cameron Mitchell, Hedwig and the Angry Inch won the 2014 Tony Award-winner for Best Musical Revival and has been labeled "the best rock musical ever!" by Rolling Stone magazine.
The cult classic is told through of one of the most unique characters to ever hit the stage: Hanschel, a "slip of a girly-boy" from communist East Berlin, becomes the "internationally ignored song stylist" known as Hedwig after a botched sex change operation. With a little help from her band and her back-up singer Yitzhak, Hedwig examines her quest for her other half, for love and, ultimately, for her identity.
This genre-bending, fourth-wall-smashing musical sensation delivers a hilarious, harrowing and essentially uplifting story for anyone who has ever felt different. This production is intended for mature audiences.
Hedwig is portrayed by Scott who has toured the world in Rock of Ages, Boy Band Review and, most recently, Million Dollar Quartet in which his performance as Jerry Lee Lewis won a Carbonell Award. Newbro, who portrays Yitzhak, was recently honored with a 2018 Carbonell Award for her performance of Janis Joplin in Beehive and received the 2017 Silver Palm Award as Outstanding New Talent.
Slow Burn Theatre artistic director and multi-Carbonell Award-nominee Patrick Fitzwater directs the production and leads the creative team of Scenic Designer Michael McClain, Costume Designer Rick Peña, Lighting Designer Jose Santiago and Make-up Designer Christie Rohr. The band is comprised of Music Director Paul Tine on keyboards, Daniel Bailey on bass guitar, Chase Maddox on guitar and Lukas Weber on drums. The production is generously underwritten by Mike Blank.
Performances are Thursday, November 8–Sunday, November 2 with showtimes on Thursday–Friday at 7:30 p.m.; Saturday at 2 and 7:30 p.m.; and Sunday at 1 and 6 p.m. There is no performance Thursday, November 22. The musical then moves to the Aventura Arts & Cultural Center for performances Thursday, November 29 – Sunday, December 2.
Broward Center audiences may enjoy delicious dining and a full cash bar in the Café at the Abdo New River Room starting 60 minutes prior to the performance and during intermission. Sumptuous sandwiches, salads, snacks and desserts are available for purchase with a convenient walk-up service.
Tickets to the performances at the Broward Center at are $50–$60. Ticketmaster is the only official ticketing service of the Broward Center, Parker Playhouse and affiliated venues. Buy tickets online at BrowardCenter.org or Ticketmaster.com; by phone at 954.462.0222 or the Broward Center's AutoNation Box Office. Know who you are buying from when you purchase tickets.
The Broward Center for the Performing Arts is located in the Riverwalk Arts & Entertainment District at 201 SW Fifth Avenue in Fort Lauderdale.
For more information visit BrowardCenter.org, like us on Facebook at Facebook.com/BrowardCenter, follow us on Twitter and Instagram @BrowardCenter, subscribe to our channel at Youtube.com/user/BrowardCenter and join the conversation with #BrowardCenter.
The Broward Center 2018-2019 season is presented by the Broward Performing Arts Foundation. AutoNation, Bank of America, Brightline, Greater Fort Lauderdale Convention & Visitors Bureau, JetBlue, MasterCard and Paramount Refreshment Solutions are proud sponsors of the Broward Center.