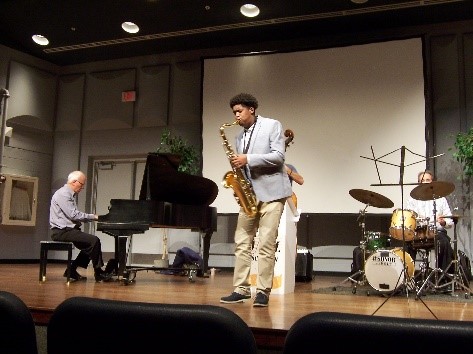 Fort Lauderdale, FL – On Saturday, April 20, the Gold Coast Jazz Society will present the 16th annual Jeanette M. Russell Jazz Scholarship Competition. The competition will be held at ArtServe, 1350 E. Sunrise Blvd. in Fort Lauderdale, and occurs from 9:00am until 12:00pm. The event is free and open to the public to attend.

Qualified students will participate in a live musical audition for scholarship awards to attend 2018 summer music camps or for tuition assistance to attend colleges or universities in the fall of 2018 and spring of 2019. The deadline to submit an application is March 1, 2019. Applications and information can be found at www.goldcoastjazz.org
Since 2003, the Gold Coast Jazz Society has awarded over $475,000 in scholarships to students from middle schools, high schools, colleges and universities pursing studies in jazz. Scholarship awards are provided by a donation from Jeanette Russell, the Elizabeth and Daniel O'Connor Family Foundation and Terri Pattullo in memory of jazz guitarist Brian Pattullo. "Thanks to the generosity of Jeanette Russell, the O'Connor Family Foundation and Terri Pattullo, we are able to help many students fulfill their dreams to study jazz. We're very grateful for these resources for our scholarship program," said Pam Dearden, Executive Director of the Gold Coast Jazz Society. "It's so rewarding to know that we are able to assist these talented students."

Jeanette Russell, affectionately known as "Lady Jazz," was an avid jazz fan and frequently assisted jazz musicians in need. She achieved success in New York City as a fashion designer and consultant. Robert Friedman was nationally known as a composer of "big band" jazz music, achieved the pinnacle of success in business and industry as the President and Chief Executive Officer of The National Machinery Company in Tiffin, Ohio. Their love of jazz lives on through this scholarship program.
The Gold Coast Jazz Society is a not-for-profit organization that is dedicated to perpetuate and advance jazz through performances, education and outreach activities. For more information call 954-524-0805 or go to www.goldcoastjazz.org.