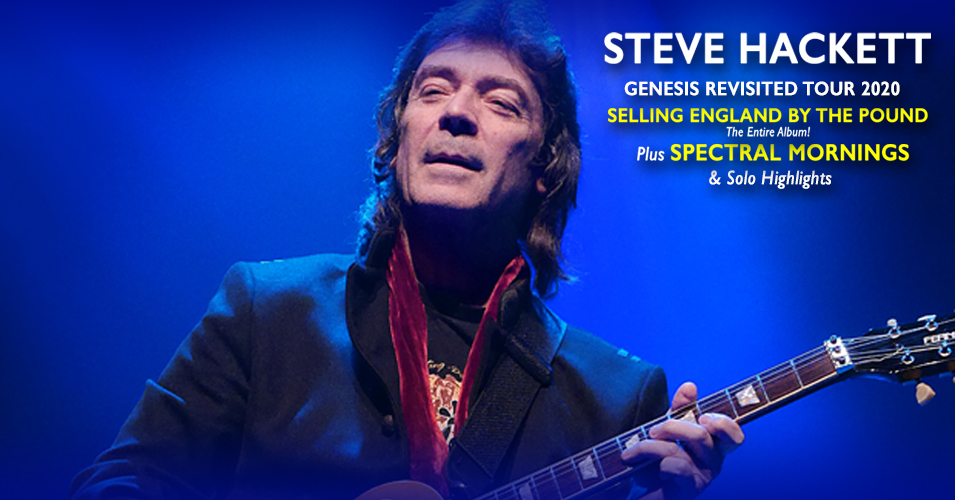 FORT LAUDERDALE – The Broward Center for the Performing Arts and AEG Presents brings Steve Hackett: Genesis Revisited to Parker Playhouse on Tuesday, March 24 at 7:30 p.m. Tickets are on sale now.
Renowned as an immensely talented and innovative rock musician, Hackett is best known as lead guitarist with Genesis, having performed alongside their classic line up including Gabriel, Collins, Banks and Rutherford. With his extraordinary versatility in both his electric guitar playing and composing, his influences cross multiple genres including jazz, world music and blues.
With Genesis, Hackett's guitar playing produced some of the most memorable moments, from the sensitivity of his acoustic sound on "Horizons" and "Blood on the Rooftops" to the dramatic rock guitar solos of "Firth of Fifth" and "Fountain of Salamis." As he embarked on his solo career, he developed his exceptional range, pushing musical boundaries into exciting areas, inventing new sounds and also techniques such as 'tapping'. His success in the mid-eighties not only saw the hit single "Cell 151," but also the formation of Hackett and Steve Howe super group GTR.
Tickets are $52.75 – $92.75 with $177.50 VIP tickets available that include a meet and greet and premium seating. Ticketmaster is the only official ticketing service of Parker Playhouse. Buy tickets online at ParkerPlayhouse.com and Ticketmaster.com; by phone at 954.462.0222; in person at the Parker Playhouse box office Tuesday through Saturday from 12 p.m. to 5 p.m. and at the Broward Center's AutoNation Box Office.
The Parker Playhouse, located in Holiday Park at 707 N.E. Eighth Street in Fort Lauderdale, is an affiliated venue of the Broward Center for the Performing Arts, which provides programming and management of the facility. The Broward Center 2019-2020 season is presented by the Broward Performing Arts Foundation.
For more information visit ParkerPlayhouse.com, like us on Facebook at Facebook.com/TheParkerPlayhouse and join the conversation on Twitter with #ParkerPlayhouse.