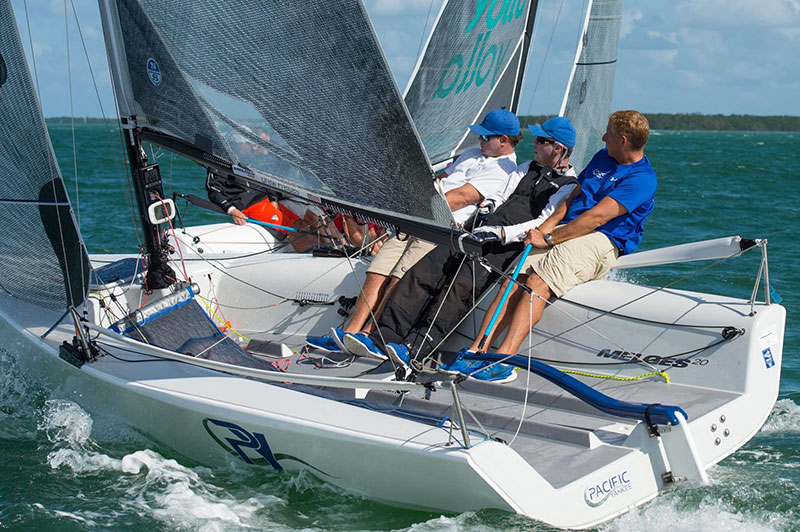 Final day report by Sam Rogers:
There are times when a venue doesn't show its best. When it is cold, rainy, the wind won't cooperate or other adverse weather conditions make for a tough weekend of sailing. There are also times when a venue shines and you feel lucky to experience it.
For the first event of the 2017/18 Melges 20 Winter Series, Miami was about as near perfect as a sailor could want with breeze in the 10-13 kt range, smooth water and sunny, warm temps. Throw in a ultra-deep fleet with eight awesome races and it was easy to see why Melges 20 sailors wore satisfied, sunbaked smiles at the awards ceremony.
After two days and six races, Drew Freides led a deep fleet with several teams ready to pounce on the final day. The wind direction was similar to days one and two, however, the velocity was in the 6-8kt range and flat water; perfect 'blue groomer' conditions for the last two races. With a stronger northerly gradient fighting a building NE seabreeze, it was a toss-up as to which side would pay in the first race.
Typical Melges 20 fashion, two-thirds the fleet split one direction putting their chips in the right side, while the other third went hard left doing their best to make that side pay. Halfway up the first beat, Alexis Michas on Midnight Blue, Rob Wilber on Cinghiale, Vladimir Prosikhin on Nika and Drew Freides Pacific Yankee worked the left side and early on it looked like they would have a healthy lead at the top mark. However, a vein of right handed pressure caused the left side to cave, and it was Paul Reilly and Jason Michas that positioned themselves well and rounded the mark in 1-2.
On the ensuing run Paul Reilly showed a steady hand and solid patience to extend all the way to the corner and take advantage of breeze filling across the course to build a nice lead and hang on for the race win. Jason Michas battled it out for 2nd and 3rd place was decided after Cinghiale, Pacific Yankee and Oleg Evdokimenko's Kotyara all shot the finish line with Cinghiale edging out Freides and Evdokimenko.
With a 4th place, Freides locked up the regatta win, however, the top 10 were still to be decided. Once again the fleet split hard left and right, and once again the right side paid, just barely this time over the left. Rob Wilber on Cinghiale did a great job of balancing both sides in the middle of the course and managed to lead around the top mark with Russian Bogatyrs and Achille Onorato's Mascalzone Latino Jr just behind.
On the ensuing run Wilber maintained their lead, however a gaffe at the bottom mark cost them the lead and allowed Onorato to sneak by. Cinghiale and Mascalzone would battle the final lap with Onorato grabbing the win.
Final Results (Top 10 of 16; 8 races, 1 discard)
1. Pacific Yankee, USA300, Drew Freides – 5 -1 -13 -2 -2 -1 -4 -[19] ; 28
2. Russian Bogatyrs, RUS898, Igor Rytov – 8 -3 -2 -1 -7 -[13] -9 -3 ; 33
3. Nika, RUS309, Vladimir Prosikhin – 6 -[12] -6 -3 -9 -2 -8 -7 ; 41
4. Russotrans, RUS265, Yurii Morozov – 7 -6 -11 -4 -3 -8 -[14] -5 ; 44
5. Mascalzone Latino jr, ITA23, Achille Onorato – 4 -5 -9 -8 -8 -[12] -10 -1 ; 45
6. Midnight Blue, USA228, Jason Michas – [12] -10 -5 -9 -4 -3 -2 -12 ; 45
7. Midnight Sun, USA305, Alexis Michas – 9 -4 -12 -6 -1 -9 -[13] -6 ; 47
8. Talisman, USA306, John Bailey – 3 -[14] -10 -5 -5 -6 -11 -9 ; 49
9. Cinghiale, USA414, Rob Wilber – 14 -2 -[15] -11 -13 -7 -3 -2 ; 52
10. UPUPUP, DEN218, Bo Boje Pedersen – 1 -[13] -3 -9 -10 -10 -12 -8 ; 53