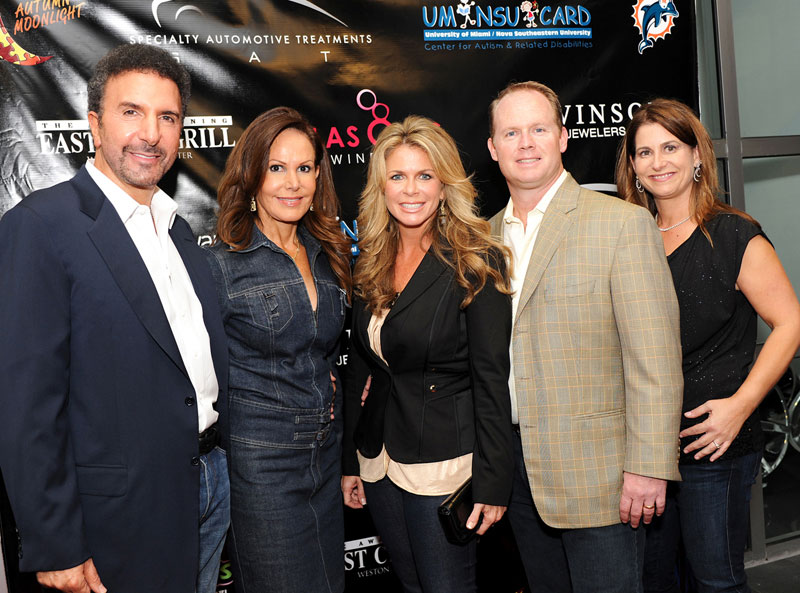 FT. LAUDERDALE – The 4th Annual Autumn Moonlight fundraising event at Specialty Automotive Treatments (SAT) in Fort Lauderdale on Friday, November 18th raised over $100,000 for the University of Miami-Nova Southeastern University Center for Autism and Related Disabilities (UM-NSU CARD).
Generously hosted by Rafael Jorge, owner of Specialty Automotive Treatments, Autumn Moonlight honored Miami Dolphins General Manager Jeff Ireland, his wife Rachel and Senator Nan Rich, for all of their hard work, commitment, and support they have contributed to the autism community in South Florida.
Autumn Moonlight, an annual festive fundraising celebration, is designed to raise awareness of autism and support the programs, services and research initiatives of UM-NSU CARD.
"It was such an honor to host Autumn Moonlight and to help raise money and awareness for UM-NSU CARD and its staff who are extraordinarily dedicated to supporting children and families living with autism and other related disabilities," said Rafael Jorge, owner and founder of Specialty Automotive Treatments.
"The success of Autumn Moonlight is so critical to CARD's survival and represents a true community partnership. Our generous hosts, Ralph Sr. and Ralph Jr. of Specialty Automotive Treatments, our sponsors and underwriters; our worthy Honorees, Jeff and Rachel Ireland and Senator Nan Rich; along with our 250 guests, came together as one concerned and dedicated community to ensure the success of this annual event at a critical time in CARD's history," added Dr. Michael Alessandri, Executive Director of UM-NSU CARD.
The spectacular evening featured delectable hors d'oeuvres courtesy of East City Grill, fine wines from Las Olas Wine Café, delicious desserts provided by UdderSweets on Las Olas, smooth sounds from DJ 1 Tre (aka Michael Marino) and a fabulous silent and a live auction which featured an exquisite Corum watch donated by Levinson Jewelers on Las Olas, fabulous Miami Dolphin ticket packages, a Black-Eyed Peas Concert Experience, and other fantastic excursions, luxuries and memorabilia. The Autumn Moonlight Martini and all of the fine spirits were generously donated by Bacardi. Local 10's Sports Director Will Manso served as emcee for the evening.
Upon being honored, Miami Dolphins General Manager Jeff Ireland thanked Specialty Automotive Treatments, the crowd, UM-NSU CARD for the hard work of its professionals and staff, and the Miami Dolphins organization for all of the support that it lends to the autism community in South Florida. Ireland said, "Fourteen years ago when our girls were diagnosed with autism, there was not an organization as prepared to provide the type of early intervention and care that families dealing with autism really need as CARD is today. Being a part of Autumn Moonlight has provided Rachel and I a purpose to fight for those families that need the help. Combining Rachel's passion and my competitiveness with a great organization such as CARD has driven us to help raise as much money as possible to help these families in South Florida. As the General Manager of the Miami Dolphins, I'm proud to use this platform to bring awareness to autism and the Center for Autism and Related Disorders (CARD)."
The goal of Autumn Moonlight is to bring in additional funding that will allow UM-NSU CARD to continue to provide the critical services to all the families of children with autism who need them, without interruption. Because of the generous host and donors, 100% of the money raised at Autumn Moonlight will be used to provide direct services to the families in Broward County. UM-NSU CARD provides outreach services, organizes autism sensitive community picnics, concerts, surfing clinics, teen groups, and job skill groups just to name a few programs that happen throughout the year at no cost to families.
This year's Autumn Moonlight honorees have ardently and consistently supported UM-NSU CARD and its programs. Since joining the Dolphins in 2008, Jeff Ireland and his wife Rachel have worked tirelessly within this community to help raise funds to support UM-NSU CARD. Senator Rich, who works determinedly to support children and families in Broward County, has helped UM-NSU CARD in very significant ways over the past several years and specifically has helped protect the rights of UM-NSU CARD families this year.
Autumn Moonlight sponsors and underwriters included Specialty Automotive Treatments, Miami Dolphins, Bacardi U.S.A., Inc., Greenberg Traurig, East City Grill, Levinson Jewelers, Corum Watches, Ultimate Software,BankAtlantic, Best Care Nurse Registry, Nations Health, Autism Society-Broward, Jammin Kids, International Music Academy, Las Olas Wine Café, UdderSweets, Gort Productions and Kip Hunter Marketing.
About Specialty Automotive Treatments (SAT)
SAT is about Style and Attitude. Specialty Automotive Treatments offers customized aftermarket products to create specialized enhancements for automobiles and boats. Products range from custom interiors, custom car and marine audio/video, wheels and tires, grilles, body kits, moon roofs, and custom exteriors. Specialty Automotive Treatments was founded by Rafael Jorge in 1979 and has expanded its offered products and services exponentially over the years. Specialty Automotive Treatments houses its impressive inventory in their $5 million, 15,000 sq. ft. showroom located in Fort Lauderdale. Specialty Automotive Treatments is located at 700 West Sunrise Boulevard in Ft. Lauderdale. For more information, please call (954) SAT-1234 or visit www.SATREATMENTS.com.
About UM-NSU Center For Autism & Related Disabilities (CARD)
UM-NSU CARD is the University of Miami and Nova Southeastern University Center for Autism & Related Disabilities. The call to UM-NSU CARD, is typically the first and most important phone call a family makes when their child is newly diagnosed. The center is one of seven state-funded, university-based outreach and support centers in Florida dedicated to optimizing the potential of children and adults with autism, dual sensory impairment and related disabilities. UM-NSU CARD has been providing an array of family support, outreach services, consultation and many other outstanding services, AT NO COST TO FAMILIES, to individuals with autism spectrum disorders, their families, and the professionals who serve them, for the past 18 years. Its constituency has grown from 88 families in 1993 to over 6,100 families today. For more information, please visit www.nsucard.org or www.umcard.org or call 954-262-7770 or 1-800-9-AUTISM, ext. 2
{gallery}Moonlight{/gallery}