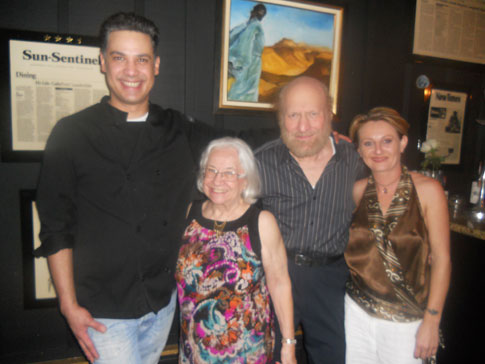 Chef Carlos Fernandez, Dr. Mildred Padow, Dr. Walter Padow, and Hi-Life Cafe owner Aude Wies at a Carpe Vinum dinner.
Love wine, food and great company, but are afraid that a wine dinner group might be either intimidating or stuffy? Then you may want to explore Carpe Vinum (It's All About the Wine). Members take wine seriously. But themselves, not so much.
Carpe Vinum hosts dinners at a variety of restaurants, where at the beginning of the evening, four glasses of wine are poured all at once for each guest. Thus, instead of each being paired with a particular course, all the wines are available to be swirled and sampled in whichever order and whenever a guest wishes.
All the vintages are highly rated by Wine Spectator, Wine Advocate, Robert Parker or other respected sources. The atmosphere is always unpretentious, casual and fun, and anyone is welcome to disagree with anyone else about which wines delight and which may not.
Although both food and wine are quality, host members strive to keep dinner costs down. And if money is left over at the end of a season, the group donates it for culinary scholarships.
"All of us have an interest in quality wine," says Dr. Walter Padow, who co-founded the group with his wife, Dr. Mildred Padow, Dr. David Brancati and Roman Schepis. "While the food is important, it's really all about the wine, and all of the ones we pour are rated at 90 or more by major reviewers. But we also wanted our group to be more affordable than some others."
Carpe Vinum began simply as evenings with friends. "We started out doing dinners in our homes, and then took them to restaurants," Dr. Brancati says. "Other people would see us and want to join us, so we decided to open it up."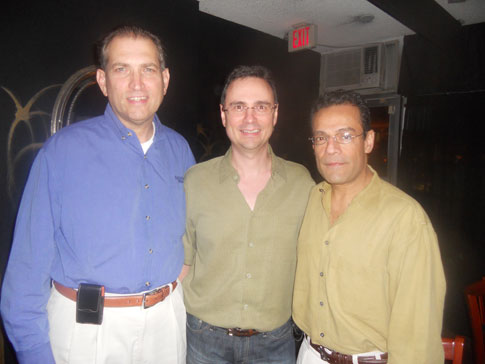 Dr. David Brancati, Roman Schepis and Mo Dhanji at the Carpe Vinum dinner at the Hi-Life Cafe.
Some of the restaurants that hosted dinners for Carpe Vinum include the Hi-Life Café, Johnny V's, Bash and Capital Grille. For more information, visit. For more information, visit www.CarpeVinum.us or call 954-383-7911.