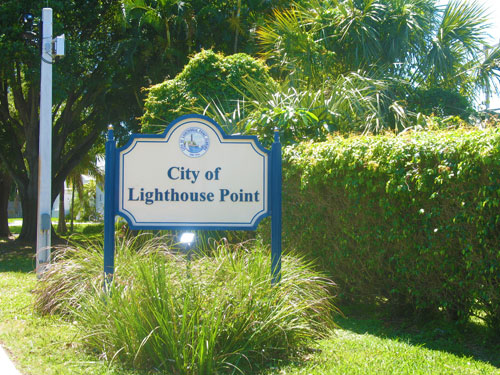 Lighthouse Point offers a relaxed, community-oriented lifestyle.
If you travel north along Federal Highway from NE 24th Street to NE 53rd Street, you will see the usual strip malls and local businesses. But make a right turn and head east into the heart of Lighthouse Point and you are greeted by a quiet, tree-lined city with many cul-de-sacs. With 18 miles of waterways, many homes sport a dock, and boating is part of the lifestyle here.
A small town with a leisurely feel, Lighthouse Point is named after the Hillsboro Lighthouse that has stood on the Hillsboro Inlet since 1906. About 80 percent of the homes are single-family dwellings, and the city features 20 acres of parks, 13 miles of sidewalks and bike paths, and its own library, police and fire departments. While most houses are the usual Floridian one-story style, beautiful two-story homes, some with ornate architecture, dot the shore of the Intracoastal Waterway.
"It's a great place to raise kids," says Phil Kniskern, a resident of Lighthouse Point for 37 years. "It's safe. It's a warm community."
But the best part, says Kniskern, a boater who, with his two brothers, owns KMC Marine, is the easy access to the ocean via the Hillsboro Inlet. "It's as good as it gets," he adds. "Within 15 minutes, you are there.'' His company sells new and used boats and also does repairs.
"I have lived in Lighthouse Point for 20 years,'' says Michele Hale, a real estate agent with Balistreri Realty. "I chose this area because it's a small community with a hometown feeling.'' Hale, who specializes in sales of waterfront homes, said the properties go from $200,000 for non-waterfront property, which is about 70 percent of the area, to as much as $7 million for a home on the Intracoastal. "Our residents are diverse, from average families to professional ballplayers and musicians.''
"This community changed from being a retirement area to one with families and multi-million dollar homes,'' says David Stevens, general manager of the Lighthouse Point Yacht & Racquet Club,
which has been an anchor in the community since the 1960s. Although the club has a marina and caters to boaters, only 40 percent of its members own boats, and it prides itself on offering activities for all ages.
"We moved here four years ago [from West Broward] to be closer to our kids' school,'' says Sarah Petri, whose sons Kyle, 12, and Benjamin, 9, attend Pine Crest School. Petri and her sons had ridden their bicycles to have lunch at the Nauti Dawg Marina Café and were hanging out on the pier feeding the tarpon. "We just love it,'' she says.