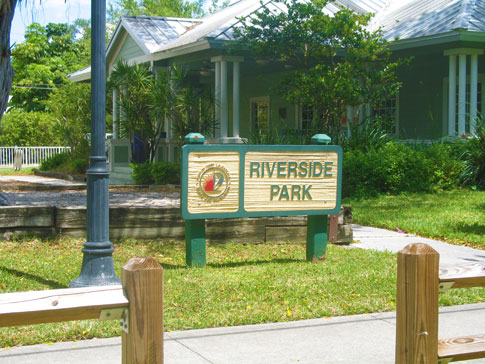 Residents of Riverside Park say it is a diverse and friendly neighborhood where they feel secure and enjoy living.
FORT LAUDERDALE -- Urban, diverse, eclectic, friendly. All these words are used by residents to describe Riverside Park, the neighborhood that lies south of Broward Boulevard, north of Davie Boulevard, east of I-95 and west of the two forks of the New River. Many of the single-family homes have water access either directly on the New River or through a series of finger canals. The historic Snow-Reed Swing Bridge, one of the few remaining swing bridges in Florida, connects the area to Sailboat Bend.
"We have multifamily homes, single family homes and three bodies of water,'' says Barry Fairfield, who is semi-retired and a resident for 22 years. "It is an area with a combination of extremely high incomes and with some who are financially in dire need.''
"There is no doubt about it. We have an eclectic mixture,'' says Julian Siegel, who owns The Riverside Market Café. "We have artists, professionals, misguided youth,'' he says. "But we also have a large [Stranahan] high school and we are close to the Broward Center of the Performing Arts and downtown Fort Lauderdale.''
"This was once an area that was slated for revitalization. It started, the recession hit, people got laid off, and the revitalization got put on a back burner,'' says Charles Trainor, a journalist who fell in love with a 1918 house, bought it, and has lived there for 18 years. "The area was once very Bohemian,'' he says. "I love it here because it's close to downtown, you can ride your bike to the beach, and everyone knows each other. We are a tight-knit community.''

Rosa Bozeman, who owns Bozo's Sub & Sandwich shop, has been part of Riverside Park for more than 30 years. She counts students, teachers, attorneys and neighborhood folks among her clientele. "I know everyone around here,'' she says. "And, the kids who grew up in my shop, they come back and visit me.''
Mark Hill, who has lived in the area for 20 years, says the fact that most people know each other makes the neighborhood special. "It's urban, there is so much diversity; it is a melting pot,'' says Hill, president of the Riverside Park Residents' Association. He does admit, though, that because there are so many transient residents --- he estimates that about 60% of the housing is rentals --- it's difficult to get everyone involved in neighborhood events.
Jeff Moos, owner of Harbour Realty & Management in Riverside Park, owns about 60 rental units himself. "The rentals bring in a diverse group. But it's that diversity that makes us different and special,'' says Moos.
All the residents say they feel safe in Riverside Park. "There is no blatant crime,'' says Trainor, "mostly, there are crimes of opportunity. Someone leaves a door unlocked to the house or car.'' Hill points out that the Fort Lauderdale police often ride bikes through the neighborhood and they get to know the residents and chat with them.
"I have lived in the area for 35 years and both my adult children live in the area too,'' says Moos. "I feel very safe. … We once moved out of the area and in less than a year we were back,'' he says, "we missed it. We missed the architecture, the greenery, the people.''