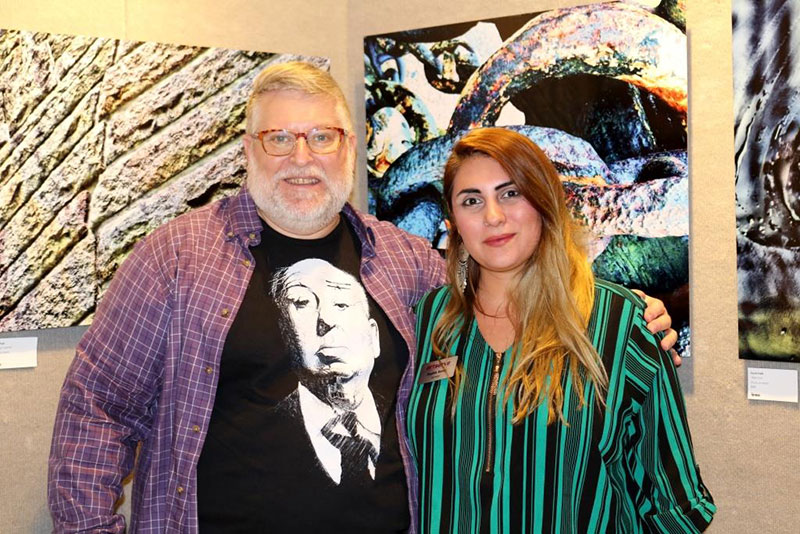 DBA "Textured" participating artist David Plath, ArtServe Curator Sophie Bonet.
FORT LAUDERDALE, Fla. – Doing Business as Artist Entrepreneurs (DBA) recently kicked off its 11th annual art exhibition for the 2019 graduates of the Artist as an Entrepreneur Institute (AEI) with a gallery reception at ArtServe, South Florida's award-winning arts services organization. "Textured" features the work of 14 talented new artists and will be on display through June 28.
"ArtServe is proud to support the Artist as an Entrepreneur Institute in partnership with the Broward Cultural Division each year," said ArtServe Executive Director Craig W. Johnson. "The DBA exhibition is the physical manifestation of all the invaluable teachings and lessons learned by the participating artists during their time at AEI. It's truly powerful to see."
Guest curator is AEI graduate Erin Bassett, owner of Erin Bassett Artistry. "Textured" features the work of Adewale Adenle, Cheryl Brown, Darius Daughtry, Vic Dipilato, Florencia Clement de Grandprey, Gabriella Guerriero, Vivian Gutt, Kay Kiria, Dana Kleinman, Walter O'Neill, David Plath, Vicki Rosenthal, Lynda Sauls and Marilyn Walter.
Doing Business as Artist Entrepreneurs was founded in 2009 by South Florida artists Virginia Fifield, Jacklyn Laflamme and LeeAnna Yater. The three had just completed the comprehensive AEI workshop and were inspired to put into practice the knowledge they attained, creating their own vehicle for artistic success – DBA, a themed art exhibition showcasing the work of artists who graduated from AEI.
The success of the first DBA show compelled the trio to make it an annual event by mentoring the next round of AEI graduates to take the curatorial lead. Their goal was to not only further their own careers, but those of other local artists by providing practical experience and exposure for their work. All DBA artists are committed to conducting their art careers as profitable enterprises, contributing to the local economy and the greater cultural community.
"I was fortunate to experience the AEI workshop in 2016," said Bassett, who sculpts with fabric to create textile art for the home and body. "In 2017, I was an exhibiting artist in DBA where I was scouted to be a part of Spectrum Miami during Art Basel, elevating my career to a new level. Now, it is my turn to lead an exceptional new group of talented AEI graduates through the DBA process, adding them to an esteemed roster of participants from years past."
The 14 "Textured" participating artists join more than 95 other artists who have enhanced their careers by combining their AEI training with the real world experience of the DBA exhibitions.
For more information, visit artserve.org/dba-2019-textured. "Textured" is on display until June 28 in the ArtServe gallery. ArtServe gallery hours are Monday to Friday from 9 a.m. to 8 p.m. and Saturday from 10 a.m. to 6 p.m.