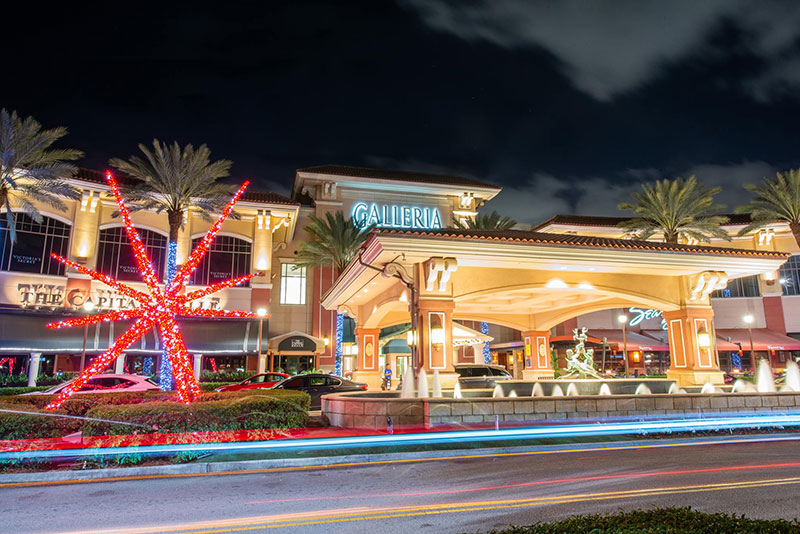 FORT LAUDERDALE, Fla. – The Galleria at Fort Lauderdale, recognized as one of Broward County's premier shopping and dining destinations, has announced its hours for the 2019 holiday season. The Galleria will be open from 8 a.m. to 9 p.m. on "Black Friday," November 29, to give South Florida shoppers a jump-start on their holiday shopping. Extended hours will continue throughout the busy shopping season until January 1.
Black Friday weekend hours will be Saturday, November 30, from 10 a.m. to 9 p.m. and Sunday, December 1, from noon - 7 p.m. Department store and restaurant hours may vary.
According to the National Retail Federation, holiday sales are expected to increase between 3.8 percent and 4.2 percent over 2018 to a total of between $727.9 billion and $730.7 billion. The forecast compares with an average holiday sales increase of 3.7 percent over the previous five years. Additional figures reveal that consumers will spend in three main categories during the holidays – gifts for family, friends and co-workers, at an average $658.55; non-gift holiday items such as candy and food, decorations, greeting cards and flowers at $227.26; and other non-gift purchases that take advantage of the deals and promotions throughout the season at $162.02.
"Shoppers at The Galleria at Fort Lauderdale will have much to look forward to this holiday season including new stores, restaurants and interactive experiences," said Melissa Milroy, senior marketing manager at the Galleria at Fort Lauderdale. "Our extra hours will allow residents and visitors more time to find the perfect gifts from our distinctive and popular retailers. Plus, in addition to a merry and inviting holiday atmosphere, The Galleria at Fort Lauderdale offers ample parking, complimentary electric vehicle chargers and amenities such as guest services and gift wrapping, entertainment and photos with Santa."
The Galleria at Fort Lauderdale has a longstanding tradition as a centrally accessible and family friendly shopping destination. New to The Galleria this year are the recently opened Hollister, the global retail brand celebrating the spirit of endless summer, Altar'd State, a women's fashion, accessories, gifts and home decor boutique that is passionate about looking good and doing good, Le Macaron French Pastries and Cooper's Hawk Winery & Restaurants.
The shopping destination is anchored by Neiman Marcus, Macy's and Dillard's and features Apple, Banana Republic, Free People, Francesca's, J. Crew, Michael Kors, Pandora, Swarovski and White House | Black Market.
For more information about The Galleria at Fort Lauderdale, or for a complete list of retailers, holiday hours and events, please call (954) 564-1036 or visit www.galleriamall-fl.com