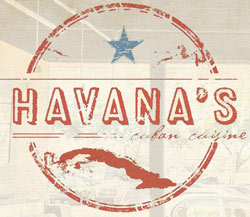 Havana's Cuban Cuisine restaurant Sunrise, Fla. – (March 6, 2012) – Havana's Cuban Cuisine restaurant in Sunrise/Plantation is serving up some delicious tapas and happy hour drink specials, perfect for guests who wish to unwind and enjoy reasonably priced cuisine and libation in a casual upscale atmosphere.

Havana's Tapas/Bar Bites menu features delectable Latin cuisine including Mariquitas served with homemade "mojo" for $3.95, Calamares Frito (calamari served with Pomodoro sauce) – $5.95, Salchicha (spiral sausage, Havana's "fries" and chimichurri) – $5.95, Chicharron de Pollo (chicken chunks, mojo and onions) – $5.95, Chicharoon de Puerco with fresh lime – $4.95, and Smoked Fish Dip with Wahoo and Dolphin – $5.95. The Tapas/Bar Bites menu is available to customers drinking at Havana's custom-built bar Monday-Friday from 3:30-7 pm. and 9 p.m.-close.

Havana's makes it easy to kick back and relax with its happy hour specials, served 3:30-7 p.m. and 9 p.m. to close, Monday-Friday. On Mondays, guests enjoy half price Mojitos; Tuesdays, half price Long Island Iced Tea; Wednesdays are half price Sangria (red or white) Night; Thursdays are Ladies Night with free champagne or a single mixed drink for all ladies; and Fridays are Martini Loco – Cosmo, Apple or Dirty for $5.95. All day, every day, guests enjoy house Margaritas for $2.50. During Home Town Team Days or Nights (Heat, Marlins, Panthers, Dolphins, Canes Days), Havana's offers five domestic beers for $10 and five imported beers for $15.

"Our Tapas/Bar Bites menu and happy hour specials perfectly complement the friendly yet upscale atmosphere we offer at Havana's," said Havana's co-owner Michael Mellion. "Our goal is to be a place where guests can come to relax and enjoy affordable, quality food/drinks and exceptional service."

Mellion and fellow Havana's co-owner Edwin Scheer established the restaurant to offer a true traditional Cuban eatery. Due to the original Havana's Cooper City location's tremendous success, Mellion and Scheer opened the Sunrise location in November 2011. Havana's combines authentic Cuban, Argentinean and Mexican elements to bring diners "the best Latin cuisine on earth." Every dish, including desserts, is made from scratch.

Part of the family of restaurants including the acclaimed Barrio Latino Aventura, Havana's offers lunch, dinner, take-out, catering and a VIP party room for groups. Customers also enjoy a full liquor bar, wide selection of wines, beers, champagnes, sangrias made with fresh fruit and prepared tableside, Cuba Libre, Mojito, and tropical drink specials. The dress code is casual.

Evoking the essence of classic Latin restaurants with an "old Havana feel," the 4,500-square-foot Havana's in Sunrise/Plantation features textured walls, corrugated metal, wood, lots of old Cuban photos, and a full custom built bar. There's also a 1000-square-foot covered patio for outside dining. Guests can catch sporting events on nine gigantic flat screen TVs, as well as take advantage of Havana's free Wi-Fi. Havana's offers ample parking.

About Havana's Cuban Cuisine
Havana's Cuban Cuisine combines Argentinean, Cuban, and Mexican elements to bring customers and excellent selection of Latin cuisine within a classic Latin restaurant atmosphere. Havana's has two locations: 10035 Sunset Strip, Sunrise, FL 33322 (at the corner of Nob Hill and Sunset Strip in the Doris's Italian Market Plaza), 954-741-9696; and 8600 Griffin Road, Cooper City, FL 33328 (at the corner of Pine Island and Griffin Roads in the Timberlake Plaza), 954-530-1400. Both locations are open for lunch and dinner seven days a week. Hours are Sunday-Thursday, 11 a.m.-10 p.m., and Friday and Saturday, 11 a.m.-11 p.m. Havana's accepts reservations, although they are not necessary. Visa, Mastercard and American Express are accepted credit cards. Call or visit www.havanasrestaurants.com for more information.