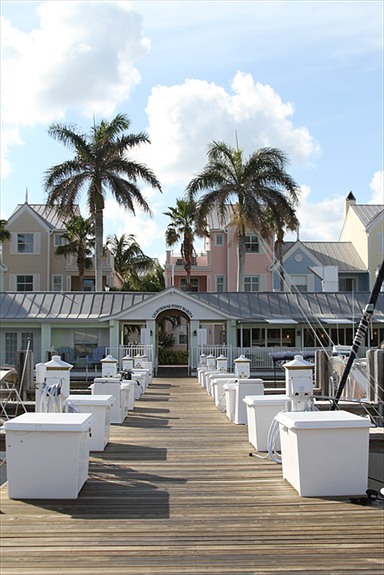 FORT LAUDERDALE -- Step onto the patio of the Nauti Dawg Marina Café in Lighthouse Point and you feel like you are on a tropical island. Your view includes boats, water, and palm trees, and your nerves are soothed by melodic tunes.
On Saturdays, a musician beats Caribbean-style on a steel drum. On Sundays and Wednesdays solo guitarists serenade with Jimmy Buffett-type songs. Whether live or not, the music is constant and calming.
Whether they arrive by foot, bikes, or boats, customers not only come for the ambience but for the food.
"We serve oysters and clams daily. We order them fresh,'' says Chris Frank, general manager of the restaurant. For breakfast, there is the usual fare, but the homemade corned beef hash is very popular, and the coconut French toast is a favorite, too. While lunch items --- like burgers, salads and sandwiches --- are available after 4 pm, dinnertime brings special dishes.
"All our soups are homemade and we make our own desserts,'' says Frank. "We specialize in seafood; it's 85% of our menu.'' The New England lobster roll is a big seller. While the restaurant serves scallops and swordfish every night, diners are often greeted with different variations. Mahi mahi is available four different ways. Also, "you can go out on your boat fishing and bring us your catch and we will cook it for you,'' Frank adds.
To many diners, the best part about the café is being able to bring along man's best friend: Leashed dogs are allowed in the patio seating area. "We love it here,'' says Leigh Serling, who along with her mom, Phylis Philipson, and Bubba, the dachshund she rescued, are regulars at the restaurant.
Sarah Petri brought her sons Kyle,12, and Benjamin, 9, for lunch, and they hung out afterward feeding the fish. "I come here often," Petri says. "This is the first time I brought the boys. I just love the food and the atmosphere.''
The restaurant is part of the Lighthouse Point Marina, and after many years of subletting the space to restaurateurs, the owners of the marina decided to take on the business themselves. They renovated the space and opened in October 2011. Siblings Debbie Edwards, Maureen Canada and Christian Spieker created a spot that holds about 30 inside and 60 outside, with the entire outdoor area covered. Frank pointed out that Lighthouse Point is a "clean marina.'' No mechanical work can be performed there, leaving the area and water clean of pollution.
The Nauti Dawg is open from 7:30 a.m. to 9 p.m. weekdays (except Tuesdays, when it is closed) and 7 a.m. to 9 p.m. on Saturdays and Sundays. It serves breakfast until 11 a.m. (12:45 p.m. on Sundays), lunch from 11 a.m. to 4 p.m. and dinner from 4 p.m. until closing. The cafe sells wine and beer, and there is free WIFI. Visit www.nautidawg.com