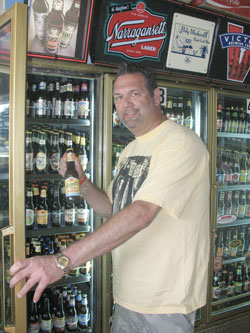 Owner Julian Siegel offers about 500 craft beers at his Riverside Market Cafe. FORT LAUDERDALE -- From the outside, The Riverside Market Café looks like an old country store. But step inside, and you find yourself in a cozy eatery furnished with high-top wooden tables and couches. Walls are lined with see-through refrigerators filled with specialty drinks.
While the restaurant in Riverside Park sells all kinds of beverages, it features more than 500 types of craft beer. "I've always been a beer enthusiast,'' says owner Julian Siegel.
That's why he opened the 50-seat café: to sell the beers and offer food to go with them. Previously, Siegel owned and operated the convenience store across the street, and while he still owns the building, someone else now leases the business so Siegel can run the two-year-old restaurant full time.
Wine is available, but beer is the draw here. The bottles are from small breweries, some of them local. Top brands include Dogfish Head, Delirium and Oskar Blues. Summer brings lighter flavors, made with less alcohol like ruby redbird, strawberry, orange blossom and a shandy made with lemonade.
Beer is not the café's only attraction, however. Customers love the food: homemade salads (tuna, chicken, seafood), sandwiches, pizza, soups and cookies, says manager Joel Whelpley, on his way out for deliveries. The restaurant will deliver within a three- to four-mile radius and there is no minimum purchase required. "We want to make it convenient and easy for our customers,'' says Siegel, who often delivers food himself.
Barry Fairfield often walks over from his nearby home to eat at the café. He especially likes the salads and loves trying different beers. "It's a friendly, quality deli where I can get something light to eat with a good, cold beer,'' he says.
What are some of the customers' favorites? "Our pizza,'' says Siegel. "We make the dough with stout beer.''
In addition to the bar-b-que chicken pizza, top sellers include fish tacos and the North Fork sandwich (roast beef, pastrami, roasted turkey, house-made garlic mayo and your choice of condiments and bread). Homemade hummus is very popular, too. Items average $8-$12.
The Riverside Market Cafe offers breakfast ("We get all our eggs fresh from my brother's farm in Davie," Siegel says.) and lunch, as well as dinner, which consist mainly of pizzas, salads and sandwiches. Specials that include pastas, chicken and fresh fish are featured daily.
Even though all the vegetables served at The Riverside Market Café are not organic, the restaurant does have its own hydroponic garden in the back, where Siegel grows string beans, tomatoes, lettuce, cucumbers, parsley, basil and an array of other herbs. "What we serve depends on what we can grow,'' he says, adding that he has also grown his own hops and successfully brewed batches of beer at an offsite brewery.
The Riverside Market Café opens at 8 a.m. daily and closes at 9 p.m. Sundays through Thursdays and stays open until about 11 p.m. on Fridays and Saturdays. If you have never been there be sure to map directions by visiting www.theriversidemarket.com, because finding the café can be tricky.