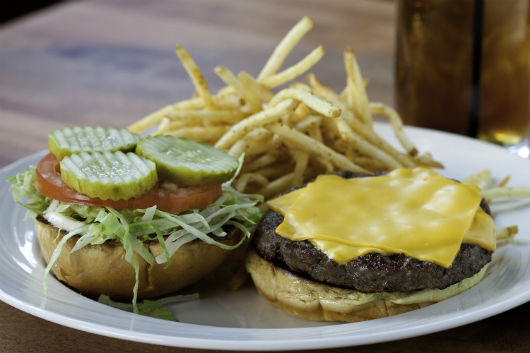 BOCA RATON, FL – Piñon Grill is introducing a 3-Course $17 Power Lunch Menu for its business oriented clientele who are looking for a quick meal with great food and service. Piñon's Power Lunch will include a house salad, entrée with side, soft drink and two chocolate chip cookies. After your initial drink order is taken by a server, your house salad and entrée are guaranteed to be served within 30 minutes or less. If your lunch takes more than 30 minutes to arrive, Piñon Grill will pick up half your tab.
Power Lunch entrees include Prime Burger with French Fries, Veggie Burger with French Fries, BBQ Salmon with Kale Salad, Spinach & Mushroom Quesadilla with French Fries, Grilled Chicken Sandwich with French Fries and Grilled Chicken Caesar Wrap with Peanut & Ginger Cole Slaw. Piñon's Power Lunch Menu is available Monday through Friday from 11:30am to 3:00pm.
Piñon Grill offers an innovative menu of stylish culinary classics and flavorful favorites that have over time become adopted into the American mainstream or in some cases, have long been considered to be classically American. The restaurant's "New American" lunch and dinner menus creatively follow culinary trends while pairing new and interesting flavor profiles with classic favorites. Distinctive dishes presented in a straightforward fashion emphasize the striking simplicity of fresh, organic and locally grown ingredients and flavors. Signature chef specialties include Asian Sea Bass, Bell & Evans "All Natural" Chicken, Marinated Skirt Steak, Warm Goat Cheese Salad and a Grilled Tuna Burger to name a few. Homemade desserts, including White Chocolate Bread Pudding and Key Lime Pie, are also prepared fresh on-site daily.
Owned and operated by Brimstone Woodfire Holding Company LLC., Piñon Grill is located at The Terrace at Town Center at 6000 Glades Road in Boca Raton. Lunch is served daily from 11:30 a.m. to 4:00 p.m. Dinner is served from 4:00 p.m. to 10:00 p.m. Sunday through Thursday, and 4:00 p.m. to 11:00 p.m. on Friday and Saturday. Brunch is served Sunday from 11:30 a.m. to 3:00 p.m. Happy Hour, featuring Buy 1, Get 1 Free drinks and ½ off all appetizers, is Monday through Friday from 4:00 p.m. to 7:00 p.m. at the bar area only. Enjoy live music every Friday night from 9:00 p.m. to Midnight. For reservations please call 561-391-7770 or visit www.opentable.com. For more information, please visit www.PiñonGrill.com.