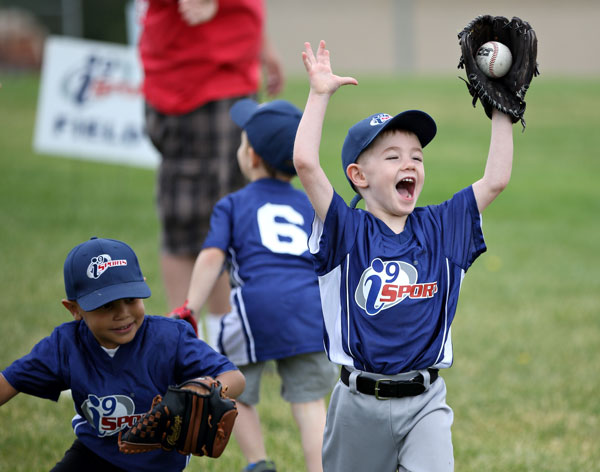 COOPER CITY, Fla. — i9 Sports®, the nation's first and largest youth sports league franchise, announced today it has signed a franchise agreement to accelerate the company's growth in Florida and bring its youth sports league to a new community in Cooper City. During a year of impressive growth and increases in network-wide revenue, i9 Sports is expecting the upcoming fall 2016 season to be the largest in its history, with league participation continually propelled by ongoing franchise development.
Spearheading i9 Sports' growth in Cooper City, Florida is new franchisee Brett Bales, who started as a sports instructor for the company, rose through the ranks and eventually served as the general manager for four i9 Sports franchises in Broward, Brevard and Palm Beach Counties. Marking his first venture into the franchising industry, Brett is a lifelong sports enthusiast and purchased his i9 Sports franchise after working with the company for four years and witnessing firsthand the strength of the company's concept and business model. His league currently offers programs in soccer and basketball, and will be expanding to offer t-ball and flag football in upcoming seasons.
"i9 Sports was founded on the principle that the number one reason kids play organized sports is to have fun, not to become the next draft pick, and we are proud to be the league that thousands of parents throughout the country trust with their children's safety," said Brian Sanders, chief executive officer of i9 Sports. "Our ongoing success has allowed us to expand our franchise network and, through our unique youth sports experience, instill in more and more children nationwide the value of good sportsmanship and learning life lessons through athletics. We look forward to working alongside our new franchisees and introducing their communities to the signature i9 Sports Experience."
i9 Sports has set itself apart as an industry leader by creating a youth sports experience unlike any other, which has enabled the brand to operate more than 4,100 youth sports programs in 780 communities across the United States. The company has also established itself as a pioneer in concussion awareness in youth sports, offering programs in flag football as opposed to tackle, and reported a 12% increase in flag football participation in 2015. This increase mirrors the national trend of parents' growing concern regarding concussions in youth sports, with a recent study conducted by i9Sports showing that of 537 parents surveyed, 100 percent were affected in some way by concussions and 62.3 percent believed that tackle youth football is unsafe for children under the age of 12.
i9 Sports plans to open dozens of new franchise locations each year over the next several years, with a focus on markets in the Pacific Coast, Midwest and Northeast. The youth sports franchise is seeking qualified candidates with a desire to impact their local community. With convenient flexible hours, no real estate or upfront inventory, i9 Sports is a low-investment, home-based franchise opportunity offering entrepreneurs a compelling business with great profit potential. While sports experience is not required, the ideal candidate should have an entrepreneurial spirit and a passion to build a successful business with a community focus. Franchise opportunities are available across the country, but are quickly selling out. Qualified candidates are encouraged to visit www.i9sportsfranchise.com for more information about franchising with i9 Sports.
About i9 Sports®
Based in the Tampa Bay, Florida area, i9 Sports® is the first and largest youth sports league franchise company in the United States. With more than 1,000,000 registrations in communities from New York to Hawaii, i9 Sports offers leagues, camps, and clinics for boys and girls ages 3-14 in today's most popular team sports such as flag football, soccer, basketball and baseball. A privately held company, i9Sports was founded in 2003 by Chairman Frank Fiume on the principle that the number one reason kids play organized sports is to have fun, not to become the next draft pick. Reinventing the youth sports industry, customers enjoy the i9 Sports Experience which emphasizes fun, safety and convenience as well as teaching the value of good sportsmanship. Named #1 Children's Fitness Franchise by Entrepreneur Magazine, i9 Sports has been ranked in their prestigious Franchise 500® issue the past nine years. i9 Sports has also been listed among INC Magazine's 5000 Fastest Growing Companies for the past six years and received Franchise Business Review's Top 50 in Franchise Satisfaction Award for five years. For more information on i9 Sports, visit www.i9sports.com. To learn more about the low investment, low overhead i9 Sports franchise opportunity, visit www.i9sportsfranchise.com.