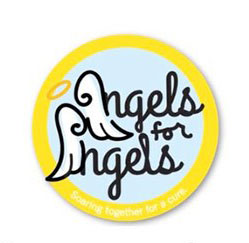 BOCA RATON, Fla. – The Second Annual Angels for Angels Charity Gala is set to take place on Saturday, October 12 from 7 to 11 p.m. at the St. Andrews Country Club at 17557 Claridge Oval W. in Boca Raton.
Funds raised will benefit the Foundation for Angelman Syndrome Therapeutics (FAST), the largest, non-governmental funder of Angelman-specific research in the world. FAST, a registered 501(c)(3), raises money to fuel cutting-edge research and takes an active role in drug development to treat and ultimately cure Angelman Syndrome.
With featured entertainment by Rock With U, guests will enjoy a cocktail hour, a silent auction, a paddle raise, a sit-down dinner and open bar. Tickets are $175 per person. A representative from Ovid Therapeutics, the pharmaceutical company currently in clinical trials for the first treatment of Angelman Syndrome, will be the featured guest speaker.
The gala is co-chaired by Coral Springs residents Eslin Guice, Erin Cain and Christine Zullo. Last year's gala netted $130,000 for Angelman Syndrome research.
"We were touched by the amazing turnout and how much money we were able to raise last year," said Guice, who became involved with Angelman Syndrome fundraising after her daughter Gianna was diagnosed with this rare and severe neurological disorder.
Angelman Syndrome affects the nervous system, delaying development and causing intellectual disability as well as problems with motor coordination and balance. It is estimated that more than 50 percent of children with Angelman Syndrome are initially misdiagnosed as having autism or Cerebral Palsy. "We hope that the funds we raise this year help researchers and everyone involved find a cure so that families who have to deal with this disease are able to live normal lives with healthy children," added Guice.
Angelman Syndrome, which affects nearly one half million people worldwide including actor Colin Farrell's son, has been cured in the laboratory using multiple strategies -- drug activation of the paternal gene, protein replacement therapy and biologics. Advances in Angelman's research could have effects on patients with autism, Alzheimer's, ALS, Rett syndrome and Fragile X syndrome, among others.
For more information on FAST, sponsorships, tickets, and more, visit CureAngelman.org/AngelsforAngels.