Young At Art Museum's 10th-Annual Teen Recycled Fashion Show Surrealism Restyled! will be held on Friday, November 13 at 7 p.m. at the Museum, 751 S.W. 121 Avenue in Davie. Proceeds from Surrealism Restyled! will be used to support Young At Art's teen leadership and other pioneering programs for underserved and at-risk youth.
Drawing inspiration from the Museum's feature exhibition, Transformation of Echo: World of Dreams, by Fort Lauderdale artist Leah Brown, this year's teen designers will be tasked to choose a surrealist artist and use that artist's palate and creative focus to design an original garment out of recycled materials. The challenge each designer will face will be to conceptualize the artist's point of view as it relates to a specific environmental issue that occurred, or still is occurring, during the artist's lifetime. The Teen Recycled Fashion Show then challenges participants to incorporate all of their findings into original wearable art, made from recycled and repurposed materials including metallic mesh, newspaper, cardboard, egg cartons, canvas, remnant fabric, bottle caps, recycled plastics, splatter paint and more.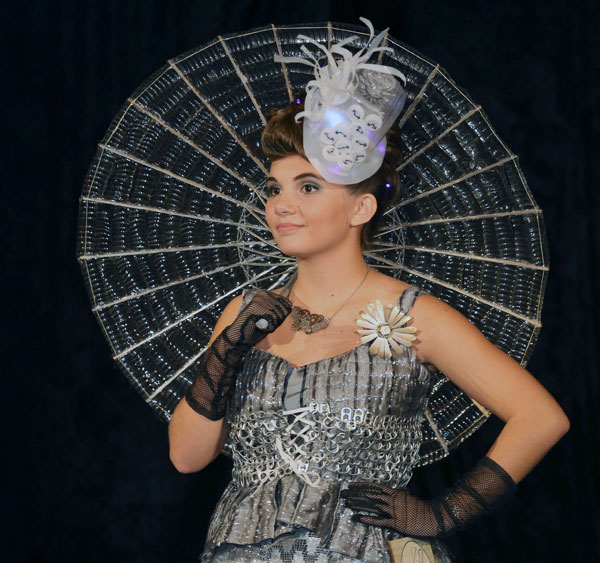 First in show 2014 modeled by Kiki Becker photo by Kara Starzyk
The high-energy event will feature music; hors d'oeuvres by Whole Foods Market Davie and Pembroke Pines; a recycled jewelry-making station by Levinson Jewelers, the official jewelry sponsor for Young At Art Museum; nail art by Kaizen Beauty Academy; "up-cycled" décor by IKEA Sunrise and cloture clothing designed and showcased by teen models during a supercharged New York-style runway show.
AM Radio 790 The Ticket's Joy Taylor, sports cohost of The Ticket Morning Show, will be the emcee for the evening.
"As we celebrate 10 years of creative teen designers, this event has grown from a few teen participants to a full-blown, professionally staged fashion show," said Young At Art Museum Executive Director/CEO Mindy Shrago. "It now is one of the most popular community events in the area for which the teen designers begin preparing during the summer and put in more than a hundred hours of work to take their designs from concept to runway."
Designers for Surrealism Restyled! include girls from Young At Art Museum's American Express Teen Leadership Program and the PACE Center for Girls, which provides girls and young women with an opportunity for a better future through education, counseling, training and advocacy. PACE has been a partner with Young At Art for several initiatives including the Teen Recycled Fashion Show and the self-esteem building program, Girls 'N Power.
Teen models for Surrealism Restyled! will have their hair, nails and make-up styled by Kaizen Beauty Academy before they take to the runway to dazzle a panel of judges whose difficult task it will be to determine first, second and third place awards.
"As a teaching institution, we are proud that Young At Art Museum hosts an event that not only educates about art, sustaining the environment, public speaking and more, but also brings together teens from diverse backgrounds who learn cooperative life lessons through creativity," added Shrago. "That is as important as the enchanting evening where they enjoy the spotlight."
Sponsors for Surrealism Restyled! include Nelly and Brian Rice; FPL; SolarNow; BankUnited; Whole Foods Market, Davie and Pembroke Pines; IKEA Sunrise; Kaizen Beauty Academy; Levinson Jewelers; Florida Textile Recycling Programs; Broward Health; Johnson & Wales University; Girls Make Beats; Toshiba and Pace Center for Girls. Media sponsors include: Gold Coast Magazine, Yelp Broward-Palm Beach and Sun Sentinel.
General admission tickets to the Recycled Fashion Show are $35 per person. Sponsorships include reserved seating and are available beginning at $500.
For tickets, sponsorships and more information, please contact Lindsey Steinberg at 954-424-5022. Order tickets online at: tinyurl.com/yaafashionshow2015.
For more information about Young At Art, visit YoungAtArtMuseum.org.