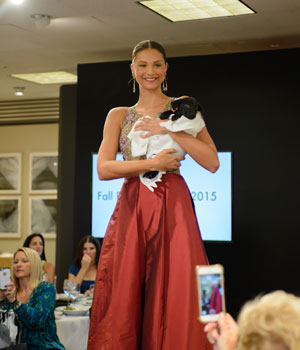 FORT LAUDERDALE, FL -- A favorite event among the fashion-minded, animal-loving supporters of the Humane Society of Broward County, Fashion Forward for PAWS wowed the crowd at Neiman Marcus Fort Lauderdale. The sold-out October 14 luncheon and fashion extravaganza had it all: the latest trends in fashion, playful puppies for adoption, delicious fare and plenty of socializing. Chairpersons Christy Gumberg and Julie Strauch were thrilled with both the support from everyone who attended and the tally of over $33,500 raised for the Humane Society's programs and services. And yes, one sweet puppy found a new home right then and there!
Upon arrival, attendees enjoyed a cocktail hour while indulging in a Chinese auction. Prize drawing tickets were also available for purchase, with lucky Marcy Kronrad winning a $1,000 Neiman Marcus shopping spree! A highlight of the day was clothing designer, White Tulip, being on hand to sell from their line.
Neiman Marcus fashions were beautifully received by all Fashion Forward for PAWS guests, and wrapping up the show was the always-adorable "walk of the puppies" as models carried adoptable furry little bundles on their finale walk down the runway.
Sponsors for PAWS Fashion Forward included: Neiman Marcus Fort Lauderdale, Auberge Beach Residences & Spa, Christy and Andy Gumberg, Lorraine Thomas, ACURE Organics, Dawn and Peter Dellapina, Ingrid Poulin and Susan Smith, Stiles Corporation, Julie and Dr. Axel Strauch, Fashion for PAWS (Christine Forman, Tara Forman, Nicole Fratarcangeli, Megan Gehl, Ellen Gertz, Elaine Johnson, Mary Kazares, Jonelle Lees, Mildred Mariner, Margaret Meldeau, Lori Sisko, Lucy Weber), Marisa Kahn – Timeless Beauty Aesthetics, Lys and Bill Rubin, Friends of PAWS (Katherine Barry, Joan Brochu, Martha Buckley, Kathryn Glenewinkel, Jonelle Milton, Stacy Sager, Anne Scherer, Suzie Smith, Sylvia Sperry), LifeStyle Magazine and Michelle Simon, Premier Beverage Company, Ann's Florist and Le Metier.
-more-
The Humane Society of Broward County is a private non-profit animal welfare organization supported by donations from people and companies who want to make a difference. The shelter is not affiliated with any local or national organization with a similar name and does not receive funding from them or any government entity. For more information, see pets available for adoption or to make a donation visit www.humanebroward.com or call 954-989-3977.