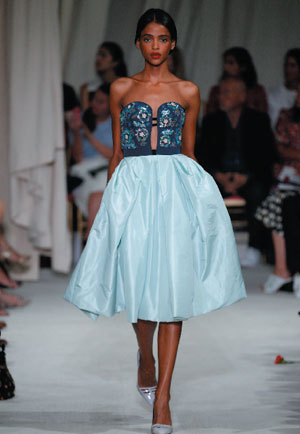 PALM BEACH, FL — On Saturday, January 9, luxury retailer Saks Fifth Avenue will welcome designer Peter Copping to its Palm Beach store. Hand selected by Mr. de la Renta himself before his passing in 2014, Copping now serves as Oscar de la Renta's Creative Director, carrying on the legacy of the eponymous fashion house.
From noon to 3pm on Saturday, January 9, guests can meet the designer on Worth Avenue to preview the collection. Spring 2016 is rich with ruby red fabrics and printed textiles in floral motifs, specifically the carnation. Spanish influences, floral motifs, all reference the passions of the late Mr. de la Renta, and were strong influences in Peter Copping's collection.
"We are so honored to have Peter spend time in our Palm Beach store engaging with our customers" commented Peter Schuette, General Manager, Saks Fifth Avenue Palm Beach. "Saks Fifth Avenue presents the very best in luxury and this is an exciting collection to preview for the upcoming season."
In addition, continuing its longstanding partnership with Hospice Foundation of Palm Beach County, the collection will be shown at The Flagler Museum for the Hospice Evening 2016 event on Friday, January 8.
---
Oscar de la Renta
This Spring 2016 collection will be available for preview at Saks Fifth Avenue Palm Beach this coming Saturday through Tuesday, January 12. In addition, custom orders can be placed. The designer will be on-hand from noon to 3pm on Saturday to meet and greet and engage with all Saks Fifth Avenue customers.
Oscar de la Renta is one of the world's leading luxury goods brands. The New York based house, established in 1965 by its namesake, and currently under the creative direction of Peter Copping, produces a full line of women's shoes, handbags, jewelry, eyewear, bridal, childrenswear, home décor and fragrance, in addition to its signature women's ready-to-wear collection.