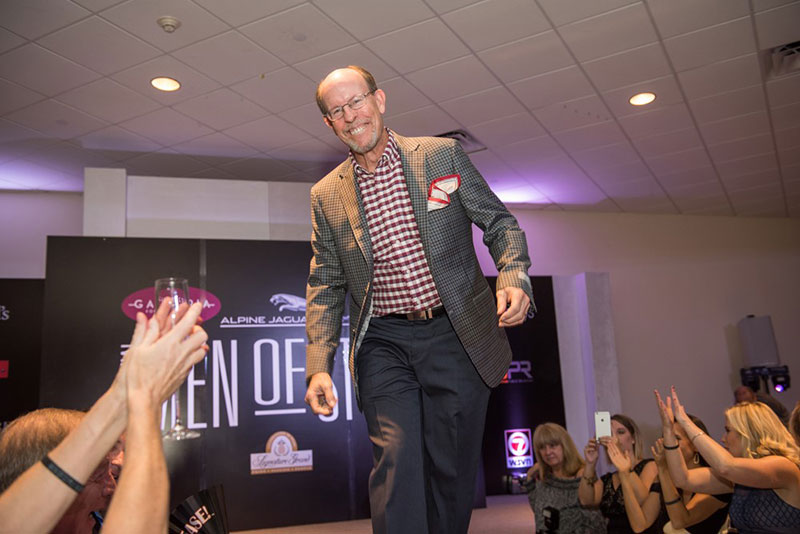 Steve Palmer walks the runway in support of Kids in Distress (KID) during The Galleria at Fort Lauderdale's 2016 Men of Style Shopping Night. PHOTO CREDIT: Michael Murphy
FORT LAUDERDALE, Fla. (August 22, 2017) – Twelve influential and fashionable South Florida men will work the runway during The Galleria at Fort Lauderdale's 11th Annual Men of Style Shopping Night presented by Signature Grand on Thursday, November 30, 2017, from 6 - 9 p.m. The honorees, each representing one of 12 participating charities, are Anthony Abbate (ArtServe), Dr. Shino Bay Aguilera (HANDY), Whitney Dutton (Broward Center for the Performing Arts), Luke Freeman (Leadership Broward Foundation), Josiah Graham (Jack & Jill Children's Center), Jonathan Keith (Henderson Behavioral Health), Scott Kennedy (Women In Distress of Broward County), George Kress (Florida Children's Theatre), Major Nathan Osgood (Kids In Distress), Barry Romeril (Take Stock in Children of Broward County), Tom Shea (ARC Broward) and Ben Wesley (Art and Culture Center/Hollywood).
"For more than a decade, The Galleria at Fort Lauderdale has proudly presented this local tradition showcasing an impressive roster of influential men who have a positive impact on our community," said Melissa Milroy, senior marketing manager at The Galleria at Fort Lauderdale. "It will be an amazing night of fashion, fun and entertainment while raising much-needed funds for 12 worthy causes and celebrating those who selflessly give of their time and resources to help others."
Loyal event attendees and newcomers will enjoy an array of culinary delights from The Capital Grille, Truluck's, Blue Martini, Pier 66, Ocean 2000, Arc Broward Culinary Institute, Seasons 52, The Mermaid Bar at Neiman Marcus, Cucina Caruso Italian Market, Sweeter Days Bake Shop and BurgerFi, plus bar selections and live musical entertainment. The highlight of the evening will be the runway show, which will feature the Men of Style honorees as they strut the runway showcasing the season's top-trending fashions from Dillard's and Macy's.
Tickets are priced at $75 for general admission (includes open bar and complimentary valet parking) and $150 for VIP (includes a pre-wine reception at Truluck's and priority seating for the runway fashion show, private bar access during the event and an exclusive after-party at Blue Martini). Men of Style guests will receive The Galleria's "Passport of Savings," which features store incentives valued at far more than the cost of the event ticket from select mall retailers and restaurants.
This year's impressive lineup of leading men who will own the runway are:
Anthony Abbate, representing ArtServe, is associate provost for Broward Campuses and professor in the School of Architecture at Florida Atlantic University. An award-winning architect licensed in Florida and New York, he has been active as a volunteer in the South Florida community for over 25 years. His research focus is on design response for a changing climate in the subtropics and tropics. A native of Fort Lauderdale, he is past chair of the Broward Cultural Council, and past president of the local chapter if the American Institute of Architects and the Rotary Club of Fort Lauderdale. He has also served on the City of Fort Lauderdale's Board of Adjustment, the Sustainability Committee and Beach Redevelopment Board.
Dr. Shino Bay Aguilera, representing HANDY, is a world renowned, multi-award winning cosmetic dermatologist, dermatologic surgeon, cosmetic laser expert and is dual board certified with a Fellowship in Dermatology from the American College of Osteopathic Dermatology and the American Academy of Dermatology. With over 17 years of experience and ongoing advanced training in lasers and aesthetics, he is a clinical researcher, publisher, former chief medical director and current assistant professor of the dermatology residency Program at NOVA University, assistant professor of dermatology for Lake Erie College of Osteopathic Medicine, Suncoast University, and Universidad del Rosario, Bogota, Colombia. Dr. Aguilera is also a volunteer assistant professor of dermatology for the University of Miami, and was appointed chief resident physician for both of his three-year residency programs.
Whitney Dutton, representing Broward Center for the Performing Arts, founded Dutton Real Estate Services at Remax First, which operates as a full-service residential Real Estate group in Greater Fort Lauderdale. Dutton has been a top producer in the real estate industry for the past 14 years starting with his family's real estate company that has been in business since 1959. Dutton has been a generous donor to local community initiatives in Fort Lauderdale, but was drawn to the Broward Center for the Performing Arts' education programs. He served as board chair for the Ghost Light Society which focuses on fundraising efforts that advance the Center's award-winning arts-in-education programs and successfully managed one of the highest grossing years since its inception in 2009.
Luke Freeman, representing Leadership Broward Foundation, is founder and president of Wizard Creations Branded Merchandise and a partner in numerous other ventures. In 2016, Wizard Creations was named one of the top 25 fastest growing Promotional Products distributors. Freeman was honored by the South Florida Business Journal as a 40 under 40 honoree. He is also a member of Entrepreneur Organization and Leadership Broward Foundation, sits on the boards of six nonprofits and supports more than 30 others.
Josiah Graham, representing Jack & Jill Children's Center, serves as a trial attorney for the Fort Lauderdale office of Kelley/Uustal. Graham most recently served as the assistant state attorney of the Office of the State Attorney, 17th Judicial Circuit. Graham serves as a board member for the Piney Grove Boys Academy, is an advisory board member of the Priority One Credit Union and recently served as the vice president of policy and procedure for the Urban League of Broward County's Young Professionals Network. Graham was a recent contestant on ABC's The Bachelorette.
Jonathan Keith, representing Henderson Behavioral Health, is an award-winning realtor and broker associate at Jonathan Keith, P.A. and Associates in Fort Lauderdale. Keith has served as co-chair of the Trustee Program with the Greater Fort Lauderdale Chamber of Commerce, president of the Rotary Club of Fort Lauderdale, board member of Henderson Behavioral Health and Winterfest, gala co-chair for Broward Partnership for the Homeless and chair for the Cystic Fibrosis Foundation's Ford Mustang Challenge.
Scott Kennedy, representing Women In Distress of Broward County, is the operating partner of Smoke BBQ with locations in Delray Beach and Fort Lauderdale. Prior to opening Smoke BBQ, Kennedy spent several years working as a CPA for Ernst & Young and Grant Thornton. Kennedy has served on the board of the Florida State Golf Association for several years and is a passionate supporter of Women In Distress.
George Kress, representing Florida Children's Theatre, is Walgreens' HIV pharmacist for South Florida and is committed to building awareness for HIV prevention, testing and treatment. Kress is active member of the community through his many years on the board of the Fort Lauderdale International Film Festival and as a recent graduate of Leadership Broward. His belief that the arts benefit individuals, families and communities is unshakable.
Major Nathan Osgood, representing Kids In Distress (KID), is a police major with Broward Sheriff's Office where he has been employed for 29 years. For most of his career, he worked in the Strategic Investigations Division, working narcotics investigations, vice and organized crime. He has also worked several years in the uniform patrol division and is currently assigned as the North Region Commander. Osgood currently serves on KID's board of directors.
Barry Romeril, representing Take Stock in Children of Broward County, has had a diverse business career, holding senior executive and board positions at BTR, British Telecom PLC and Xerox, from which he retired as vice-chairman and executive vice president/chief financial officer. He currently serves as executive chairman of B.E.inventive, LLC and chairman of Amsphere Limited. Since 2006, Romeril has mentored six deserving youth, three of whom he has seen successfully graduate high school and college. He has given of his time and finances to ensure the mission of Take Stock in Children is fulfilled in Broward County.
Tom Shea, representing ARC Broward, is president of Right Management - Florida/Caribbean and has been a cornerstone of Florida's business community for more than 30 years. He is board chair of the FSU Center for Human Resource Management, an executive committee member of the Broward Workshop and serves on the boards of the NSU Huizenga School of Business and Entrepreneurship and the Florida Council on Economic Education. Shea also received the Excalibur Award as Business Leader of the Year from the Sun-Sentinel, the Diamond CEO Award from the South Florida Business Journal and has been inducted into the Junior Achievement Business Hall of Fame.
Ben Wesley, representing Art and Culture Center/Hollywood, is an external affairs manager in Broward County for Florida Power & Light Company. Wesley has served in a variety of leadership roles including board chair of Winterfest, chair of the South Florida Tech Gateway project, past-chair of the Greater Fort Lauderdale Alliance, past-chair of the Broward Zoning Board, and a vice president of the Hollywood Chamber of Commerce. He currently serves on the board of directors of the Port Everglades Association, the Broward Alliance Foundation, Art and Culture Center/Hollywood and Habitat for Humanity of Broward.
To date, event sponsors and contributors include Signature Grand as a presenting sponsor, along with Orchard Supply Hardware, Macy's, Dillard's, GPR | Goodman Public Relations, City & Shore magazine and WSVN-TV.
Tickets will go on sale on Wednesday, September 20.
About The Galleria at Fort Lauderdale
The Galleria at Fort Lauderdale, recognized as one of South Florida's premier shopping destinations for its sophisticated level of merchandising and ambiance, is the largest and most upscale regional mall in Broward County. Neiman Marcus, Macy's and Dillard's anchor the popular center, which also features 100 specialty stores, including American Eagle Outfitters, Apple, Ann Taylor, Banana Republic, Free People, Michael Kors, Pandora and Fort Lauderdale's first H&M. It is also home to Elizabeth Arden Red Door Spa and a fine roster of dining establishments such as Seasons 52, The Capital Grille, Truluck's, P.F. Chang's and Blue Martini. Just steps away from Fort Lauderdale's world famous beach, it is minutes from the airport, port, downtown, hotels and the Greater Fort Lauderdale Convention Center with easy access from Sunrise Boulevard, U.S. Highway 1 (Federal Highway), Interstate 95, Interstate 595, and U.S. Highway A1A (Fort Lauderdale Beach Boulevard). Located at 2414 East Sunrise Blvd., it is open from 10 a.m. to 9 p.m., Mon. through Sat. and 12 p.m. to 6 p.m. on Sun. Restaurants enjoy later hours. More information is available by calling (954) 564-1036 or at www.galleriamall-fl.com.