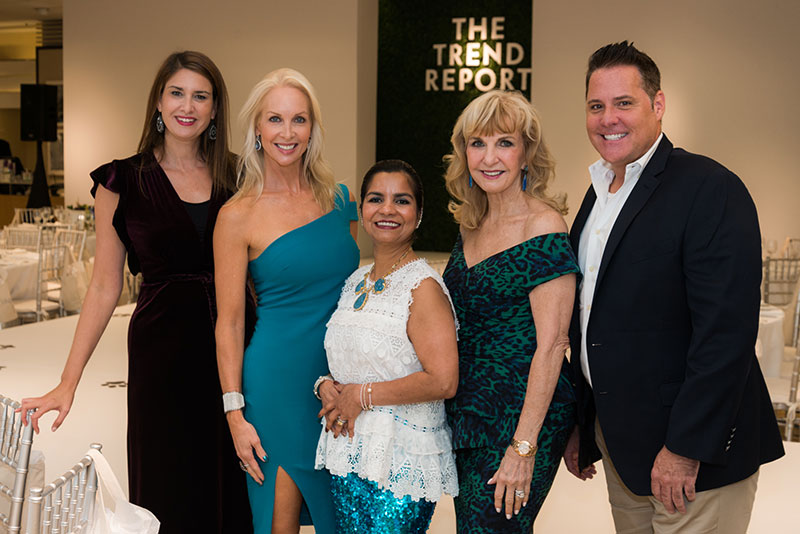 Lauren Johnson Christy Gumberg Bibi Siegel Julie Strauch Christopher Agostino.
Fort Lauderdale, FL -- This season's Fashion Forward for PAWS luncheon and runway fashion show, an annual fundraiser organized by PAWS (Pets Are Worth Saving), took place on October 10 at Neiman Marcus Fort Lauderdale. Chaired by Christy Gumberg and Julie Strauch, the sold-out event raised over $45,000 for the programs and services at the Humane Society of Broward County.
Guests arriving at the beautifully-appointed luncheon area were greeted with cocktails, adorable puppies for adoption, and plenty of mixing and mingling. During the cocktail hour they enjoyed viewing and purchasing stunning jewelry at a trunk show hosted by Coomi, who generously donated a portion of sales to PAWS. The designer herself was also in attendance for the event.
Lifestyle Magazine offered photos taken in front of their Step and Repeat backdrop, and guests could also purchase prize drawing tickets for the chance to win a luxury beauty basket, a $1,000 shopping spree at Neiman Marcus Fort Lauderdale, or the Grand Prize of stunning gold and diamond earrings, courtesy of Coomi. The lucky winners that day were Randi Schwartz, Dawn Dellapina, and Corrine Kelley.
The highlight of the day, of course, was the fashion show, enjoyed during a gourmet lunch and capped off with the models carrying the puppies during their final walk. One of those cuddly pups even found his forever home, thanks to Fashion Forward for PAWS.
Sponsors included Neiman Marcus Fort Lauderdale, Christy Gumberg, Lorraine Thomas, Christine Forman & Margaret Meldeau, ACURE, Tanya & Andrew Heller, Julie Strauch, Dawn Dellapina & Jamie Stiles, Shooters Waterfront, Ingrid Poulin & Susan Smith, Monocle Fractional Yachts, Coomi, Lifestyle Media Group & Michelle Simon, Breakthu Beverage Florida, Marker Construction Group, and Ann's Florist.
The Humane Society of Broward County is a private non-profit organization made possible by generous donations from animal enthusiasts like you. The shelter is not affiliated with any other animal welfare organization and receives no funding from them or the state. To see animals up for adoption, learn about upcoming events or to make a donation visit www.humanebroward.com