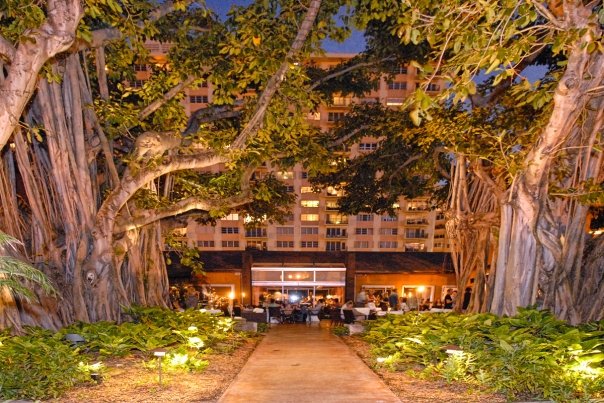 FORT LAUDERDALE, FL -- Chima Brazilian Steakhouse on Las Olas Blvd. in Fort Lauderdale, Fla., acclaimed for its authentic Brazilian Rodizio cuisine, excellent service and elegant setting, is once again offering its popular Grilled Prawns Skewer special at no additional charge. Available starting Oct. 1 and for a limited time, the Grilled Prawns Skewer is uniquely seasoned and grilled to perfection by Chima's gauchos, who "roam" the dining room.
The Grilled Prawns Skewer is seasoned with salt, garlic, coconut milk, lime juice and olive oil. It is then marinated and grilled. Guests enjoy unlimited portions of the shrimp skewers, which are wild caught, easy peel white shrimp.
The delectable Grilled Prawns Skewer special, including complete Rodizio (all meats), gourmet salad bar and side dishes, is priced at $52.50 per person. The sumptuous gourmet salad bar blends Brazilian and American favorites including salads such as Waldorf, seafood, and endives with Gorgonzola; imported prosciutto, cheeses, smoked salmon, beef Carpaccio, soup and traditional Brazilian hot dishes. Guests who wish to enjoy only the gourmet salad bar ($32.50 per person) can indulge in all of the salad bar items, plus grilled swordfish and salmon.
"We're very pleased to bring back our Grilled Prawns Skewer for a limited time," said Eric Leseur, general manager of Chima Brazilian Steakhouse. "It is a unique, mouthwatering dish that our guests ask for time and time again."
At Chima Brazilian Steakhouse, gauchos roam the dining room continuously offering exquisite churrasco (grilled meats) of over 16 rotisserie selections including top sirloin, filet, ribs, lamb, pork, chicken, sausage and fish. Guests can choose from Rodizio and gourmet salad bar or gourmet salad bar only. Chima also offers a selection of exquisite wines and champagnes from across the world, a full liquor bar, and delightful desserts.
About Chima Brazilian Steakhouse
Chima Brazilian Steakhouse is named after chimarrao, a traditional drink of Rio Grande do Sul, Brazil, that symbolizes hospitality and friendship. The first Chima restaurant originated in Uberlandia, Brazil, located in the state of Minas Gerais. In 2003, the Silva family introduced a new style of dining and superior service, combining traditional Brazilian rodizio, excellent service and an elegant setting, to Fort Lauderdale, Fla. Prices are Rodizio (all meats, gourmet salad bar, side dishes): $52.50 per person; gourmet salad bar, including grilled swordfish and salmon plus side dishes: $32.50 per person; Kids Rodizio (ages 7 to 11): $26.50 per person; and Kids gourmet salad bar (ages 7 to 11): $16.50 per person. Kids 6 and under are free of charge. Chima is located at 2400 East Las Olas Blvd., Fort Lauderdale, FL 33301. Hours of operation are Monday–Thursday 5:30–9:30 p.m., Friday, 5:30–10:30 p.m., Saturday 4:30–10 p.m. and Sunday 4–9 p.m. The bar opens 30 minutes prior the restaurant Monday-Friday. For reservations, call 954-712-0580. For more information, visit www.chimasteakhouse.com.