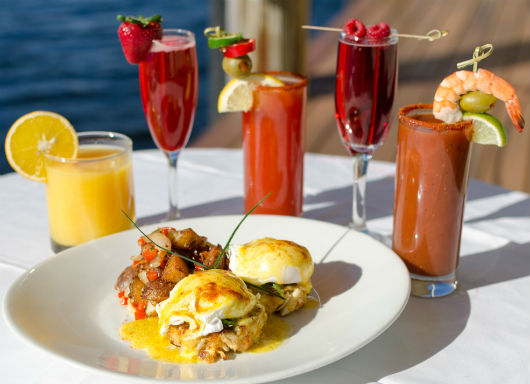 Blue Moon Fish Co., voted best waterfront dining experience in Ft. Lauderdale on Zagat, Opentable, and the Sun Sentinel, just got better. Beginning February 1st, Blue Moon will be serving a new ala carte brunch every Saturday from 10:30AM to 3PM, complete with over seven different Bloody Marys.
Blue Moon serves an award-winning buffet style brunch every Sunday, and now foodies can feed their cravings all weekend long with the addition of their Saturday brunch. Rather than the buffet style of their Sunday brunch, Blue Moon has crafted a short menu of delicious dishes, which can be shared, for their Saturday offering.
The main dishes include brunch classics and new creations alike, starting with a Potato and Parsnip Latkes ($14), with brie-‐white wine sauce house cured gravlax and chive creme fraiche. The traditional brunch staple of Crab cake Eggs Benedict ($16) will take on renewed significance to diners with its cayenne cilantro hollandaise sauce. The patrons looking for a sweet treat will delight their palate with their mouthwatering Nutella and Banana Stuffed Egg Nog French Toast ($18), crusted with corn flakes and almonds and served with smoked Nueske bacon. The adventurous foodie will be drawn to the new Egg White and Lump Crab Burrito ($15) complete with spinach, avocado butter and pico de gallo, while those with a smaller appetite can experience a taste explosion from the Lobster Quiche Lorraine ($17) with brie and their special white wine sauce. For those who show up with a full appetite intact will likely head straight for the Magic Mushroom Burger ($17), consisting of a crispy pork belly, goat cheese, mushroom and sunny-side up farmer's eggs, and fries to make sure you don't leave hungry.
Blue Moon Fish Co.
Serving Ft. Lauderdale's waterfront for more than 17 years, Blue Moon Fish Co. is known as "the freshest seafood on the waterway". Owner/Chefs Bryce Statham and Baron Skorish serve the finest Floridian seafood dishes infused with Cajun flavors and styles.
Blue Moon Fish Company is located at 4405 West Tradewinds Avenue in Lauderdale-By-The-Sea, Florida. Hours of operation: Monday – Thursday 11:30 AM to 10:00 PM; Friday and Saturday 11:30 AM to 11:00 PM and Sunday, Brunch 10:30 AM to 3:00 PM. Stay connected with Blue Moon Fish Co on Facebook and Twitter @BlueMoonFishCo, or visit their website
www.bluemoonfishco.com
.