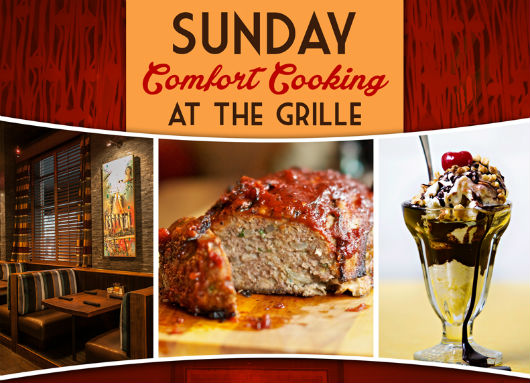 FORT LAUDERDALE, FL -- Grille 401 on Las Olas is pleased to announce the launch of "Sunday Comfort Cooking at the Grille," its new weekly, price-fixe home-style cooked family dinner, that will debut on Sunday, March 23rd. The weekly comfort dinner menu will include a special entrée, a glass of house wine and a choice of one of Grille 401's magnificent desserts. The cost will be $29.00 per person. The accompanying children's menu will feature a smaller portion of the home-style entrée and a Haagen Daz Hot Fudge Sundae for dessert. The price will be $11.00 per child. The cost for the price fixe menus does not include tax and gratuity. Diners will also be able to order off of Grille 401's already diverse and delicious dinner menu.
The inaugural "Sunday Comfort Cooking at the Grille" menu for this Sunday, March 23rd will feature Certified Angus Beef Meatloaf topped with shiitake stroganoff as the entree, served with parmesan potatoes. Grille 401's delectable dessert selection includes White Chocolate Bread Pudding, Flourless Chocolate Waffle, Key Lime Pie, Carrot Cake and Seasonal Fruit and Cream.
Grille 401 is open on Sundays from 5:00pm to 10:00pm. For reservations and more information, please call 954-767-0222 or visit www.grille401.com.