FORT LAUDERDALE, FL – Chef Giovanni Rocchio of Valentino Cucina Italiana in Fort Lauderdale joined the James Beard Foundation on Friday, September 25th to prepare a special dinner at the world renowned James Beard House for more than 75 guests and members of the James Beard Foundation. Recognized as one of South Florida's top culinary artists, Chef Giovanni supports the James Beard Foundation's mission of celebrating, nurturing, and honoring America's diverse culinary heritage. Suitably entitled Inventive Italian, the seven-course tasting menu paid homage to Chef Giovanni's signature innovative culinary approach.
Chef Giovanni was joined by Valentino's Chef de Cuisine, Jimmy Everett, and the two prepared a delectable dinner that was carefully paired with hand-selected vintage wines courtesy of Antinori Family Vineyards. Chef Giovanni's signature culinary style, "Innovative Cuisine with Modern Italian Twist," was showcased throughout each course taking guests on an unforgettable dining experience. As the evening progressed, diners experienced the evolution of the culinary duo's work in the kitchen, from the aperitivo course featuring Beet & Goat Cheese Macaroons to the pesce course with Monkfish served alongside chowder, sunchokes, manila clams and bacon.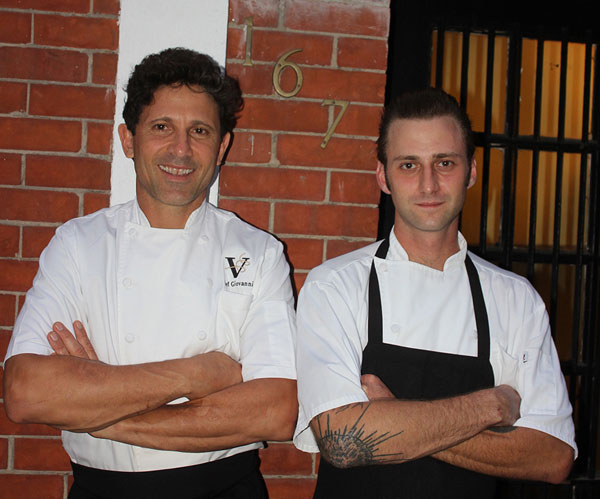 Chef Giovanni Rocchio, Executive Chef and Owner of Valentino Cucina Italiana, and Chef de Cuisine Jimmy Everett
This culinary journey also included dishes such as Foie Gras Terrine with oat cream, dark chocolate granola, brioche and goose berries; Veal Casoncelli with prosciutto, brown butter and red wine jus; and Lamb Saddle with black olive, eggplant, cucumber, paprika yogurt and pear. Each of the skillfully paired wines were selected by Sommelier Rudolpho Bobini of Antinori Family Vineyards' New York headquarters, who was in attendance to explain each wine pairing.
As the dessert course was served, Silvi Forrest, a long time James Beard Foundation member and friend of James Beard, introduced Chef Giovanni and his team to the guests and members of the James Beard House. Guests had the opportunity to speak with Chef Giovanni and ask questions about the dishes, the menu and his inspiration when creating this memorable culinary experience.
There was a live broadcast from the James Beard Kitchen Cam from the start of the evening to the end found at livestream.com. Please share Chef Giovanni's Inventive Italian culinary journey at the James Beard House on Facebook: Valentino Cucina Italiana, Instagram: @ValentinoCucina, and Twitter: @ValentinoCucina using #InventiveItalian.
About Valentino Cucina Italiana
Innovative Cuisine with a Modern Italian Twist. Valentino Cucina Italiana is located in Fort Lauderdale, Florida and is owned by Chef Giovanni Rocchio. This fine dining Italian restaurant opened in its original location in 2006 and moved to its current establishment in 2012. Valentino Cucina Italiana was created with another Valentino's in mind; Chef Rocchio's father previously owned and operated a Valentino in Plantation, Florida from 1974 – 2005. It was while he was working with his father, Tony, in this Valentino restaurant, that Chef Rocchio developed his passion for culinary arts and food service. Giovanni took pride in challenging himself, increasing his knowledge to reach higher levels of cooking. He traveled, worked and trained at some of the finest restaurants in New York and Italy.
Valentino Cucina Italiana uses only the freshest, highest quality ingredients and provides consistent, remarkable dishes to its customers. In addition to only the most delicious food items, Valentino believes in providing guests with exceptional service and respectful hospitality, all vital elements of a luxurious restaurant operation. Valentino Cucina Italiana offers a full service bar and private dining areas. Valentino is located at 620 South Federal Highway, Fort Lauderdale, FL 33301. For more information please visit valentinocucinaitaliana.com or call Valentino at 954-523-5767.
About Chef Giovanni Rocchio
Chef Giovanni Rocchio, head chef and co-owner of Valentino Cucina Italiana, developed a passion for culinary arts and food service at a very young age. Chef Rocchio grew up in the restaurant business starting out as a dishwasher and working his way up the culinary ladder at his father's restaurant, also called Valentino, in Plantation, Florida. After studying business at Broward Community College, he moved to New York City and worked in restaurants Fiamma and Picholine while spending his days off working for free in Mario Batali's Lupa Osteria Romano, Del Posto and Babbo restaurants. When his father retired, the younger Chef Rocchio moved back to Florida and opened up Valentino in Fort Lauderdale. Chef Rocchio takes great pride in challenging himself and increasing his knowledge to reach higher levels of cooking. He often travels to Italy to expand his palate of authentic Italian cuisine – exploring regional farms and vineyards while mastering new recipes to share with South Florida. In addition to only the most delicious food items, Chef Rocchio believes in providing guests with exceptional service and respectful hospitality.