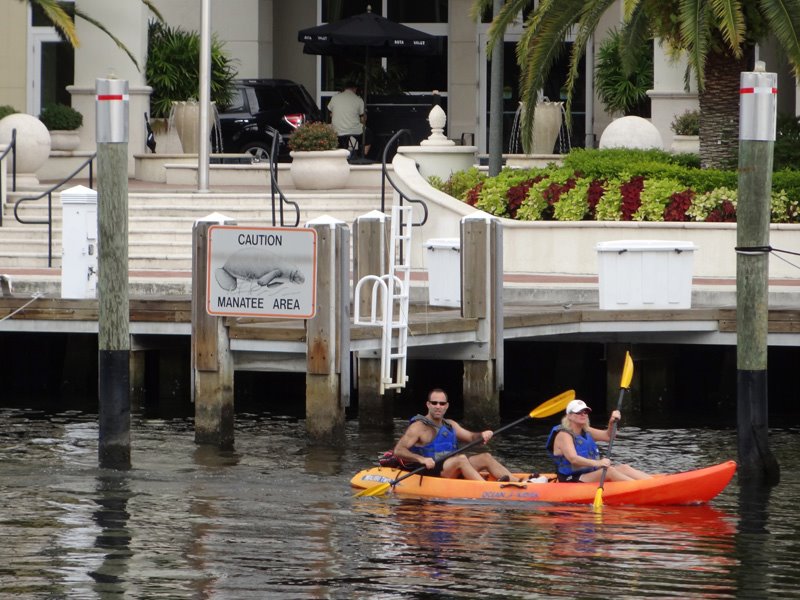 Fort Lauderdale is known as the Venice of America for several reasons: it's interlaced with a series of rivers and canals that connect to the sea. It abuts the Intracoastal Waterway and the Atlantic Ocean. And it's sandwiched between those salty waters and the "River of Grass" of the Everglades.
In short, there's water, water everywhere. You need a kayak.
Picking a kayak
But how do you pick your first kayak? It depends primarily on what kind of kayaking you think you'll be doing, how much you're willing to spend, and how experienced a paddler you are.
The key things to look for:
Sea-going or Recreational? If you want to tackle the bobbing and swells on the open ocean, you'll want the former. Sea kayaks tend to be longer, 15 feet or more, for stability. They sit low in the water to minimize the effect of cross winds, have smaller cockpit openings. Some have "skegs" or rudders, to compensate for waves. They're usually harder to turn, but tend to hold a straight line better.
Recreational kayaks are shorter and easier to turn, which makes them appealing to beginners and paddlers looking for an easier go of it. Think of it like running: Are you out for a stroll or training for a race? Shorter kayaks are for lower-intensity outings. They're perfect for flat water, lakes and lazy rivers.
Touring kayaks fall in between, in lengths and characteristics. They tend to have good stability and larger cockpits for holding more gear, so that you can do what their name implies – tour. They're good for longer outings on flat, inland or bay waters.
What's it made of? Kayaks come made of a variety of materials, from plastic, fiberglass, Kevlar and carbon, to wood, fabric and inflatable plastic. Plastic is the heaviest, but cheaper, and durable. Fiberglass and composites like Kevlar or carbon fiber are lighter, but more costly. Wood boats are rare, and tend to be for more experienced paddlers. Inflatables are among the cheapest. They offer great portability and they're easy to store.
Price. The material, the length, and other factors, such as whether you choose a one- or two-seater, will affect the price of your kayak. Plastic and inflatable, entry-level kayaks start as low as $250, and can run up to $1,500 or $2,000. Fiberlass ones start around $1,000 and go up to about three times that. Composites can go even higher.
No one kayak will be perfect for everything. But once you get your first one, you'll be able to enjoy the freedom, enjoyment and exercise kayaking can give.
Kayaking Safety Tips
Learn to right yourself: This basic maneuver is critical. If you're out there alone and your kayak turns over, which is bound to happen at least once in a lifetime, you're going to have to know how to get it upright and get back in. By yourself.
Carry an extra paddle: It doesn't seem like the kind of thing you have to worry about, and you may never have to. But it's a lot harder to paddle your kayak back using just your bare hands -- they don't offer as much paddle surface.
Carry a flotation pack: Two reasons -- things need to stay dry, and things fall overboard. When they do, you don't want them to go straight to the bottom. A flotation pack keeps the things you want to keep (a cell phone, camera, etc.) from going bye-bye.
Take what you need: It's Florida, so at the very least pack some sunscreen. A basic first aid kit is good for cuts and bites. And, in this day and age, why go anywhere without your cell phone? Except for the Everglades and farther offshore than most of us will ever go, you should be able to get a signal if you need one for an emergency call.
File a "flight" plan: Pilots do it. You should, too. Let people know where you're going, how long you expect to be out and when you expect to be back. That way if you don't show up, at least you'll know someone is going to start looking for you.
Where to kayak in South Florida
Glide past luxurious yachts and homes, meander among the mangroves, paddle past manatees or alligators. South Florida offers a variety of easily accessible settings that are easy enough for beginners and varied enough for advanced kayakers.
Here are five:
Middle River Loop: Wilton Manors is known as the "Island City" for a reason – the Middle River wraps around the city, allowing paddlers to choose between gentle 7-mile or 10-mile routes past middle-class homes and parklands. Kayakers can put it at Island City Park Preserve (823 NE 28TH St., Wilton Manors), Colohatchee Park (1975 NE 15th Ave., Wilton Manors) or at George English Park (1101 Bayview Drive, Fort Lauderdale ) for the longer run.
New River: Choose from an urban route that takes kayakers through downtown, past the Broward Center for the Performing Arts and along the backyards of waterfront homes off Las Olas Blvd., or head south past the mega-yachts at the boatyards by I-595 and into the mangrove-lined urban wilderness where manatees cluster in the winter. The latter leads to Pond Apple Swamp, an unexpected piece of Florida nature. For the downtown route, put in at Cooley's Landing in Sailboat Bend ( 420 SW 7th Ave., Fort Lauderdale). For the south fork, a ramp is available at Riverland Wood Park (3950 Riverland Road, Ft. Lauderdale).
Hollywood West Lake Park: Don't confuse this with Broward County's West Lake Park by the Everglades. This one's a 2-mile long lake by the Intracoastal Waterway that offers four separate kayak trails filled with birds and mangroves, including a route through the Anne Kolb Nature Center. Night trips are available during days of the full moon. The main park entrance is at 1200 Sheridan St., Hollywood.
Fort Lauderdale Beach: Ready for some offshore sea-kayaking? On-street parking is available along A1A just north of Sunrise Blvd., and you can put in anywhere along the beach. From here, it's a ½-mile paddle to reef that sits in only 9- to 10-feet of water at low tide. Parking tends to fill up early on weekends.
Everglades Holiday Park: Head out past thick islands of water lilies, water birds and sunbathing alligators. This spot allows access to the Water Conservation area for a look at Florida the way it was when the first settlers arrived. It can get a little noisy with all the airboat tours, but few spots allow as much wildlife viewing opportunities. (21940 Griffin Rd., Fort Lauderdale)