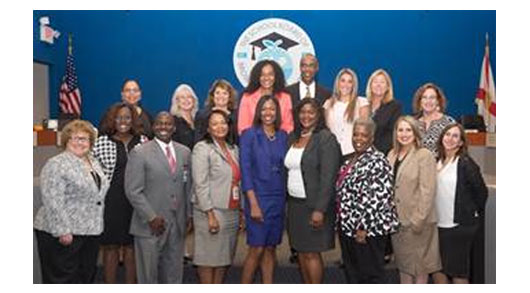 Recognition of the TIF grant award and TIF grant proposal development team by the Broward County School Board on October 18, 2016.
Broward County Public Schools (BCPS) is honored to be the only school district in Florida – and the only large urban District in the nation – to receive a new Teacher Incentive Fund (TIF) grant from the U.S. Department of Education. The grant funding totals $53,808,909, and will be paid over five years. BCPS was selected for the competitive grant from applications from school districts across the country.
The TIF grant funding supports the District's use of performance-based compensation and other strategies to increase students' access to effective educators in high-needs schools. BCPS has identified 32 schools to participate in the TIF program, based on having 50 percent or more of their student populations qualifying for free or reduced price lunches. The 32 schools include 21 elementary schools, seven middle schools and four high schools (see attached list).
The grant-identified priorities for the District's TIF program include:
Improved life outcomes for students in poverty/students of color;
Vibrant, thriving learning communities of highly effective educators in high-need schools; and
Fully-aligned and well-functioning Human Capital Management System.
"Our District is proud to be selected by the U.S. Department of Education for this new Teacher Incentive Fund grant," said BCPS Superintendent Robert. W. Runcie. "The grant supports our District's ongoing focus and efforts to invest in our teachers and classrooms, and to ensuring all students have access to a high-quality education. I commend our staff for working so hard on behalf of our students and schools to bring this new TIF grant to our District."
This is the second TIF grant award received by BCPS. The previous TIF award was used to support 28 District schools and is now in its fifth and final funding year. Among these schools, 97 percent that received an "F" in 2014/15, have now made significant gains in student achievement and increased their school grade.