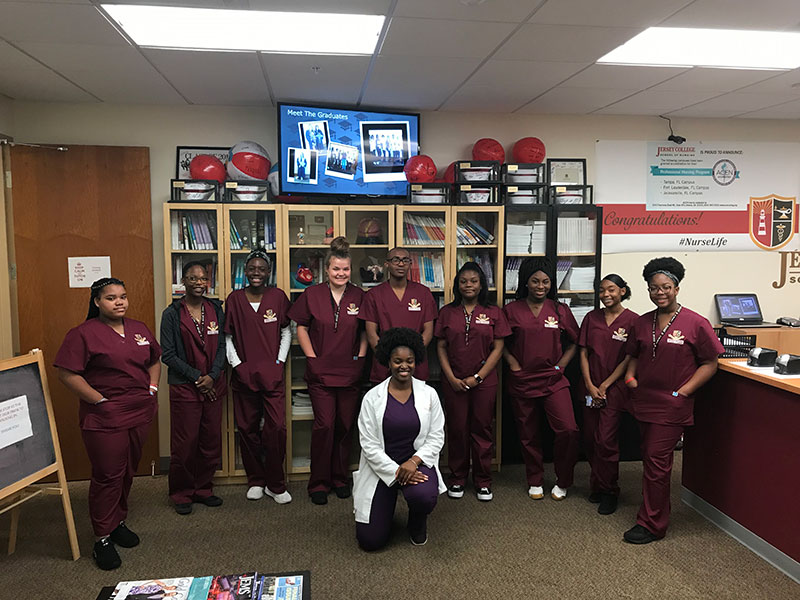 Fort Lauderdale, FL — Jersey College, a nationally accredited private institution of higher learning offering an ACEN accredited Professional Nursing (A.S.) program, has partnered with Broward County Public Schools to offer Middle and High School students the opportunity to attend NurseLife Exploration Camp this summer. In addition to taking classes focused on Critical Thinking, Math, and the Role of the Nurse, campers will experience "hands on" simulations in the nursing school's lab that mimics a hospital setting with high fidelity mannequins as "patients". Students will also leave the camp with eligibility to receive certification in CPR.
Simulation is often used throughout healthcare education to prepare nurses to provide nursing care in a safe environment. Campers, dressed in full nursing scrubs, will use simulation in fun and stimulating scenarios. Among many other activities, campers will have the opportunity to participate in a simulated birth where they learn about some of the first moments of a newborn's life, and will take part in a disaster drill acting in the role of first responders and patients. Additionally, the campers will have an opportunity to attend a field trip to a local hospital.
"During our interviewing process at Jersey College, prospective nursing students often point to an impactful event in their childhood that launched their dream of becoming a nurse" says Jersey College's Fort Lauderdale Campus Administrator, Dennis Garberg, "It is our hope that this Camp will serve as that impactful event for Broward County youth so that the summer experience they have will support their confidence in pursuing a career in the medical field".
"With the critical shortage in the nursing profession, it is vitally important for early engagement of students to nursing education" says Marcia Bynoe, Director of Coordinated Student Health Services Broward County Public Schools, "With this innovative learning summer camp program where students participate in real activities and simulation provides an exciting opportunity for students to gain knowledge and pursue their future goals in the nursing profession".
Jersey College's Ft. Lauderdale campus opened in 2012 in response to the overwhelming need for nurses in the South Florida Region. Although this labor gap in the area of professional nursing still exists today, the Ft. Lauderdale campus has made it a priority to train its students to be ready to assist in bridging that gap and to become integral members of the community. The Ft. Lauderdale campus produced a 95.24% 1st time NCLEX-RN pass rate in 2018, the second highest score in Broward County.
With the continued growing need for nurses in South Florida, Jersey College hopes NurseLife Exploration Camp will inspire Broward County youth to pursue their dreams and become the next generation of nurses.
Jersey College's Fort Lauderdale campus will host the camp in two sessions throughout the summer, with the first session starting June 10th and the second July 8th. Each camp session will be offered for a three-week duration, Monday through Thursday.